A 2000 watt generator may not pack enough juice to power up an entire house but it makes a great option for camping or for when you want to run a few essentials off-grid or during an outage.
As you will find out from our reviews, the best 2000 watt generators are all inverters. That's because these generators main purpose is to be light, portable and efficient. And what best fits in such a description than an inverter generator.
In this article, you will find what the best 2000 watt portable generators are, and what you can run with such a generator.
Our Top Picks
Best Overall
Pulsar G2319N
Highest starting watts
Compact design
Incredible runtime
Budget Pick
Wen 56200i
Affordable
Easy to start
Quiet Operations
How to Choose the Best 2000 Watt Generator
Power output, runtime, price, and available features are the most important things to consider when comparing different portable generators. And the answers to these aspects are tied to the purpose for which you want the inverter.
Thinking of power, you need to ensure that the 2000 watts that the generators in this category offer will be enough to run your target appliances. Be very keen here especially if you want to power up several items simultaneously.
Runtime talks volumes about the generator's efficiency. It refers to how long the generator can run on a full tank at a given load. When comparing generators in terms of runtime, pay attention to the size of the tank and the manufacturer-stated load (25%, 50%, or 100%). The longer the generator can run on a small tank while meeting your power requirements, the more economical it will be for you in terms of fuel cost.
Lastly, consider the features available on the generator. One thing that you'll realize here is that the price of a generator tends to correlate with its features although it also largely depends on the brand.
What's important, however, is to get a model with features that are of convenience to you. For instance, if you'll be using the generator for camping with friends, you might want to consider a model with several USB charging ports for your phones, mp3 players, and tablets. On the other hand, if you plan to use it at a construction site, a generator that allows parallel connectivity might be the best.
Best 2000 Watt Portable Generator Reviews
WEN 56200i 2000-Watt Portable Inverter Generator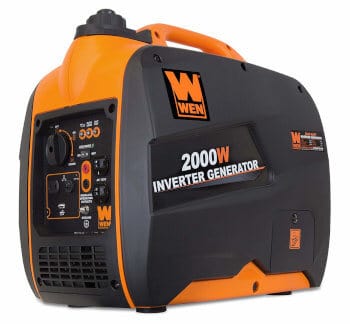 Very affordable
Portable
Quiet operations
Easy to start
Tons of convenience features
Adding oil is involving
Relatively low runtime
WEN 56200i Specifications
Starting Watts
2000
Running Watts
1600
Fuel Type
Gasoline
Noise Level
51 dBA
Tank size (gal)
1
Run Time
6hrs
Dimensions (in)
18 x 18 x 18
Weight (lbs)
48
Warranty
2 years
The Wen 56200i inverter generator is very hard to ignore especially when affordability and reliability are at the top of your list of considerations.
This generator is the least expensive in these 2000 watt generator reviews. But its quality is often associated with that of most of the top names that come at up to 4 times its outlay.
The Wen 56200i uses an EPA III and Carb Compliant 79.7 cc OHV engine that produces 2000 starting watts and 1600 running watts.
This power output coupled with its 51 dBA noise level (normal conversation is around 60 dB) makes it a very suitable choice for a camping generator. It's also worth considering for use in construction sites and neighborhoods with strict regulations on generator noise levels.
Importantly, should you want more power than it offers, there is an option to hook it to another compatible inverter. This doubles the power output while still producing power with 1.2% THD which is very 'clean' and safe for your medical devices, laptops, tablets, and cellphones.
This generator offers a 6-hour runtime with its 1-gallon tank- I find this still efficient albeit not the best score here. It also has almost all the power outlets that you'd need for most of your gadgets; two 120v 20A 3-prong receptacles, one 12v DC 8.3A outlet, and one 5v USB port.
Westinghouse WH2200iXLT Portable Inverter Generator
Efficient
Low noise level
Produces clean power (<3% THD)
No fuel gauge or hour meter
Westinghouse WH2200iXLT Specifications
Starting Watts
2200
Running Watts
1800
Fuel Type
Gasoline
Noise Level
52 dBA
Tank size (gal)
1.3
Run Time
13 hrs
Dimensions (in)
20.3 x 12.5 x 17.8
Weight (lbs)
43
Warranty
2 years
We can't talk of the best 2000 watts portable generators without mentioning Westinghouse and particularly their WH2200iXLT inverter generator. This is a very popular recommendation and has several impressive features that you won't get from other inverters in this price category.
Similar to the Wen above, the WH2200iXLT has a 79cc 4-stroke motor that also meets EPA III and CARB requirements.
The major difference, however, is that this model outputs 1800 watts of running power and 2200 watts of surge power.
Albeit a small difference in power output, the additional 200 watts of the Westinghouse means that it can support a higher power load without tripping.
This generator will come in handy for powering several low-power appliances at home when the grid is down. Its weight (43 lbs) and sturdy handle also make it a solid portable generator for use in campgrounds, hunting adventures, and tailgating parties. You can also parallel it to a compatible generator for more power in construction sites and RVs.
The Westinghouse WH2200iXLT is among the most efficient inverters. On its Efficiency Mode, this generator can power your devices for up to 13 hours on its 1.3-gallon tank while keeping the noise level at 52-58 dB.
Generac 7117 GP2200i Portable Inverter Generator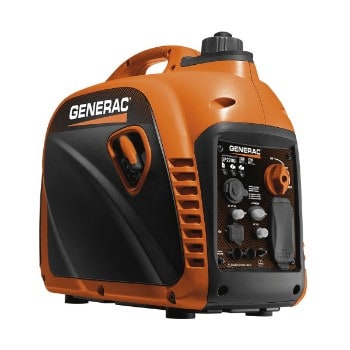 Great price point
Low fuel consumption
Outlets have plastic covers
Starts easily
Several complaints regarding finicky recoils
Generac GP2200i Specifications
Starting Watts
2200
Running Watts
1700
Fuel Type
Gasoline
Noise Level
60 dBA
Tank size (gal)
1.2
Run Time
5 hrs
Dimensions (in)
19 x 11 x 17
Weight (lbs)
46
Warranty
2 years
The Generac 7117 GP2200i comes in at a price slightly lower to that of the Westinghouse above, but with an equal starting power.
This generator delivers 2200 watts of surge power and 1700 running watts. This power is stable and clean and can be used to juice up pretty much anything within this generators capabilities be it in the woods or during outdoor cookouts.
A highly rated model by many previous buyers, the GP2200i is a compact model measuring 19 x 11 x 17 inches and weighing around 46 lbs. These dimensions make it a very portable generator that most people won't struggle moving around.
Is it efficient?
In my opinion, Yes. The Generac 7117 uses an 80 cc OHV motor that runs on a 1.2 tank for up to 7 hours at 50% load. Although we all have varying power needs, the economy mode built into this generator makes it possible for an average family to get at least 10 hours from this tank.
Similar to most 2000-watt inverter generators, this model has a recoil start only. The good news is that it's very easy to start and most actually report that it picks within the first 2 pulls- most of the time.
The control panel is endowed with 2 120v household outlets, 5-20R 120V Duplex receptacle, 12v DC outlet, and a 1.5A USB port. There are parallel connection ports too that allow you to pair 2 generators for higher power output. Impressively, all the electrical outlets have sturdy plastic covers to protect them from dust.
Champion 2000 Watt Stackable Generator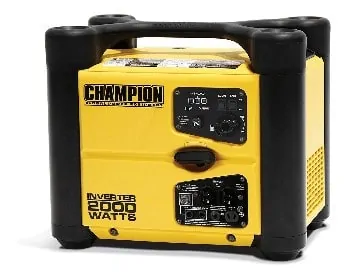 Affordable and great value
Runs smoothly
Quiet
Efficient
Parallel-ready and stackable
No gas drain
No DC breaker
Has no oil drain plug
Champion 2000 Watt Generator Specifications
Starting Watts
2000
Running Watts
1700
Fuel Type
Gasoline
Noise Level
53 dBA
Tank size (gal)
1
Run Time
9.5 hrs
Dimensions (in)
18.9 x 16.5 x 22.4
Weight (lbs)
49
Warranty
3 years
The sturdy frame of the Champion 73536i is the first thing that most people are going to like about it. This frame is made of hard plastic and seems very capable to take most of the rigors that come with outdoor usage. It also plays a great role in minimizing vibration and keeping this generator's noise output to 53 dBA only.
This ultra-quiet performance makes it perfect for camping, boating, hunting, and tailgating. The feet and top of this generator's frame have also been thoughtfully designed to allow you to safely stack 2 generators together thereby saving on space. And this makes more sense considering that the Champion 73536i comes parallel-ready.
This generator is powered by an 80 cc OHV engine that pumps out 2000 watts of starting power and 1700 watts running power for up to 9.5 hours at 25% load from the 1.0-gallon tank. The control panel is just basic and although it does not feature a USB port, its 2 120v 20A household outlets, and a 12v DC outlet might be sufficient for most people's needs.
Pulsar G2319N Portable Quiet Inverter Generator
Highest starting watts
Compact design
Incredible runtime at 50% load
Manufacturer not well known
Pulsar G2319N Specifications
Starting Watts
2300
Running Watts
1800
Fuel Type
Gasoline
Noise Level
59 dBA
Tank size (gal)
1.18
Run Time
6 hrs
Dimensions (in)
18.9 x 16.5 x 22.4
Weight (lbs)
47
Warranty
3 years
Pulsar may not enjoy the brand reputation that most models have in this list. But in matters concerning reliability and efficiency, this units deserves a mention in our 2000 watt generator reviews.
A standout aspect of the Pulsar G2319N is its impressively high starting watts. At 2300-watts, this is the highest peak wattage in this list and offers you a greater leeway to start most household appliances that have a sizable starting power demand. Its 1800-watt running power is the highest here also and means that it can support a slightly heavier load than models with lower starting watts.
This generator uses an 80 CC single cylinder OHV engine and has an inverter that delivers all the benefits that this technology is known for; stable and clean power for use with sensitive gadgets, long runtime of 6 hours at half load, and quiet operations.
The manufacturer states that this generator is 59 dB loud at just 10 feet away. I believe this could go as low as 50 dB from the industry standard 23ft distance.
This generator is considerably compact at 19.7'' x 11.22'' x 17.91'' and it's not so heavy too at 47 pounds. It has a handy briefcase style that makes it so easy to carry and use for camping, tailgating, boating, and even at home. It can also be connected to another inverter for more power at home and construction sites.
The Pulsar G2319N has 2 120v 15A outlets, a 12v DC outlet, and a 5v USB outlet. Again, in addition to an AC breaker, this model also has a DC circuit breaker that the Champion 73536i lacks.
Best 2000 Watt Generators Comparison
| Generator | Rating | Starting Watts | Running Watts | Fuel Type | Noise Level | Tank size (gal) | Run Time | Dimensions (in) | Weight (lbs) | Engine Displacement | Warranty |
| --- | --- | --- | --- | --- | --- | --- | --- | --- | --- | --- | --- |
| Wen 56200i | 4.5/5 | 2000 | 1600 | Gasoline | 51 dBA | 1 | 6 hrs | 18 x 18 x 18 | 48 | 79.7cc | 2 years |
| Westinghouse WH2200iXLT | 4.5/5 | 2200 | 1800 | Gasoline | 52 dBA | 1.3 | 13 hrs | 20.3 x 12.5 x 17.8 | 43 | 79cc | 2 years |
| Generac 7117 | 4.1/5 | 2200 | 1700 | Gasoline | 60 dBA | 1.2 | 5 hrs | 19 x 11 x 17 | 46 | 80cc | 2 years |
| Champion 73536i | 4.0/5 | 2000 | 1700 | Gasoline | 53 dBA | 1 | 9.5 hrs | 18.9 x 16.5 x 22.4 | 49 | 80cc | 3 years |
| Pulsar G2319N | 4.3/5 | 2300 | 1800 | Gasoline | 59 dBA | 1.18 | 6 hrs | 19.7 x 11.22 x 17.91 | 47 | 80cc | 3 years |
What Can You Run on a 2000-Watt Generator?
The type and number of appliances and tools that you can run on a 2000 watt generator solely depend on their total starting and running requirement. This is something that you need to consider before making the purchase.
To determine your power requirement, identify all the devices that you'll need to keep powered at all times, add their total running watts, and then add the highest starting watts (if any). Does the total wattage fit in 2000 watts?
As you think of power, think of all other vital components of the generator that matter the most including voltage, size of the tank, and runtime on different loads.
A 2000 watt generator can be used in most scenarios that require a portable power source especially in camps, recreational vehicles, tailgate parties, and even at home during an outage.
It can also run pretty much any device within its load performance. Here is a quick reference list of appliances that can be powered by a 2000-watt generator and their average wattage demands:
Microwave 1000w
Refrigerator 750w
Toaster 1200w
Espresso machine 1000w
Freezer 600w
Ceiling fan 150w
Washing machine 500w
Computer 150w
Portable heater 1200w
Television 250w
Stereo 300w
10,000 BTU AC (2200 starting watts and 1500 running watts)
Sump pump (1200 surge watts, 800 running watts)
Water well pump 1000w
Frequently Asked Questions
Can 2000 watt inverter generators be used to power sensitive devices?
Yes. Inverter technology involves passing the raw power produced through a special microprocessor that 'cleans' and stabilizes it. This makes the power as safe as what you get from the grid.
Can a 2000-watt generator be used in a vented enclosure?
No. Although these generators have fewer emissions compared to standard generators, the fact that they burn fuel means that they still pose a risk of CO poisoning and should, therefore, be used in the open.
Do I have to empty the generator's fuel tank before storage?
Well, you don't need to if you plan to use the generator in the next couple of days. However, if you plan to store it for over a month, the fuel could go bad and damage the system. That being said, you could opt to either drain the fuel or use a stabilizer.
Are 2000 watt inverter generators loud?
Generally, most inverter generators are relatively quieter than standard generators. But it's still important to double check the manufacturer's dB ratings at different loads as some can get really loud especially at 100% load.
Conclusion
Albeit not so powerful for power-hungry appliances and power tools, the compact design of most 2000 watt generators coupled with their excellent portability and quiet operations is what makes them the best for camping, tailgating, hunting, and fishing.
Most of the models also come parallel-ready. This allows you to double the power output for heavier loads without doubling the noise level.
The Pulsar G2319N is our pick of the best 2000 watt portable generator. Although it's not as light as the Westinghouse WH2200iXLT, this generator has an impressively compact design and it's actually the most powerful in this list.
In addition, it has all the outlets that you'd expect to see on a portable generator including a USB port.