The best 3000-watt generators offer a really good balance between power and portability, which makes them perfect for RVing, boating, or having at home in case of a power outage.
In these 3000-watt generator reviews, we'll take you through 5 of the top-rated models on the market today. We highly advise you to read through each review to ensure that you're getting the best 3000-watt inverter generator for the money. We also have a detailed comparison chart at the end of the reviews should you be in a hurry.
Our Top Picks
Best Overall
Generac GP3000i
Super quiet
Light weight
Easy to use
Budget Pick
Champion 75531i
Affordable
RV-ready
Quiet
The Top 3000-Watt Portable Generators at a Glance:
Check the comparison table for more details.
How to Choose the Best 3000-Watt Portable Generator 
The very first thing you should consider when choosing a portable generator is the device's power. Is a 3000-watt generator enough to cover your power requirements? Check its starting and running watts.
The starting watts rating is crucial especially if the load will consist of several devices that draw a high amount of surge power when starting.
The running wattage is equally important too and should be able to sustain the wattage requirement of the appliances that you'd want to run together.
In addition to meeting your power requirements, check out the generator's runtime. Regardless of what you plan to use your 3k watt inverter generator for, a longer runtime means that you won't need to refuel often.
Lastly, consider a 3000-watt generator that offers the most convenient features within your budget. Here, consider the type and number of outlets available, type of starter, available circuit breakers, and gas and oil drain. In addition, check out the type of alerts that the control panel is endowed with, for instance, low oil and remaining runtime.
Best 3000-Watt Generators: Our Reviews 
Generac GP3000i – Best Overall
Lightweight
Quiet
Easy to start
Works great even at 100% load
Generac GP3000i Specifications
Starting Watts
3000
Running Watts
2300
Fuel Type
Gasoline
Noise Level
58 dBA
Tank size (gal)
1.06
Run Time
4.5 hrs
Dimensions (in)
22.2 x 13.3 x 18.4
Weight (lbs)
59.5
Warranty
3 years
The Generac GP3000i generator is a model that you are very likely to see a lot in most RV campgrounds. And there is no wonder at that. The generator is one of the lightest 3000-watt generators, and is also one of the quietest.
Although it does not have the versatility of remote starting, its parallel-capable design means a lot for DIYers who want often need more power without resorting to conventional generators.
The Generac GP3000i generator has a 149cc engine that outputs 3000 starting watts and 2300 running watts. This engine can output half its running watts for 4.5 hours with the 1.06-gallon tank full.
This 3000-watt inverter generator has what Generac dubs True Power technology. Generally, this is an assurance that your power-sensitive gadgets, appliances, and tools are safe when powered by this generator.
Speaking of power, the Generac GP3000i has a 120v 30A Twist-lock outlet, 120v 20A 5-20R Duplex outlet, and 2 5V DC USB outlets. At the top, there are 3 LED lights that keep you posted on when the outlets are ready for loading, when the generator is overloaded, and when the oil is low.
Champion 75531i – Best Value for Money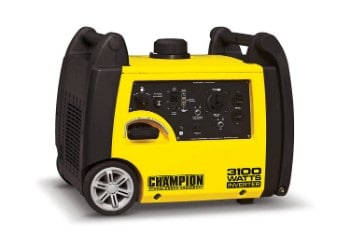 Lots of starting options
Ships RV-ready
Quiet
Champion 75531i Specifications
Starting Watts
3100
Running Watts
2800
Fuel Type
Gasoline
Noise Level
58 dBA
Tank size (gal)
1.6
Run Time
8 hrs
Dimensions (in)
24.8 x 19.3 x 20.1
Weight (lbs)
83
Warranty
3 years
Our third contender is a nicely built 83-pound inverter generator that is often compared to the kings of inverter technology- Yamaha and Honda- even though it is much more affordable.
The Champion 75531i generator will supply you with 3100 starting watts and 2800 running watts of clean power with its EPA and CARB-compliant 171 cc OHV engine. This engine runs for up to 8 hours at 25% load and it's quiet at 58 dBA.
As you can possibly judge from these wattages, this is a great generator for campers, RV'ers, and tailgaters. It can also be used for low power loads at home and at construction sites.
However, it's worth noting that unlike most generators in these reviews, the Champion 75531i is not parallel-capable. This is its major drawback that, by the way.
The control panel is nicely arranged and features 2 120v 20A household outlets, 120v 30A RV outlet, and a 12v DC outlet with 2 USB ports.
A unique feature that gives this generator an edge over the others is its trio starting options. You can choose to pull the recoil starter, press an electric starter, or simply use a wireless key fob that works at up to 80ft away.
Honda EU3000iS – Premium Pick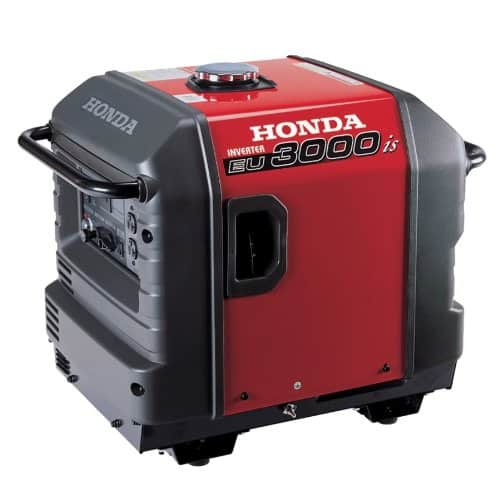 Most efficient
Reliable power output
Durable
Quietest generator
Honda EU3000iS Specifications
Starting Watts
3000
Running Watts
2800
Fuel Type
Gasoline
Noise Level
49-58 dBA
Tank size (gal)
3.4
Run Time
20 hrs
Dimensions (in)
25.9 x 17.6 x 22.0
Weight (lbs)
131
Warranty
3 years
Considered as the best 3000 portable inverter generator by many, Honda EU3000iS is the most expensive in this category and it rarely goes on sale. This price can also be attributed to its reliability, durability, and of course, brand reputation.
This generator outputs 3000-watts of starting power and 2800 running watts. Its 196 cc engine isn't the biggest compared to some other generators in these reviews. But it's hands down the most efficient.
With its 3.4-gallon tank, the Honda EU3000iS can run for up to 20 hours at ¼ load and at least 7 hours at 100% load. To put this into perspective, this generator can keep your fridge and refrigerator running overnight.
It's also capable of running most 13,500 BTU AC units not to mention most common household appliances; refrigerators, blenders, coffeemakers, juicers, and furnace.
Besides being the most efficient, the Honda is the best 3000-watt inverter generator from a noise level perspective. This beast operates at between 49 dB and 58 dB depending on power load. This makes it a perfect pick for pretty much any application where silence is of essence be it in camps or quiet neighborhoods.
This generator measures 25.9 x 17.6 x 22.0 in and has a dry weight of 131 pounds. We can't deny that it's heavy, but its 2 sturdy handles make lifting and carrying over short distances very easy.
WEN 56310i – Best for Quietness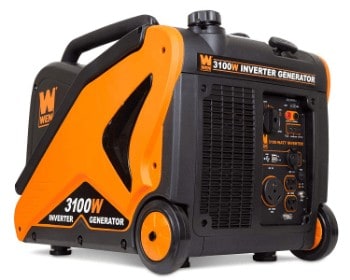 Affordable
Comes RV-ready
Eco-mode for higher efficiency
Quiet
Plastic side cover feels flimsy
WEN 56310i Specifications
Starting Watts
3100
Running Watts
2800
Fuel Type
Gasoline
Noise Level
57 dBA
Tank size (gal)
1.83
Run Time
7.5 hrs
Dimensions (in)
23 x 16.5 x 19.5
Weight (lbs)
81
Warranty
3 years
Our first recommendation here goes to homeowners and outdoor enthusiasts in need of an affordable 3000-watt generator.
The Wen 56310i delivers a surge power of 3100 watts and a running wattage of 2800w. This is enough power to power an RV. Actually, this generator has a TT-30R outlet for this purpose. Other outlets on the control panel are two 3-prong 120v receptacles, one 12 DC outlet, and 2 5v USB ports.
You can also rely on this generator to run several appliances at home during an outage, and at an off-grid construction site. Similar to other Wen generators, the 56310i also has parallel connection capability.
With its 1.83-gallon tank full, this generator's 210-cc OHV engine offers you an impressive 7.5 hours of continuous power output at 50% load. This power has a THD of 1.2% and it's, therefore, clean and safe for your sensitive electronics and appliances.
The Wen 56310i operates at a 57-dBA noise level and albeit not the lightest at 81 pounds, it has a sturdy handle and rollers to make portability easy.
Briggs & Stratton 30545 – Easy to Move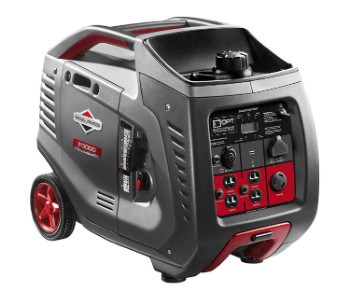 Intuitive LCD display
Quiet
Easily portable
Lots of ports
Slightly less efficient compared to the competition
Briggs & Stratton 30545 Specifications
Starting Watts
3000
Running Watts
2600
Fuel Type
Gasoline
Noise Level
59 dBA
Tank size (gal)
1.5
Run Time
5 hrs
Dimensions (in)
2.4 x 13.2 x 23.5
Weight (lbs)
96
Warranty
2 years
If your budget allows you to spend a few hundred dollars on top of what the Wen 56310i costs, the Briggs and Stratton 30545 P3000 might be the best 3000-watt inverter generator for the money.
This generator runs on a 171 cc engine that is capable of delivering 2600 running watts and 3000 starting watts. You'll find this power output enough for most of your household items especially if you'll be running them intermittently. You can also run several low-power appliances simultaneously at home, camps, tailgate parties, RV camps, and even on your boat.
The Briggs and Stratton 30545 is fitted with a 1.5-gallon tank and promises a runtime of up to 10 hours at 25% load and 5 hours at ½ load.
This inverter generators control panel is one of its key selling highlights. It features four 120v household outlets, one 12v 5A DC outlet for recharging batteries, and 1 USB port. It also has 1 parallel port should you want to connect 2 generators.
What I find so impressive here, however, is its intuitive Statstation LCD screen that displays vital stats such as runtime and power consumption.
The 30545 P3000 weighs 96 pounds but it's, all in all, portable thanks to its retractable handle and 6-inch wheels. And Yes- this thing is quiet at 59 dB!
Best 3000-Watt Inverter Generators Comparison
| Preview | Generator | Rating | Starting Watts | Running Watts | Fuel Type | Noise Level | Tank size (gal) | Run Time | Dimensions (in) | Weight (lbs) | Engine Displacement | Warranty |
| --- | --- | --- | --- | --- | --- | --- | --- | --- | --- | --- | --- | --- |
| | Generac GP3000i | | 3000 | 2300 | Gasoline | 58 dBA | 1.06 | 4.5 hrs | 22.2 x 13.3 x 18.4 | 59.5 | 149cc | 3 years |
| | Champion 75531i | | 3100 | 2800 | Gasoline | 58 dBA | 1.6 | 8 hrs | 24.8 x 19.3 x 20.1 | 83 | 171cc | 3 years |
| | Honda EU3000iS | | 3000 | 2800 | Gasoline | 49-58 dBA | 3.4 | 20 hrs | 25.9 x 17.6 x 22.0 | 131 | 196cc | 3 years |
| | Wen 56310i | | 3100 | 2800 | Gasoline | 57 dBA | 1.83 | 7.5 hrs | 23 x 16.5 x 19.5 | 81 | 210cc | 3 years |
| | Briggs & Stratton 30545 | | 3000 | 2600 | Gasoline | 59 dBA | 1.5 | 5 hrs | 2.4 x 13.2 x 23.5 | 96 | 171cc | 2 years |
What Can You Run on a 3000-watt Generator? 
You can run any appliance on these generators provided the starting power and running power don't exceed 3000-watts. For instance, for a quick breakfast fix, you could plug in the juicer or a coffee maker as you fry some eggs and later on plug in the dishwasher when nothing else needs powering.
It's also possible to run several items and run them simultaneously. What's important is to ensure that the total load is below 3000-watts. That's to say that you can plug in 2 1500-watt appliances or up to 10 300-watt devices.
When adding a motor-powered appliance to an existing load, ensure that the available wattage capacity is enough for the motor's starting power demand. For instance, if a generator is running 4 devices with a total running power of 2000 watts, you only have 1000 watts remaining. This means that you might not be able to add another appliance with, let's say, 1500 starting watts even if the actual running power is 900w.
Here is a list of appliances that you can run on a 3000-watt generator:
| Item | Starting Power (w) | Running Power (w) |
| --- | --- | --- |
| 10,000 BTU AC | 2200 | 1500 |
| 3/4HP Furnace Fan | 2350 | 875 |
| Wet/Dry vacuum | 2500 | 888 |
| Miter Saw | 2100 | 840 |
| 7 ¼'' Circular Saw | 3000 | 1500 |
| Planer | 2400 | 600 |
| Electric Chainsaw | 2400 | 1200 |
| Circular Saw | 2400 | 1200 |
| Microwave | – | 1000 |
| Refrigerator | – | 750 |
| Portable Heater | – | 1200 |
| Sump Pump | 1200 | 800 |
| Water well pump | – | 1000 |
Conclusion
There are some good reasons to choose an inverter generator. A 3000-watt portable inverter generator might be a great pick if you want power without compromising the portability aspect of the generator so much.
These generators are capable of running most household appliances (simultaneously or intermittently depending on starting and running power) and can also be used in construction sites as the table above affirms. They are also not so loud and most of them can be used in campgrounds and RVs, as you can find in our article about the best portable generators for RVs.
If you haven't yet decided on the best 3000-watt generator to buy, the Generac GP3000i is worth checking out. Besides coming from a reputable brand, this generator is easy to start, easy to carry, and remains very quiet even on maximum load.