When your desire to connect with nature takes you deep into solitude, a quiet camping generator can make your time in the wilderness both safe and enjoyable. You can use it to power your electronic gadgets, outdoor and indoor lighting, or the air conditioner in your tent or RV.
When buying a portable generator for camping, you want a model that ticks all the boxes regarding quiet operations, excellent portability, reliability, and durability. In this article, I provide brief reviews of the 6 top-rated generators for camping to ease your choice. But if you are still not sure which is the best camping generator then these buyer's guidelines may prove useful in making the right decision.
In case, you are more into RV camping, then feel free to check our article about best RV generators, otherwise, keep reading to find the right camping generator for you.
Our Top Picks
Best Overall
Wen 56200i
Lightwight
Quiet
Affordable
Premium Pick
Honda EU2200i
Reliable
Durable
Super Quiet
What to Consider When Buying a Camping Generator
Power output
The very first thing to consider is the power that the portable generator can provide. To make sure your camping generator has enough power to run all the electrical items you plan to use, check what are the highest starting watts required from your items and sum up running watts of all your devices. This will give you an idea of how many watts your go-to generator should be able to produce on continual mode.
What size generator is best for camping?
A 2000-watt generator tends to be the perfect option for camping since it's just enough to keep laptops, phones, cameras, drones, and small fans powered up. And it does this while still offering excellent portability and maintaining incredibly low noise levels.
Noise
It is very important to get a quiet camping generator because it should conform to the National Park Service audio regulation, which curbs the maximum generator noise level at 60 decibels when measured from 50 feet. Getting a generator that's much quieter than this guarantees you an easy time with other campers.
Portability (size and weight)
It's also essential to think about the ease of transporting and lifting the generator. A camping power generator that you can comfortably lift with your hands will make a lot of sense. Otherwise, consider a model with a retractable handle and solid never-flat wheels.
Again, think about the overall size of the generator. A compact generator will be much easier to create space for in your truck, caravan, or camper compared to a bulkier one.
Runtime
The generator's runtime depends on two things – the size of the fuel tank and the efficiency of the engine. Go for a portable camping generator that runs for at least 8 hours before the need for refueling. This way, you won't have to wake at the wee hours of the night just to add more fuel.
Budget
Camping generators come in all prices ranging from models that cost a few hundred dollars to high-end powerhouses that cost over a grand. The most significant determinants here include the technology in use, convenience features on the machine, and the brand. For instance, Honda and Yamaha's generators are currently the priciest inverters on the market. But besides their renowned brand name, these two also lead in terms of reliability and durability. However, that's not to mean that you can't get a powerful, yet reliable generator set from other brands, such as WEN, Westinghouse, Generac, and Champion.
Best Camping Generators: Reviews
WEN 56200i – Best Generator for Camping Overall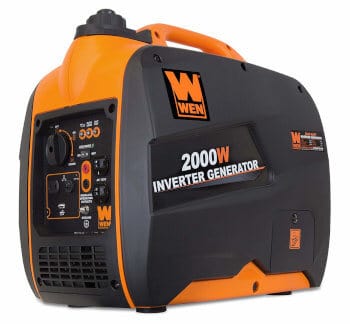 Affordable
Quiet
Lightweight
Straightforward to use
Changing oil requires some effort
WEN 56200i Specifications
Starting Watts
2000
Running Watts
1600
Noise Level
50 dBA
Fuel Type
Gasoline
Tank size (gal)
1
Run Time
6 hrs
Dimensions (in)
18 x 11 x 18
Weight (lbs)
50
The Wen 56200i is one of the quietest camping electric generators today. Rated at 51 dBA, this unit is much quieter than a normal conversation. This implies that you can comfortably position it right outside your camp and have a good night's sleep.
It's also one of the most affordable units. So, if you are working on a tight budget, this machine got your back.
Wen 56200i is a gasoline-powered generator fitted with an EPA III and CARB-compliant 79.7 cc OHV engine that peaks at 2000 watts before leveling at 1600 watts. This power output is pretty much what most campers need to keep their appliances and gadgets powered up throughout the camping adventure and when hunting or tailgating.
This generator can run for at least 6 hours non-stop at 50% load with its 1-gallon tank full. It gets even more efficient once you engage the eco-mode.
Honda EU2200i- Best Quiet Generator for Camping
Supreme fuel efficiency
Smooth starting
Relatively more powerful
Whisper quiet
Costs top dollar
Digital hour meter would be nice
Honda EU2200i Specifications
Starting Watts
2200
Running Watts
1800
Noise Level
48 dBA
Fuel Type
Gasoline
Tank size (gal)
0.95
Run Time
8.1 hrs
Dimensions (in)
20.7 x 19.3 x 12.1
Weight (lbs)
46.5
The Honda EU2200i inverter generator is notably pricier than most of its competitors. But no other generator in these reviews adds comfort and convenience to your expeditions better than this model. It is also the quietest camping generator with its 48 dBA noise level rating depicts, and among the lightest at 46.5 lbs.
The EU2200i generates 2200 watts of starting power and 1800 running watts at full load. While this is only around 10% more power compared to the Wen 56200i, the 200 extra watts will allow you to power up a slightly higher load. Besides, it comes parallel-ready. So, you can get almost twice this power output once you connect it to another inverter generator.
Its 121 cc Honda GXR120 engine rules the roost in terms of reliability, durability, and efficiency. This engine is fitted with an automatic mechanical decompressor that makes it a breeze for almost everyone to start it.
With its Eco-Throttle System engaged, this generator offers a runtime of 8.1 hours on its 0.9-gallon fuel tank.
Champion 73536i – Best Small Generator for Camping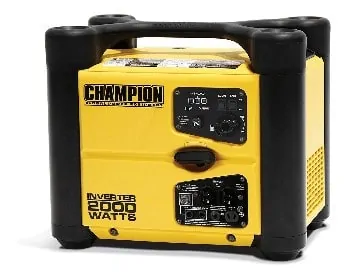 Sturdily built
Super-compact
Stackable design
Parallel connectivity
A few reports regarding leaks
Complaints about overheating
Champion 73536i Specifications
Starting Watts
2000
Running Watts
1700
Noise Level
53 dBA
Fuel Type
Gasoline
Tank size (gal)
1
Run Time
9.5 hrs
Dimensions (in)
18.9 x 16.5 x 22.4
Weight (lbs)
47.6
If size is among your key considerations, Champion- an American company based in California- has a generator that might interest you. Enter the Champion 73536i.
This is a reasonably small camping generator that measures 16.3″ by 13.2″ by 19.3″ and weighs 47.6 lbs. Its size is one of the key reasons for its popularity among people looking for the best portable generator for camping, hunting, and fishing.
Its 80 cc Champion engine produces 2000 starting watts and 1700 running watts, which is quite an achievement considering the size and price of this generator. This is pretty much enough power for a TV, satellite dish, small refrigerator, and a small camping fan.
Even better, you can parallel it to another similar generator for double power output. Actually, this generator boasts a stackable design that helps in maintaining its portability and storage aspects when using 2 generators.
Another notable strength of this generator is its ability to generate power for over 9 hours from a 1-gallon tank.
Considering its 53 dBA noise level rating, the Champion 73536i isn't the quietest generator for camping. However, you should still be fine running it in most camps even at night.
Westinghouse WH2200iXLT – Best Camping Generator by Fuel Economy
Lightest generator
Lots of power
Unbeatable fuel economy
Quiet
Westinghouse WH2200iXLT Specifications
Starting Watts
2200
Running Watts
1800
Noise Level
52 dBA
Fuel Type
Gasoline
Tank size (gal)
1.3
Run Time
13 hrs
Dimensions (in)
20.3 x 12.5 x 17.8
Weight (lbs)
43
For campers who want more power without forking out almost a grand for an inverter generator, the Westinghouse WH2200iXLT demands special attention.
The WH2200ixlt generates 2200 watts of surge power and 1800 watts in continual mode. Put, in other words, this model is as powerful as the Honda EU2200i, only that it's 2 times cheaper. Similar to most inverter generators, you can also parallel this generator to another WH2200iXLT or an iGen1200, 2200, or 2500 for more power.
This generator uses a 79cc EPA and CARB-compliant engine with a noise output of 52 Dba. That's around 4 dB louder than the Honda, but you can still hold a conversation right next to it.
What makes it a favorite pick in these camping generator reviews is its unbeatable fuel economy. With its 1.3-gallon tank full, this Westinghouse generator can afford at least 13 hours of continuous power output at 25% load.
Worth noting, this generator by Westinghouse is the lightest model in this collection. Weighing a mere 43 pounds, you'll barely need any help lifting it around.
Briggs & Stratton 30651 P2200 – Best Camping Generator for Ease of Use
High starting watts
H-style handle for easy lifting and carrying
Incredible runtime
Convenient control panel
Slightly louder than competitors
A tad heavier
Briggs & Stratton 30651 P2200 Specifications
Starting Watts
2200
Running Watts
1700
Noise Level
59 dBA
Fuel Type
Gasoline
Tank size (gal)
1
Run Time
8 hrs
Dimensions (in)
22.4 x 14.4 x 19.9
Weight (lbs)
54
Briggs and Stratton is another highly recommendable generator brand that designs and manufactures its products right here in the USA. This manufacturer has been around for over a century now. Its products are up there with other renowned brands when it comes to innovative technologies and reliability.
A hit in this brand's PowerSmart series, the P2200 is an awesomely designed inverter generator featuring a 111-cc gasoline-powered engine and a modern design to boot.
This generator's 2200 watts of surge power puts it in the same league with Honda and Westinghouse, although its running power output is slightly lower at 1700 watts. Still, this is one of the best quiet generators that you can rarely go wrong with.
The Briggs and Stratton features a 1-gallon tank with which it can power your laptops, TV, DSLR cameras, entertainment systems, and coffee machine for up to 8 hours at 25% load. Starting it is a breeze thanks to its easy-pull recoil starter and a straightforward control panel.
Weighing 54 lbs, this generator is a little bit on the heavier side compared to other contenders in these portable camping generator reviews. It's also a little bit louder at 59 dBA but still way quieter than traditional open flame generators.
Jackery Explorer 240 – Best Solar Generator for Camping
Zero noise emission
Lightweight
Super-compact
Eco-friendly
Supports low-power gadgets only
Solar sold separately
Jackery Explorer 240 Specifications
Starting Watts
400
Running Watts
200
Noise Level
–
Fuel Type
Solar power
Tank size (gal)
None
Run Time
7 hrs
Dimensions (in)
9.05 x 5.24 x 7.8
Weight (lbs)
6.6
Jackery was formed by a former Apple battery engineer in 2012. This explains why it has become a name to reckon within the world of eco-friendly generators. What we have from this company is a solar generator for camping that most outdoor enthusiasts can't stop raving about. It is also in our list of best portable solar generators.
First things first, the Explorer 240 won't run your hairdryer, electric kettle, and induction cooker. However, if all that you want to keep powered is a laptop, a couple of phones, DSLR cameras, and other low-power camping essentials, this is the way to go.
You'll never need gasoline or propane with this generator as it's primarily powered by the Jackery Solar Saga 60w/100w solar panel (sold separately). Since there's no combustion involved, the issues of noise output and gas emissions have again been completely eliminated. This means that you can use it right inside your tent.
This solar generator recharges fully in around 7 hours in full sun, and it has an LCD screen showing the actual amount of power remaining. Its control panel features 2 USB-A ports, a 12v DC car port, and a 110-volt, 200w AC port.
Importantly, this camping solar power generator weighs roughly 6.6 lbs, so carrying it around in the wilderness probably won't be a big deal.
Best Camping Generators: Comparison
Generator
Rating
Starting Watts
Running Watts
Noise Level
Run time
Fuel Type
Tank size (gal)
Dimensions (in)
Weight (
Engine Displacement
Warranty
WEN 56200i
4.8/5

2000
1600
50 dbA
6 hours
50% load
Gasoline
1
18 x 11 x 18
50
79.7cc
2 years
Honda EU2200i
4.7/5

2200
1800
48 dbA
8.1 hours
Gasoline
0.95
20.7 x 19.3 x 12.1
46.5
121cc 
2 years
Champion 2000
4.5/5

2000
1700
53 dBA
9.5 hours
Gasoline
1
18.9 x 16.5 x 22.4
47.6
79cc
3 years
Briggs & Stratton 30651
4.5/5

2200
1700
59 dbA
8 hours
25% load
Gasoline
1
22.4 x 14.4 x 19.9
54
 111cc 
2 years
Westinghouse WH2200iXLT
4.4/5

2200
1800
52 dbA
13 hours
Gasoline
1.3
20.3 x 12.5 x 17.8
43
79cc
2 years
Jackery Explorer 240
4.8/5

400
200
-
7 hours
Solar power
none
9.05 x 5.24 x 7.8
6.6
-
2 years
People Looking for Camping Generator Also Ask:
Do I need a generator for camping?
If you are planning to rough it, a generator won't be necessary. Also, it won't be of any importance if you are ready to pay more to be on a camping ground with electricity. However, if you'll be in the remotest areas and you wish to bring along your modern comforts and conveniences, then you can't afford to go without a portable generator set.
How can I run a portable camping generator safely?
Always use it outdoors
Ensure that it's grounded
Turn ON the generator before plugging in the appliances
Never operate it in wet conditions
Always turn the generator OFF and let it cool down before refueling
How do I protect my camping generator from rain?
You can protect your generator from rainwater using a portable generator cover or a pop-up canopy, such as this one. Also, consider positioning it on a ¾-inch piece of plywood to ensure that the surface directly beneath the generator remains dry.
How can I make my camping generator quieter?
There are several solutions to a noisy generator, including building a quiet generator enclosure, replacing the muffler, using a car muffler, and placing the generator behind a building or vehicle. See our detailed guide on how to make a generator quieter for more information on the topic.
How to ground a generator when camping?
Grounding a generator is a safety measure that minimizes the risk of fires and injuries. To successfully ground the generator:
Use a hammer or mallet to drive the copper grounding rod into the ground
Strip back one side of copper wire and wrap it around the copper rod
Strip the other side of the wire and twist it around the grounding bolt on the generator. Tighten the bolt to secure the wire. To ensure that you do it the right way, consider going through our detailed guide on how to ground a generator.
Conclusion
If you are not planning to totally rough it, a portable generator can be of great use when camping. If you haven't yet decided which is the ideal model for you, Wen 56200i took my golden badge of the best generator for camping. It is lightweight, quiet, affordable, with a decent runtime. Having said that, all other models, included in these camping generator reviews, have their arguments to be called the best.