A portable generator is an invaluable component of any food truck. To help you find the best food truck generator for your business on wheels, we've briefly reviewed the top 5 models currently on the market. If you are not sure what to look for when buying a generator for a food truck, consider going through our short buyers guide for some tips.
Below, you will find our top recommendations in case you want to skip the reviews and save yourself time.
Our Top Picks
Best Overall
DuroMax XP12000EH
Powerful
Easy startup
Quick assembly
Premium Pick
Honda EU7000is
Compact
Reliable
Powerful
Budget Pick
A-iPower SUA12000E
Affordable
Heavy-duty build
Easy to start
The best food truck generators at a glance:
See our comparison table for more details.
What to Consider Before Buying a Generator for Food Truck
Know the rules and abide by them
Before buying a generator for your food truck, you need to decide how it will be fueled. If you decide to install the generator in the truck so that it pulls fuel from the onboard tank, you can use any standard gas-powered generator.
However, if you plan the portable generator to use its own dedicated fuel reservoir then you need to get a model with an EVAP (Enhanced Evaporative Emission) system. This system prevents fuel vapors from escaping into the environment.
Not to be taken lightly, if you are in an area where an EVAP system generator is required, and you are caught using the standard model, you may have to part with upwards of $39,000 in fine.
Consider your power needs
Be sure to calculate the amount of power, in watts, that all your appliances will need and go for a generator that meets that requirement. The way to determine wattage requirements of your food truck is to add all the required continuous watts plus the highest starting wattage on the list. Our team of experts also recommends adding 20% to the size of the generator to cater to any additional power needs in the future.
What size generator for a food truck?
The generator's size will differ based on the wattage requirements. A portable generator with a power output of at least 5000 watts should be enough to power most common food truck appliances. Still, calculate the power requirements of your appliances to make sure you get the right size generator for your needs.
Mind your generator's noise level
You don't want to be yelling at your customers as you take their orders. So, mind how loud your generator will be. Food truck generators have noise levels ranging from 52 dB to over 70 dB.
Size and portability
You want to power your truck on the go, so consider the size and portability of the generator as well. You'll be wise to get a generator that you can easily move outside from your food truck and back again at the end of the day without struggling a lot. If you can't get a small food truck generator that meets your power needs and you have to go with something big, at least get a model with large, sturdy wheels and handles.
Runtime
You want a generator that runs for the longest time possible before the need for refueling. In that case, consider the size of the fuel tank as well as the efficiency of the generator. When comparing different food truck generators in terms of runtime, remember that manufacturers may measure it at half or quarter loads.
Type of outlets
Another important consideration when choosing the best portable generator for a food truck is to go for a model that has suitable outlets for your appliances. Most generators come with the standard 120v 20A outlets, which may not be sufficient for devices that require 240A locking outlets. In addition, consider whether you'll need a DC port to charge batteries or USB ports for handheld items.
Best Food Truck Generators: Reviews
DuroMax XP12000EH – Best Overall
Dual functionality
Heavy-duty build
Multiple outlets
High peak and running watts
DuroMax XP12000EH Specifications
Starting Watts
12000 (gasoline), 11400 (propane)
Running Watts
9500 (gasoline), 9025 (propane)
Fuel Type
Gasoline, Propane
Noise Level
74 dBA
Tank size (gal)
8.3
Run Time
8.83 hrs @ 50% load (gasoline)
Dimensions (in)
40 x 29 x 27.5
Weight (lbs)
269
If you are looking for a powerful generator for your food truck, DuroMax XP12000EH is the one for you. The 12000 starting watts and 9500 running watts that this generator's 457cc engine offer should be more than enough to power all of your kitchen appliances plus a few more.
What our review team appreciates so much about it is its dual-fuel compatibility that allows you to use either gasoline or propane. This versatility means that you'll never get stranded no matter where the festivals take you.
The Duromax XP12000EH has pretty much all the outlets you'd want except for a DC charger You'll get a 120v/240v 50A heavy-duty outlet, 120v/240v 30A outlet, 120v 30A twist lock, and two 120v household outlets.
This generator yields 8.83 hours at half load from its 8.3-gallon tank, and 7.2 hours when fueled by a 20-pound propane tank.
Honda EU7000is – Premium Pick
Tons of power
Quiet
Lengthy runtimes
Intuitive control panel
Not a budget option
Heavy
No DC outlet
Honda EU7000is Specifications
Starting Watts
7000
Running Watts
5500
Noise Level
58 dBA
Fuel Type
Gasoline
Tank size (gal)
5.1
Run Time
6.5 hrs @ 50% load
Dimensions (in)
33.4 x 27.6 x 28.4
Weight (lbs)
261
The Honda EU7000is is the most powerful generator in the iconic Honda EU inverter generator series. It's our premium pick for a food truck generator as it ticks all the boxes from power to low noise emissions.
Let's begin with its power output. The Honda EU7000is is powered by a massive 389cc Honda engine that peaks at 7000 watts before leveling at 5500 watts of continuous power. Not many inverters from other brands can reach these levels of power, so you can see why the EU7000is a personal favorite for most mobile businesses with high-power equipment.
Since it uses inverter technology, this generator is relatively compact for its power at 33.4 x 27.6 x 28.4 inches. It's also very quiet, and it's rated at 52 dB on a quarter load and 58 dB on half load.
Its most significant selling point is its efficiency, though. With its 5.1-gallon tank full, you are assured of constant power supply for 6.5 hours on a 50% load and an impressive 18 hours on a quarter load.
We can't downplay the fact that it's heavy at 261 lbs. But it makes up for that with its large, sturdy wheels and fold-down handles that make pulling it easy.
Westinghouse WGen7500DF – Best Dual Fuel Option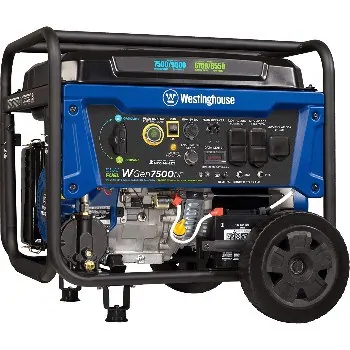 Relatively affordable
Powerful for most food trucks
Electric starter with remote fob
Westinghouse WGen7500DF Specifications
Starting Watts
9550 (gasoline), 8550 (propane)
Running Watts
7500 (gasoline), 6750 (propane)
Fuel Type
Gasoline, Propane
Noise Level
74 dBA
Tank size (gal)
6.6
Run Time
11 hrs @ 50% load (gasoline)
Dimensions (in)
27.2 x 26.1 x 26
Weight (lbs)
194
The Westinghouse WGen7500DF is another dual fuel generator suited for a food truck. This model also runs on either gasoline or propane, which incredibly increases its reliability when moving in different parts of the state.
The WGen7500DF generator is fitted with a 420cc Westinghouse 4-stroke OHV engine that peaks at 9500w and 8550w on gasoline and propane, respectively. Its running power of 7500w (gasoline) and 6750w (propane) is much higher than most food trucks require.
Unlike most units in these food truck generator reviews that rely on electric and recoil starters, this generator takes that aspect a notch higher by including a remote key fob.
The Westinghouse WGen7500DF measures 27.2 x 26.1 x 26 inches and weighs 194 pounds. Its intuitive control panel has two 5-20R 120v outlets with GFCI, L14-30 120v/240v 30A Twist lock, and a 12v charger for your batteries.
A-iPower SUA12000E – Best Value for Money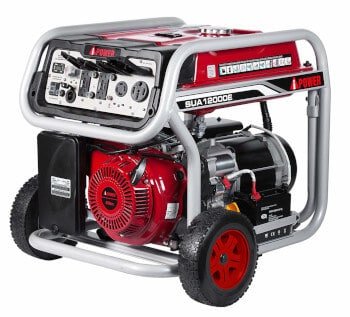 Relatively affordable
Accommodative control panel
Easy to start
A-iPower SUA12000E Specifications
Starting Watts
12000
Running Watts
9000
Fuel Type
Gasoline
Noise Level
78 dBA
Tank size (gal)
7
Run Time
9 hrs @ 50% load
Dimensions (in)
27 x 27 x 27
Weight (lbs)
206
If you are looking for a powerful food truck generator that doesn't cost the earth, A-iPower SUA12000E might be the one for you. This nicely built powerhouse utilizes a 459cc engine that is capable of supplying a whopping 12000w at peak and 9000w of continuous power. Honestly, it's hard to imagine an appliance in any food truck that this generator can't keep running.
This is a gasoline-only generator, and it's fitted with a 7.0-gallon tank. If there's another area that it will win you over, that has to be its incredible efficiency. The A-iPower can run for up to 9 hours continuously at its 50% load.
It also has a very accommodative control panel with four NEMA 120V 20A GCFI outlets, one NEMA 120/240v 50A L4-50R receptacle, one NEMA 120/240v 30A L14-30R Twist-Lock outlet, and a 12v 8.3A outlet for charging your batteries. Even better, it features a keyless one-touch electric starter button for effortless startups.
This generator is quite heavy at 206 lbs and loud too at 78 dB. But these 2 are expected for a generator this size.
Briggs & Stratton 30679 – Best for Bluetooth Connectivity
Bluetooth connectivity
Lots of outlets
Electric start
>
Quite heavy
Lacks 12v DC charger
Briggs & Stratton 30679 Specifications
Starting Watts
10000
Running Watts
8000
Fuel Type
Gasoline
Noise Level
76 dBA
Tank size (gal)
7,5
Run Time
9 hrs @ 50% load
Dimensions (in)
28.3 x 30.5 x 29.1
Weight (lbs)
224
Convenience is key when dealing with your clients at the venue. We believe this generator's Bluetooth connectivity is the perfect example of a generator that has been designed with this aspect in mind.
The Briggs and Stratton 30679 is among a few other generators that let you access all the vital information from the comfort of your phone. Once you install its free app in your smartphone, you can monitor everything from runtime to fuel level, maintenance needs and much, much more without leaving the truck.
This unit is also one of the top food truck generators out there in terms of power. Its 420cc engine peaks at 10,000 watts and later levels at 8000 running watts. The engine is super-efficient, too, and manages up to 9 hours of power supply at a 50% load.
The Briggs and Stratton 30679 has four GFCI 120V Household outlets and one 120/240V-30A Locking outlet and has both an electric start and a recoil.
This generator is heavy at 224 lbs, but its 12-inch never-flat tires and foldable handles make portability a non-issue.
Food Truck Generators: Comparison
Preview
Generator
Rating
Starting Watts
Running Watts
Fuel Type
Noise Level
Tank size (gal)
Run Time @ 50% load
Dimensions (in)
Weight (lbs)
Engine Displacement
Warranty
Duromax XP12000EH
5/5
12000 (gasoline),
11400 (propane)
9500 (gasoline),
9025 (propane)
Gasoline, Propane
74 dBA
8,3
8.83 hrs (gasoline)
40 x 29 x 27.5
269
457cc
3 years
Honda EU7000is
4.8/5
7000
5500
Gasoline
58 dBA
5,1
6.5 hrs
33.4 x 27.6 x 28.4
261
389cc
3 years
Westinghouse WGen7500DF
4.7/5
9550 (gasoline), 8550 (propane)
7500 (gasoline), 6750 (propane)
Gasoline, Propane
74 dBA
6,6
11 hrs (gasoline)
27.2 x 26.1 x 26
194
420cc
3 years
A-iPower SUA12000E
4.5/5
12000
9000
Gasoline
78 dBA
7
9 hrs
27 x 27 x 27
206
459cc
2 years 
Briggs & Stratton 30679
4.0/5
10000
8000
Gasoline
76 dBA
7,5
9 hrs
28.3 x 30.5 x 29.1
224
420cc 
3 years 
Food Truck Generator Safety Tips
Here are some helpful tips on how to use your food truck generator safely:
Have your generator installed by a licensed expert to ensure that it meets all the safety codes.
Always ensure that it is grounded.
Inspect the condition of the generator regularly and have any damaged parts replaced as soon as possible.
Always utilize a GFCI (Ground Fault Circuit Interrupter) to curb electrocutions.
Never operate the generator in an enclosed place due to the risk of carbon monoxide poisoning. Installing carbon monoxide detectors is highly recommendable too.
Avoid overloading the generator. It's advisable to use it only when powering essential appliances.
Turn off the generator and let it cool down before refueling to avoid the risk of fires, injuries, and fatalities.
Ensure that there's an easily accessible, fully-charged fire extinguisher nearby when using a generator.
Read the manufacturer's manual and operate the generator according to the instructions.
Never allow children around the generator when it's running. The generator should be operated by knowledgeable adults only.
Check our dedicated article on how to use a generator properly for more tips.
People Looking For a Food Truck Generator Also Ask:
Do food trucks need generators?
Yes, a portable generator is a vital part of any food truck as it will provide the power to run your kitchen appliances. Even if the venue provides power hookups, there are times when these locations run short on a power supply or don't have enough power for every vendor. At such times, having a portable generator will keep you in business. You can compare the best models for food trucks here.
How many generators do I need for a food truck generator?
You'll only need one generator for your food truck, provided it outputs enough power for all of your appliances.
Can I use a portable generator when driving?
There are times when you'll need to run the generator while driving, for instance, when you want to keep the refrigerators powered. For this, it's essential to plan ahead and engage your electrician, who will recommend the correct wiring and any other necessary components that may be required.
How to install a generator in a food truck?
Installing a generator in your food truck adds a lot of conveniences, especially in portability. However, we recommend installing it in a separate space, for instance, in the trunk if it's spacious. Wherever you choose to fix it, it'll need a lot of space for excellent airflow and ventilation.
You'll also need to ensure that it's properly grounded, and the correct voltage (120v or 240v) is adhered to prevent the risks of fires. That's why we highly recommend that you hire a professional for this process since even the slightest mistake can be costly.
How to ground a food truck generator?
There are 2 options when it comes to grounding your food truck generator. The first method, which is also the easiest, is to use a grounding rod. The second method is to ground it to your truck. Grounding a generator is critical, and we recommend leaving it to a professional electrician.
Conclusion
Hope our reviews of the top food truck generators have helped you decide which model would serve you well. There is no single best generator for a food truck but we feel DuroMax XP12000EH has a slight advantage over the others. Compared to its main rival Honda EU7000iS, DuroMax is more powerful, can run on both gasoline and propane, is a bit lighter, and costs much less. Still, if you are after a more silent environment around your food truck then Honda EU7000iS is the generator for you. It is way much quieter than DuroMax XP12000EH.