A generator is one of the best things that you can have when a hurricane hits. When the power goes out, a hurricane generator kicks in making your family more comfortable until utility power returns.
In these reviews of the best generators for hurricane season, we've compared some of the top-rated models across all price ranges.
Read on as we help you narrow down to the best hurricane generator for your budget and power needs.
Top Picks
Best Overall
Duromax XP12000EH
Powerful
Multiple outlets
Dual Fuel
Premium Pick
Honda EU7000iAT1
Unbeatable reliability
Efficient
Super Quiet
Budget Pick
Westinghouse WGen7500DF
Dual fuel
Multiple starting options
Heavy-duty build
The Best Generators for Hurricane Season at a Glance:
*The links in the list lead to the generators' listings on Amazon.
Check the comparison table for more details about our top recommendations.
What to Consider Before Buying a Hurricane Generator
Generator's type
Generators come in 3 different types, and any of them can power the essentials. Here is what you need to know about each type:
Traditional open-frame portable generators– conventional portable generator models are generally more affordable than inverter and standby generators watt for watt. And you can get them in all sizes from 1000w to over 15000w. Their biggest drawback is their bulky size. Also, although technology has brought a lot of improvement on this issue, most open-frame generators tend to be loud.
Inverter generators– inverters are considerably pricier than conventional portable generators. In addition, an average inverter generator is less powerful than an average open-frame model. As such, you may need to fork out more money for an inverter with more power for your household appliances. However, for their premium price, inverter generators have longer runtimes and are the most fuel-efficient. Importantly, they provide electricity with minimal harmonic distortion – precisely what you need for your emergency survival and life-saving appliances.
Standby generators– these mini-power plants are engineered to switch on automatically in case of an outage. And this is what makes them the best generators for hurricane seasons. Standby generators also produce tons of power, so they can power pretty much everything around your home. But there's one primary reason why most people avoid stationary generators: price. Besides being expensive, these generators also require professional installation, and this might cost even more money.
Power needs
Whatever type of generator you end up going with, ensure that it has enough wattage for your essential appliances and lighting needs.
Runtime
Hurricanes are unpredictable- while some last a few hours only, others could go for a week or 2. So, get a generator with a longer runtime, so you don't have to get out of your haven often to refuel it.
Starting options
Every second that you spend outside the house during a hurricane matter a big deal. So, you want a generator that fires up almost instantly. That said, the best hurricane generators have an electric push-button and remote start options.
Number and type of outlets
Know the amps and volts that your devices and appliances need and go for a matching generator. Most generators have a 120v 20A plug and a 120v/240v 30A outlet. The best include a 12v battery charger and a USB port too.
Safety features
Some of the critical hallmarks to consider when comparing hurricane generators reviews include Ground-fault Circuit Interrupter (GFCI), and low oil, low fuel alert and auto-shutoff. You may also want a generator with high carbon monoxide detectors to reduce the risk of CO poisoning.
Noise
There will be a lot of things going on when a hurricane strikes. So, make sure your generator won't make your life even more miserable with annoying noise levels. In case you need a low-noise generator, it might worth checking our quiet generator reviews.
Best Hurricane Generators: Reviews
Duromax XP12000EH Dual Fuel – Best Overall
Plenty of power
Multiple outlets
Low oil shutoff
Rugged wheels
Dual fuel
Duromax XP12000EH Specifications
Starting Watts
12000 (gasoline), 10200 (propane)
Running Watts
9500 (gasoline), 8075 (propane)
Noise Level
72 dBA
Fuel Type
Gasoline, Propane
Tank size (gal)
8.3
Run Time
9 hrs at 50% load (gasoline), 4 hrs @ 50% load (propane)
Dimensions (in)
30 x 22 x 26
Weight (lbs)
221
Emissions
CARB, EPA
Powered by a massive 18HP, 457cc engine, the Duromax XP12000EH is a beast in these hurricane generator reviews. This generator's 12000 starting wattage and 9500 running wattage is way higher than you'd need to keep a few essentials humming during an emergency. However, if you want a powerful generator that you'll use for your high power needs off the hurricane season, we reckon this model fits the bill.
The XP12000EH also boasts a dual-fuel system to complement its impressive power output. You can run it from its 8.3-gallon tank or connect it to a propane tank. This adds to its overall reliability amidst hurricane-related uncertainties.
This generator may not be the most fuel-efficient, at least when compared to its inverter competitors. However, its 7.2-hour runtime at 50% load is an incredible deal too, considering the amount of power that you're getting.
Switching our attention to the control panel, we're excited that this generator has two 120v household GFCI outlets, one 120v 30A port, one 240v 30A outlet, and a 240v 50A outlet.
Lastly, to protect the generator and your appliances, each of these ports has an individual breaker to prevent overloading. This generator also has a low-oil auto-shutoff feature to protect the engine from self-damage.
Honda EU7000iAT1 Portable Generator – Premium Pick
Reliable performance
Minimal maintenance
Eco-throttle
Fuel cut-off
Incredible fuel efficiency
Super quiet
Deceptively heavy
Costs top dollar
Honda EU7000iAT1 Specifications
Starting Watts
7000
Running Watts
5500
Noise Level
52 dBA
Fuel Type
Gasoline
Tank size (gal)
5.1
Run Time
18 hrs at 25% load
Dimensions (in)
33.4 x 27.6 x 28.4
Weight (lbs)
261
The Honda EU7000iAT1 boasts an enormous 389cc Honda engine with an output of 7000 starting watts and 5500 running watts. This power performance makes it a reliable unit not only for emergencies but also for other DIY outdoor projects. On the same note, this generator's 52-58-dB noise range makes it a good option if you want an all-round generator that you'll use in RV camps and tailgating parties.
For its premium price tag, the Honda EU7000iAT1 has a few technologies that you won't find in most of its inexpensive competitors. The smart electronic fuel injection system, for instance, eliminates most fuel-related carburetor problems minimizing maintenance needs.
Again, this technology, coupled with the Eco-throttle system, increases fuel-efficiency and promises runtimes of up to 18 hours from the 5.1-gallon tank. This long runtime means that it's possible to run the generator overnight or throughout the day with one refill.
Lastly, the Honda EU7000iAT1 has a fuel shutoff valve. This valve allows you to burn all the fuel in the carburetor to prevent stale fuel issues when storing the generator for long periods.
Westinghouse WGen7500DF – Budget Pick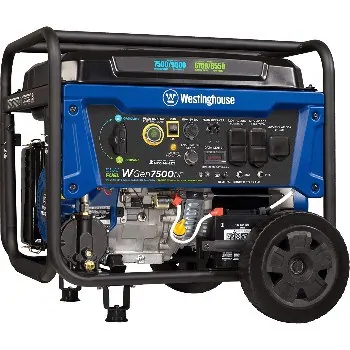 Convenient remote start
Rubber-covered outlets
Lots of power
Long runtimes
Dual fuel
Westinghouse WGen7500DF Specifications
Starting Watts
9500 (gasoline), 8550 (propane)
Running Watts
7500 (gasoline), 6750 (propane)
Noise Level
74 dBA
Fuel Type
Gasoline, Propane
Tank size (gal)
6.6
Run Time
16 hrs at 25% load (gasoline), 11 hrs @ 25% load (propane)
Dimensions (in)
27.2 x 26.5 x 26
Weight (lbs)
194
Emissions
CARB, EPA
The Westinghouse WGen75000DF is among a few other generators that, in our opinion, are engineered with emergencies in mind.
To begin with, this a dual fuel generator, so you can comfortably run it on propane when the pumps are out. Worth noting, unlike gasoline that has a shelf life, propane can be stored indefinitely, so you're ever ready for surprise hurricane attacks.
We're great fans of the 420cc engine that the Westinghouse Wgen7500DF is fitted with. On gasoline, this engine generates 9550 surge watts and 7500 running watts. On propane, you get a massive 8550 peak watts and 6750 watts of running power.
This wattage is more than an average home would need for the essentials when a hurricane falls. But what's more, this engine can run for 16 hours straight with every refill of its 6.6-gallon fuel tank.
This generator offers 3 starting options to add to its convenience and safety levels. You can pull the cord or push an electric button. During emergencies, use a remote key fob to turn the generator ON and OFF without exposing yourself to the flying debris outside.
The Wgen7500DF is quite heavy at 194 lbs. But its sturdy handle and a rugged pair of wheels should make moving it around easy.
Champion 100263 Inverter Generator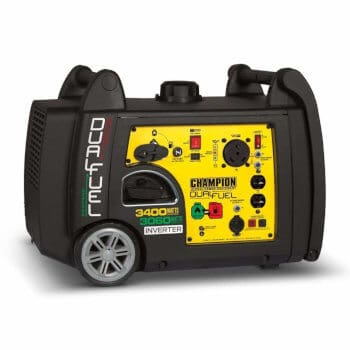 Dual fuel
Fuel efficient
Quiet
Relatively lightweight
Compact for easy storage
Champion 100263 Specifications
Starting Watts
3400 (gasoline), 3060 (propane)
Running Watts
3100 (gasoline), 2790 (propane)
Noise Level
59 dBA
Fuel Type
Gasoline, Propane
Tank size (gal)
6.6
Run Time
7.5 hrs at 25% load (gasoline), 14.5 hrs @ 25% load (propane)
Dimensions (in)
25.1 x 17.3 x 18.3
Weight (lbs)
95.7
Emissions
CARB, EPA
Our next pick for the best generator for hurricane season is this Champion 100263. This is an inverter generator. So you're getting all the benefits that come with this technology, including compact size and unbeatable fuel efficiencies.
The Champion 100263 is a dual fuel generator. Mind you, this is a versatility that we don't often see in inverters, and it makes this model even more reliable during storms. This generator outputs 3400 peak watts and 3100 running watts when running on gasoline. On propane, it generates 3060 surge watts and 2790 rated watts. This is enough power to keep a refrigerator, a freezer, a TV, and a lamp running when the grid is down.
Concerning fuel usage, the Champion 100263 inverter generator offers a runtime of around 7.5 hours from its 1.6-gallon fuel tank at quarter load. When connected to a 20-pound propane tank, you'll get around 14.5 hours at the same capacity. Generally, this Champion offers long runtimes while saving you a good amount of money on fuel.
Compared to the Westinghouse above, this inverter generator is much quieter at 59 dB and lightweight too at 95.7 lbs. This makes it an incredible generator not only for hurricane seasons, but for RVing, tailgating, and camping also.
Generac 70432 Home Standby Generator
Smooth transitions
Infinite runtimes
Switches On automatically
Wi-Fi compatible
Comes complete with a transfer switch
Pricey
Requires professional installation
Repair costs can be high
Generac 70432 Standby Generator Specifications
Starting Watts
22000
Running Watts
19500
Noise Level
67 dBA
Fuel Type
LP, Natural Gas
Tank size (gal)
–
Run Time
–
Dimensions (in)
48 x 25 x 29
Weight (lbs)
525
The chief advantage that the Generac 70432 offers is that it will turn on automatically after an outage. This means that you won't have to leave the safety of your house to start the generator. What's more, you're assured that your appliances will be running even if there's no one at home during a hurricane.
Another benefit of this generator is that it's connected to your LP or natural gas supply system. That's to say that it runs day and night indefinitely. You'll never have to worry about how to refill a generator during a storm.
The Generac 70432 produces 22kW/19.5kW of power and comes complete with a transfer switch. Even better, this generator is Wi-Fi compatible and will send real-time status updates to your phone for optimum peace of mind.
Comparison of the Best Generators for Hurricanes
Preview
Generator
Rating
Starting Watts
Running Watts
Run Time
Fuel Type
Tank size (gal)
Noise Level
Dimensions (in)
Weight (lbs)
Engine Displacement
Warranty
Duromax XP12000EH
5/5


12000 (gasoline),
10200 (propane)
9500 (gasoline),
8075 (propane)
9 hrs @ 50% load (gasoline)
4 hrs @ 50% load (propane)
Gasoline, Propane
8.3
72 dBA
30 x 22 x 26
221
457cc
3 years
Honda EU7000iAT1
4.8/5


7000
5500
18 hrs @ 25% load
Gasoline
5.1
52 dBA
33.4 x 27.6 x 28.4
261
389cc
3 years
Westinghouse WGen7500DF
4.7/5


9550 (gasoline),
8550 (propane)
7500 (gasoline),
6750 (propane)
16 hrs @ 25% load (gasoline)
11 hrs @ 25% load (propane)
Gasoline, Propane
3.8
74 dBA
27.2 x 26.5 x 26
194
420cc
3 years
Champion 100263
4.7/5


3400 (gasoline),
3060 (propane)
3100 (gasoline),
2790 (propane)
7.5 hrs @ 25% load (gasoline)
14.5 hrs @ 25% load (propane)

Gasoline, Propane
1.6
59 dBA
25.1 x 17.3 x 18.3
95.7
192cc
3 years
Generac 70432
4.7/5


22000
19500
-
LP, Natural Gas
-
67 dBA
48 x 25 x 29
525
999cc
5 years
How to Prepare Your Generator for the Hurricane Season
Storms, such as hurricanes, can occur with or without warning and even when least expected. That said, you want to be sure that your generator will fire up and keep the necessary household appliances running for as long as it takes.
Assuming that you store your generator correctly, here is a step by step guide on how to prepare your portable generator for a hurricane:
Remove the generator from the storage and place it outside
If you had drained the fuel, you'd start by adding fresh octane fuel. Remember to allow enough room for fuel expansion.
The next step involves checking for leaks. Open the fuel valve and wait for 5 minutes before checking for leaks. Generator fuel leakage may be caused by a cracked fuel tank, a missing or dried out carburetor bowl gasket, or a cracked fuel line. A brittle or cracked primer bulb may also cause the gas to leak. If you detect fuel leaks from any of these parts, you'll need to replace it. If there's no fuel leak, turn OFF the fuel valve.
Next, check the oil level using a dipstick. Add more oil if necessary.
Lastly, inspect the air filter and ensure that it's clean and free from all obstructions, including dirt, dust, and cobwebs.
How to Safely Use a Generator during a Hurricane
A generator can be life-saving when a hurricane makes landfall. However, operating it safely, especially when under pressure is critical. Here are important tips for using a generator safely during a storm:
Before starting your generator, go around your home and check for gas leaks. In case there's leakage, don't fire the generator.
Never plug the generator into your home outlet
Run the generator in a well-ventilated location and not in the basement or garage
Ensure that the exhaust points away from the doors and vents
Turn the engine off when refueling
Avoid spilling fuel on hot parts of the generator
Ensure that you ground your generator correctly to lower the risk of electrocution
Frequently Asked Questions
What size generator do I need for a hurricane?
Your ideal size of a hurricane generator entirely depends on what you want to keep powered. Most generators in the 2000w-5000w power range will run a few essentials, including a refrigerator, TV, freezer, lamp, and a few lights.
Is it necessary to buy a durable generator for hurricane season?
Yes. Power interruptions due to hurricanes and tropical storms can't be avoided. So, as hurricane intensities increase season after season, a durable generator becomes a must-have.
When to start the generator in a hurricane?
It's best to start it when the power goes out and only when it's safe to go out. If you're aware of a possible hurricane, it's critical to set up the generator early enough.
Where to put a generator during a hurricane?
Always position the generator outdoors and 20ft away from your windows and doors. Importantly, don't operate it in the rain unless it's well covered, vented, and raised off the ground.
How to protect a generator during a hurricane?
Rain is the biggest threat to your generator during a hurricane, but a portable generator enclosure (see on Amazon) should help. You may also consider tying it down to a stationary ground anchoring system like these Orange screws to protect it from wind gusts and thieves.
Conclusion
A hurricane generator is a must-have in an emergency preparedness checklist. By a hurricane generator, we refer to a unit that fires up when you badly need it to and stays with your family throughout the dark period. Importantly, it should power a couple of your survival appliances without demanding much of your attention.
We believe you'll find an excellent pick in our reviews of the best generators for hurricane season. It comes down to your power needs and budget. To mention, the Duromax XP12000EH is the best overall in our opinion. This generator packs tons of power and complements it with most of the outlets that you'd think of. The Westinghouse WGen7500DF is another popular option too, especially if you want an affordable generator that runs on both propane and gasoline. Lastly, if you want a generator that will last 'forever,' and retain an excellent resale value, the Honda EU7000iAT1 is what you have in mind.