Inverter generators are characterized by high fuel efficiency, lower noise levels, and minimal maintenance needs. However, not all are created the same especially in terms of power output and reliability.
The following inverter generator reviews include only the top-rated models on the market. In this article, you will also find a comparison table and some additional information about portable inverter generators to help you make the right choice for your power needs.
Without further ado, here are the best inverter generators to buy this year.
Our Top Picks
Best Overall
Champion 3400-Watt
Dual fuel functionality
Relatively affordable
Quick touch panel
Budget Pick
WEN 56200i Generator
Affordable
Very quiet
Cleanest energy
The Best Inverter Generators at a Glance:
How to Choose the Best Portable Inverter Generator
Similar to buying conventional generators, the first thing that you need to consider when choosing an inverter generator is its power output versus your wattage needs.
So, I suggest that you first identify all the appliances that you'll want to power with your portable inverter generator and then add their total wattage demand.
Of course, this will greatly depend on where and when you plan to power up the generator, for instance, at home during an emergency power outage, during a tailgating party, or even in a camp.
When determining your total wattage requirements, there are 2 values that you need to keep in mind – starting watts and running watts.
Running watts (a.k.a rated watts or continuous watts) refer to the amount of power that a given appliance requires to run continuously
Starting watts is the power that a given appliance requires to start and it's usually notably higher than the rated watts. For instance, a freezer with a rated wattage of 700 watts may require up to 2200 watts to start
After identifying the total wattage that your ideal inverter generator should output, compare the available options in terms of runtime. This refers to how long a model can run on a full tank at 50% or 25% load. The essence of this is to get the best machine in terms of fuel efficiency.
Best Inverter Generator Reviews
Champion 3400-Watt Dual Fuel – Best Overall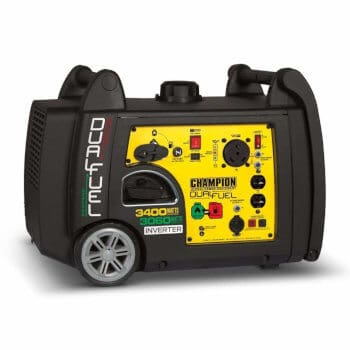 Quick touch panel
Affordable compared to the competition
Dual-fuel functionality
Very 'clean' electricity (<3% THD)
Champion 3400-Watt Dual Fuel Specifications
Starting Watts
3400
Running Watts
3100
Noise Level (@ 25% load)
59 dBA
Fuel Type
Gasoline, Propane
Tank size (gal)
1.6
Run Time (@25% load)
14.5hrs (propane) & 7.5hrs (gasoline)
Dimensions (in)
25.1x 17.3×18.3
Weight (lbs)
95.7
The Champion 3400 watt is one of the top-rated inverter generators on the market. It is a good mix of affordability, power, convenience, and mobility.
This portable inverter generator costs almost half the price of the Honda EU3000iS, yet it includes almost all the basic features that you'd want in an inverter plus a few more.
Its most standout feature is its dual-fuel functionality. This generator can run from gasoline or propane and actually comes with a 2.3-foot hose to hook up to 20-pound tank.
As its title suggests, the Champion has 3400 starting watts and 3100 running watts and can, therefore, manage a slightly heavier load.
For RVers, you'll be excited that this power inverter generator comes RV-ready, so you won't need to purchase additional adapters.
With regard to fuel economy, the Champion 100263 3400w comes with a promise of 7.5 hours on 25% load when using gasoline, and 14.5 hours at 25% load when running on propane. It's not the most efficient especially on gasoline, but it's still a good bargain nevertheless.
This generator is also quite at 59 dBA and it gets much quieter when on a lighter load. So, it won't take the center stage in your tailgating parties or rattle your neighborhood during emergency blackouts.
The Champion 3400w is also quite light at around 96lbs. But the best part is that it has 2 handles and a built-in wheel kit.
WEN 56200i – Best Value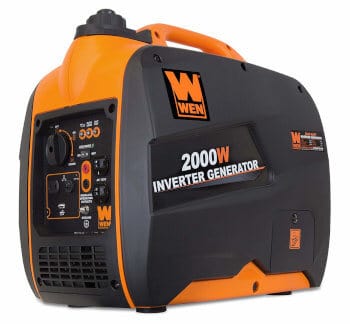 Lightweight
Longer runtime
Affordable
Cleanest energy
Quiet
WEN 56200i Specifications
Starting Watts
2000
Running Watts
1600
Noise Level (@ 25% load)
51 dBA
Fuel Type
Gasoline
Tank size (gal)
1
Run Time (@25% load)
6hrs
Dimensions (in)
18x11x18
Weight (lbs)
48
Our budget pick for the best portable inverter generator might be a great option for homeowners, campers, and tailgaters who want an affordable machine that's just powerful enough to fire up some basic appliances. But it also has several other impressive features that leave other high-end models green with envy.
First things first. The Wen 56200i uses a 4-stroke 79.7 CC OHV engine that is only capable of outputting 2000 starting watts and 1600 running watts. Thus, you need to be reasonable with what you want to power with it.
This inverter generator is generally marketed to occasional campers and tailgaters, but you can also rely on it to juice up several low-power household appliances including a line of 100w incandescent bulbs, 70w 46'' LED TV, and a 500-750 watts average size refrigerator.
What this generator lacks in power, it makes up for it with its affordability, very clean power, and very quiet operations.
The WEN 56200i has a total harmonic distortion of 1.2% at full load thereby making it the safest for charging your ultra-sensitive gadgets including iPhones, laptops, and medical devices.
Its 1-gallon tank is on the smaller size compared to other models here. But on the other hand, it offers you a good 6 hours of runtime at 50% load which isn't bad at all, in my opinion.
Lastly, Wen 56200i is amazingly lightweight at 48 pounds and also very quiet at 51 decibels.
Honda EU3000iS  – Premium Pick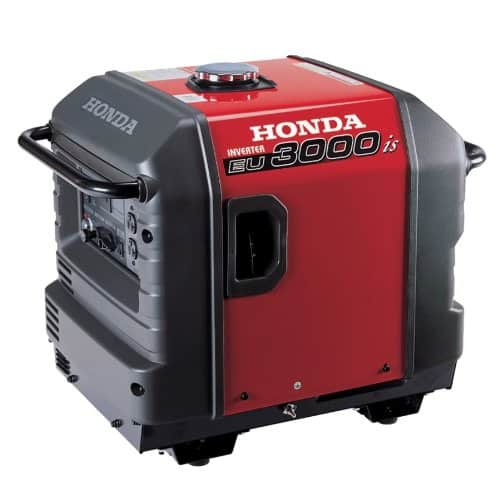 Quiet
Electric starter works every time
Long runtime
No wheelbase
Pricey
Requires premium gasoline (86+ octane) for optimum performance
Honda EU3000iS Specifications
Starting Watts
3000
Running Watts
2800
Noise Level (@ 25% load)
49 dBA
Fuel Type
Gasoline
Tank size (gal)
3.4
Run Time (@25% load)
20hrs
Dimensions (in)
25.8×18.9×22.4
Weight (lbs)
134
The Honda EU3000iS outputs 3,000 starting watts and 2,800 starting watts making it the second most powerful inverter generator in this list. It packs enough power to run most low-power appliances at home including a refrigerator, TV, portable fan, and lights during an emergency. It's also a very good option for camping and will power up almost all your electrical appliances including a 1,650-watt electric grill, box fan, DVD, and an AM/FM radio.
Fitted with a 4-cycle 196cc Honda engine, the EU3000iS is among the quietest models in this list too. It outputs 49 dBA at 25% load and it's still very quiet at maximum load capacity at 58 dBA. A normal conversation is rated at 60 dBA. So you can imagine how quiet this model can get.
It's also one of the best inverter generators when it comes to fuel efficiency. The Honda EU3000iS has a 3.4-gallon tank and can last you around 7 hours at maximum load and up to 20 hours at ¼ load.
Starting is through an electric starter and people who have used it for years report that it cranks up with ease each time. There's also a recoil starter for backup.
Westinghouse iGen2200 – Best for Long Run Time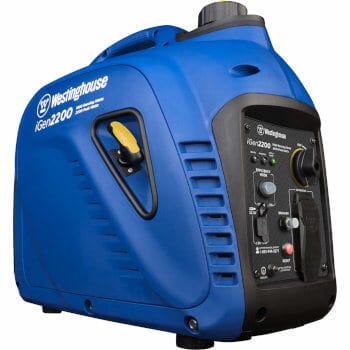 Easy setup
Great value
Great fuel economy
Slightly pricier than similarly priced alternatives
No electric starter
Westinghouse iGen2200 Specifications
Starting Watts
2200
Running Watts
1800
Noise Level (@ 25% load)
52 dBA
Fuel Type
Gasoline
Tank size (gal)
1
Run Time (@25% load)
12hrs
Dimensions (in)
19.69×11.22×17.91
Weight (lbs)
46
Westinghouse iGen2200 is another grab-and-take 46-pound inverter generator that might make a really good deal if you don't want to be a nuisance in your neighborhood and in the camping ground.
This generator is similar to the WEN 56200i above in most aspects including size and weight. They also have equal fuel tanks and runtimes.
So, what additional features does the iGen2200 bring to the table?
First, the Westinghouse iGen2200 has a notably bigger engine (98 cc) that promises longer durability and slightly higher starting and running watts at 2200 watts and 1800 watts respectively. This means that there's more power available for your appliances.
This inverter generator might not be strong enough to be a permanent solution for your RV power needs. If you want to power up your necessities during an outage, though, it might interest you.
Second, Westinghouse iGen2200 has clean energy too for your power-sensitive gadgets as its <3% THD suggests. But you'll like is that unlike the 56200i that offers you only one 5V port for your handheld devices, the price of the iGen2200 affords you two.
In addition, you also get an extra year worth of warranty to make it 3 years, and pretty much everything you'd need to power up this portable inverter generator right from the box, except gasoline, of course.
Yamaha EF2000iSv2 – Best for Camping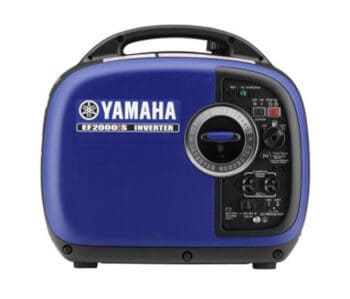 Durable
Easy starting
High fuel efficiency
Compact and lightweight
An electric start would be welcome
Pricey compared to the competition
Yamaha EF2000iSv2 Specifications
Starting Watts
2000
Running Watts
1600
Noise Level (@ 25% load)
51.5 dBA
Fuel Type
Gasoline
Tank size (gal)
1.1
Run Time (@25% load)
10.5hrs
Dimensions (in)
19.3x11x17.9
Weight (lbs)
44
We could say that the Yamaha EF2000iSv2 is quite on the higher end of the price spectrum compared to other inverter generators in its power output range. However, if you are looking for a long-term purchase and a generator that you'll rely on to use frequently in your outdoor activities, then this one is worth investing in.
Now, the V2 in this generator's title stands for Version 2 and signifies that this is an improved model of the EF2000iS. The major improvement that this new version brings is the ability to run for up to 13 minutes before tripping the overload circuit– the previous model would trip within 20 seconds.
This inverter greater leeway allows you to start up 2 power-hungry appliances with a higher total starting wattage than the generator can output without the circuit tripping.
Boasting a 79 cc engine that offers 2,000 starting watts and 1,600 continuous watts, what earns Yamaha EF2000iSv2 its popularity is its ability to squeeze the highest number of watts possible from its 1.1-gallon tank.
In eco-mode, this generator is capable of offering you upwards of 10 hours at 25% load capacity with its tank full.
Yamaha EF2000iSv2 is very quiet too at around 50 decibels at ¼ load. It is also ultra-compact and very lightweight at 44lbs (3 times lighter than the Honda EU3000iS)
Briggs and Stratton 30651 P2200 – Best Design
Easy to set up and use
Straightforward control panel
Easy to carry
Slightly heavier than inverters in its class
Not the most fuel-efficient
Briggs and Stratton 30651 Specifications
Starting Watts
2200
Running Watts
1700
Noise Level (@ 25% load)
59 dBA
Fuel Type
Gasoline
Tank size (gal)
1
Run Time (@25% load)
8hrs
Dimensions (in)
22.4×14.4×19.9
Weight (lbs)
54.6
If you are anything like me and believe that high power output and reliability shouldn't always come at the expense of a nicely designed outer shell then the Briggs and Stratton 30651 P2200 inverter generator might be your choice.
This is hands down, the sleekest portable inverter generator that I came across. But what I like most is that it manages some good looks without appearing cheap or toyish.
This inverter generator seems to have been designed for tailgaters and campers judging from its 2,200 and 1,700 starting and running watts respectively. Its control panel, which is so easy on the eyes, features two 120-volt receptacles for your household appliances. There's also a 12-volt DC receptacle for most of your 12v power sources including tablet chargers and cellphone chargers. And you'll also find an adapter with 2 USB ports in the package.
Speaking of USB ports, the Briggs and Stratton 30651 produces clean energy with less than 3% THD. So, you shouldn't have any fears plugging in your DSLR camera, tablet, or phone directly.
The generator is also light and has an H handle that makes it possible to lug it around either alone or with the help of a friend.
Comparison Chart of the Best Inverter Generators
| Preview | Inverter Generators | Rating | Starting Watts | Running Watts | Noise Level | Fuel Type | Tank size (gal) | Run Time (hrs) | THD | Dimensions (in) | Weight (lbs) | Engine Displacement | Starting Method | Warranty |
| --- | --- | --- | --- | --- | --- | --- | --- | --- | --- | --- | --- | --- | --- | --- |
| | Champion 3400W | 5/5 | 3400 | 3100 | 59 dBA | Gasoline, Propane | 1.6 | 14.5 (propane), 7.5 (gasoline) | <3% | 25.1x 17.3x18.3 | 95.7 | 192cc | Electric, Recoil | 3 years |
| | WEN 56200i | 4.8/5 | 2000 | 1600 | 51 dBA | Gasoline | 1 | 6 | <1.2% | 18x11x18 | 48 | 79.7cc | Recoil | 2 years |
| | Honda EU3000is | 4.7/5 | 3000 | 2800 | 49 dBA | Gasoline | 3.4 | 20 | 5% | 25.8×18.9×22.4 | 134 | 196cc | Electric, Recoil | 3 years |
| | Westinghouse iGen2200 | 4.5/5 | 2200 | 1800 | 52 dBA | Gasoline | 1 | 12 | <3% | 19.69x11.22x17.91 | 46 | 98cc | Recoil | 3 years |
| | Yamaha EF2000iSv2 | 4.3/5 | 2000 | 1600 | 51.5 dBA | Gasoline | 1.1 | 10.5 | <1.2% | 19.3x11x17.9 | 44 | 79cc | Recoil | 4 years |
| | Briggs & Stratton 30651 | 4.0/5 | 2200 | 1700 | 59 dBA | Gasoline | 1 | 8 | <3% | 22.4x14.4x19.9 | 54.6 | 111cc | Recoil | 2 years |
Why Choose an Inverter Generator Over a Conventional One?
Your choice between conventional and inverter generators is generally a matter of preference. It will highly depend on a few factors including your wattage needs and where and when you plan to use the generator.
Here are the key strengths of an inverter generator:
Portability at its best
Inverter generators have excellent portability because of their lightweight. It's undeniable that manufacturers have been able to engineer relatively lightweight regular generators of late- a good example being the Durostar DS4000S that weighs 90 pounds and which I believe is one of the best portable generators out there. But that's still a far cry from the weight of the top inverter generators that weigh well below 50 pounds while still being able to output enough power for some basic loads. Portable inverter generators are also much more compact which allows you to transport them easily in your car's trunk or boat.
Extremely quiet
Inverter generators are also substantially quieter in comparison to regular generators. Most generators with inverter operate at between 49 and 69 dBA- the same range within which a normal conversation takes place. Regular generators, on the other hand, are found at 70-80 dBA. Just so you know how loud these models can get, power saws and jackhammers fall in the same noise level.
This means that a power inverter generator will be a perfect fit if you are to use it in areas with noise regulations particularly at night including your neighborhood, camping grounds and when caravanning. A quiet generator is a prerequisite during a tailgating party too.
High fuel efficiency
The ability to reduce fuel consumption by up to 40% is yet another big reason why you'd want an inverter generator. And it's not hard to understand why they are able to do so.
You see, a regular portable generator is programmed to constantly make 3,600 RPMs regardless of the load (load refers to the number of appliances that have been plugged in). On the other hand, inverter generators are engineered to adjust the speed of the engine to match the power requirements.
Parallel capability
The major drawback of inverter generators is their relatively lower power output. Most of them max out at 4,000 watts which might not be enough to power up several power-hungry tools and equipment. In such instances, you could simply pair two identically sized units rather than getting a larger traditional generator. This allows you to get more power without sacrificing portability and quiet operations.
Inverter Generators don't WIN all the time, though…
Don't fall their strengths just yet. Portable inverter generators have their set of drawbacks that might also influence your decision.
Lower power output– the most powerful inverter generators output around 4,000 watts. So, if you want a generator that can power up an entire job site or a mansion, you'll need either two inverters or a regular generator
Price– within the same power rating, inverter generators are much more expensive than conventional generators
Fuel tank size– inverter generators are built around optimum portability and compact design- something that they achieve by incorporating smaller components including a smaller fuel tank. This means that everything else held constant, an inverter generator will require regular fills than an identically rated traditional generator.
| Buying Consideration | Conventional | Inverter |
| --- | --- | --- |
| Portability/ Weight/ Size | ✘ | ✔ |
| Noise | ✘ | ✔ |
| Run times | ✔ | ✔ |
| Fuel Efficiency | ✘ | ✔ |
| Max Power Output | ✔ | ✘ |
| Quality of Power Output | ✘ | ✔ |
| Parallel Operation | ✘ | ✔ |
| Price | ✔ | ✘ |
Where Can You Use a Portable Inverter Generator?
Inverter generators can be used pretty much anywhere where there's the need for a portable power solution. They are also great as campsite or tailgating generators due to their low noise levels while running.
But keep in mind that low power output is the major limiting factor of these machines. That being said, you'll need to have reasonable wattage demands especially if you want to use it at home and at a job site.
Inverter generators are mostly used in camping and tailgating parties as they can power up pretty much all your appliances in these applications:
Electric grill- 1650 watts
Box Fan 20''- 200 watts
CD/DVD player- 100 watts
AM/FM radio- 100 watts
Important Considerations When Buying an Inverter Generator
Power output
As I told you earlier on, the very first thing that you need to consider when purchasing an inverter generator is the amount of power that it can supply. The big question here is whether the generator will be able to power up the appliances that you intend to use together whether at home, at a job site, or during outdoor recreational activities (camping, tailgating, boating, caravanning, etc).
To calculate your total wattage requirements, add the total running watts of your appliances and then add the highest starting watt. With this figure in mind, identify the inverter generators whose rated wattage meets your power requirements.
If you already know how much watts you're going to need, you might want to check our reviews on:
Runtime and fuel efficiency
After identifying several models that output enough power for your need, compare them in terms of runtime. Runtime refers to how long in hours a generator will run on a full tank at a specified power load; 100%, 50% or 25%. The longer an inverter generator can run before the need for refueling, the better for you.
Runtime is not everything, though. Compare also the generators' fuel efficiency. To find the best contenders, divide the runtime on full load by the capacity of the fuel tank and this will give you a clear picture of how long a particular generator will power your appliances per gallon.
Portability
Although inverter technology generally makes these generators relatively lightweight and compact, they are not equal. You'll still find some that are much lighter than others. So, consider the weight of each model and some additional features that have been put in place to boost portability such as handles and wheels.
Reliability
Let's face it, a generator with a promise of high fuel efficiency, a longer runtime, and higher output will be totally useless if it can't meet your power demands without failing and tripping the circuit every now and then.
While there are some good inverter generators out there, there are others that will start off nicely only to fail an hour or two later. On this note, I highly recommend that you consider reputable brands and also check out previous users' feedback on your target generator's reliability.
Frequently Asked Questions
Do inverter generators require gas to run?
Yes. Similar to a regular generator, inverters also run on gasoline. These models are, however, very efficient because they are built with idle control commonly known as 'eco-throttle'. This feature adjusts the speed of the engine as necessary and only burns just enough fuel to power up the appliances at hand.
How is an inverter generator different from a regular generator?
An inverter generator works in a similar manner to a conventional generator to some degree. Both of them start by producing raw, high-voltage AC current. And then everything changes from here. After producing raw multiphase AC power, the inverter generator converts it into DC power using an inverter and then back into AC but in a clean, stable, and consistent manner almost similar to what you get from the grid.
What is the 12V DC receptacle on an inverter generator for?
This power outlet comes in handy when you want to charge an automotive battery during emergencies and short –term charges. Keep in mind that it is usually not regulated and will vary in response to the generator's RPMs. Again, it won't cut the charge when the battery is full. That's to say that it's not a reliable source to charge the battery to capacity.
Can I power my laptop using a portable inverter generator?
Yes, inverter generators are the most recommended especially if you'll be powering several power-sensitive appliances. This is because they are fitted with a Microprocessor-controlled Sine Wave Inverter which outputs energy in clean power with smooth sine-wave characteristics.
So, yes, you can power your laptop and iPhones from a portable inverter generator with zero risks of damage.
Do inverter generators require maintenance?
Of course, the key to a long-lasting generator is good and timely maintenance. Maintaining an inverter generator isn't as expensive as a regular generator, though. Inverter generator maintenance mainly involves:
Changing the oil usually after the first 20 hours and then after every 3-6 months depending on usage
Cleaning the air filter after every 50 hours of runtime or after 3 months (whichever comes first)
Adjusting the spark plug after every 100 hours of use and replacing it completely after 1 year or after 200 hours of use
Cleaning the spark arrestor
Are inverter generators the best?
Well, it will depend on the features that make the best generator in your opinion. Inverter generators reign in terms of compact design, portability, fuel efficiency, and lower costs of operations. They are also the quietest. On the other hand, manufacturers are yet to make models with lots of power. Most of them max out at 4,000 watts.
Conclusion
I hope our inverter generator reviews have helped you to select the right model for your power needs. However, if you need some extra help in choosing the best inverter generator, I'd highly recommend Champion 3400-watt generator. It has enough power to run most of your household appliances during emergencies. It can run on either propane or gasoline. And it has a 30-amp port that makes it perfect for RVs. It's not a cheap inverter generator but you can rest assured it won't fail you as long as you take good care of it.