If you are considering to buy a battery-powered generator, our portable lithium battery powered generator reviews will help you find the best model for your needs.
Solar lithium battery generators come in handy when the power goes out and you need a reliable backup source to power your phone, computer or home appliances. A great benefit of the battery backup generators is that they are gasless. This means they don't require fuel to operate, which makes them light, silent, eco-friendly and cost-efficient.
Here are our recommendations for the best lithium battery powered generators for home and recreation.
Our Top Picks
Best Overall
Rockpals 300W
Powerful and affordable
Variety of charging outlets
Lightweight and compact
Premium Pick
Goal Zero Yeti 400
Packs a lot of power
Informative display
Expandable
Budget Pick
Picowe Power Station
Affordable
Rugged design
Very portable
The Best Battery Powered Generators at a Glance:
*The links in the list lead to the generators' listings on Amazon.
Check the comparison table for more details about our top recommendations.
How to Choose the Best Lithium Battery Generator
Your journey to landing the perfect lithium battery generator boils down to first determining where and how you'll be using it. Having this clear will make it easy for you to make a well-informed decision on the capacity of the battery and the overall degree of portability of the generator.
If you are planning to charge several phones, a laptop, a camera, and a drone while camping and hiking, portability might be the most important thing for you. Therefore, you need to think of the size of the generator as well as its weight. But you also need to ensure that the generator's battery packs enough power to keep all your gadgets powered for the time you'll be in the woods.
If your portable battery generator will be used as an emergency home power backup solution, you might want to compromise size for power. Keep in mind that the price tends to correlate with the generator's battery capacity, in most instances. So, you also need to determine how much you plan to spend on your battery powered generator.
Best Lithium Battery Powered Generators Reviews
Rockpals 300W Lithium Portable Power Station
Best for: Travelling, camping, hiking, emergency
Not suitable for: Powering several household appliances for prolonged hours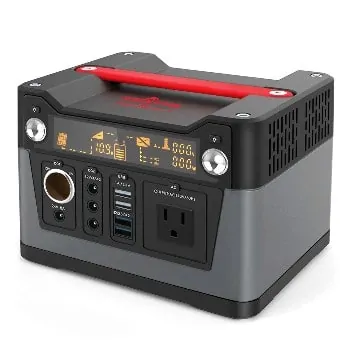 Powerful and affordable
Variety of charging outlets
Lightweight and compact
Expandable
No battery percentage indicator
Rockpals 300W Specifications
Starting Watts
600
Running Watts
300
Battery Capacity
280Wh
Solar Panel Charge Time
14 hrs
Wall Charger Charge Time
8 hrs
Battery Life Cycle
500+
Weight (lbs)
7.3
Warranty
1.5 year
The Rockpals 300W is another solid recommendation in case you want a model with a good balance between portability and power.
Compared to the Yeti 400, the Rockpals offers considerably less power at 280Wh. But it also comes at almost half the price of the Goal Zero Yeti and it's way much lighter too at 7.3 pounds.
This is a 300-watt lithium battery powered generator with a surge power of 600 watts and rated watts of 300 watts. Realistically, this generator won't offer you enough power to run your power-guzzling AC. However, it can run a mini-refrigerator for 5 hours, 32'' TV for 4 hours, and charge your phone and laptop for 25 and 5 times respectively.
It's evident that the Rockpals 300W has been engineered for the outdoors and emergency. In addition to its lightweight design that makes hanging it in your hands possible, this generator has 2 flashlights that could light up the trails and even offer light at home during an outage.
It also has a pass-through function that comes in hand in situations where you need to charge the generator and draw power at the same time.
This generator also has quite a good number of ports. You'll get a 120V AC outlet for laptops, fans, lamp, TV, Air Mattress, etc, four 12V DC port for car powered devices such as car refrigerators and car vacuum, one 24V outlet for 24v devices, and four 5v USB ports of which 2 are Quick Charge 3.0 for cameras, drones, and iPads.
MAXOAK Portable Generator Power Station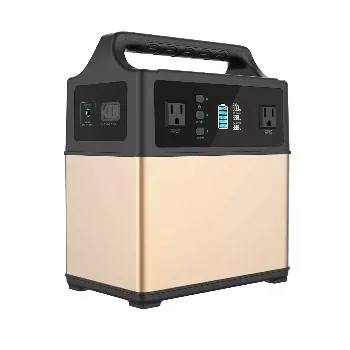 Versatile port configuration
High value to cost ratio
Easy-to-understand control panel
MAXOAK Generator Specifications
Starting Watts
600
Running Watts
300
Battery Capacity
400Wh
Solar Panel Charge Time
12-14 hrs
Wall Charger Charge Time
7 hrs
Battery Life Cycle
800+
Weight (lbs)
12.3
Warranty
1 year
The Maxoak portable power station can be summed up in 2 words – affordable and reliable. This is a great alternative for the Yeti 400 and might interest anyone who wants more power than the Rockpals 300W can afford.
This is a 400Wh gas-free generator with lithium battery designed for a whole lot of applications that are within its 600 surge watts and 300 watts continuous power performance. It can even jump start your car if needed.
The Maxoak can be used to power up anything under 300 watts- and what's so interesting is that you can draw power from its AC and DC ports simultaneously.
Another thing I liked about this generator is its compact design. It measures 9'' (L) 5.7'' (W) and 11.2'' (H) and weighs 12.3 pounds. This is a portable battery generator that you can take almost anywhere from road trips to camps and picnics.
You can also use it at home as an emergency power backup unit and even as a UPS as a guarantee that your desktop computer and internet are not interrupted by frequent power outages.
This manufacturer has also done quite a good job on the control panel. It's impressive that they chose to spread the outlets all around the generator to avoid congestion especially when several gadgets have been plugged in.
The control panel houses 2 AC outlets, 2 DC outlets, 1 car jump starter port, 1 QC3.0 USB port, 6 3.5A USB ports, and a Type C port.
Goal Zero Yeti 400 Lithium Portable Power Station
Best for: Camping, emergency power backup, light usage at home
Not suitable for: High power appliances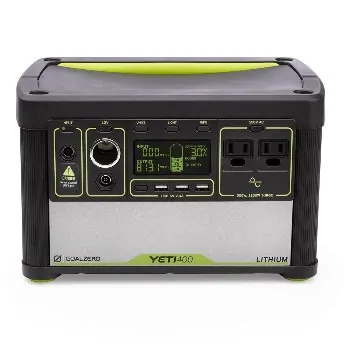 Packs a lot of power
Informative display
Lots of ports
Expandable
Goal Zero Yeti 400 Specifications
Starting Watts
1200
Running Watts
300
Battery Capacity
428Wh
Solar Panel Charge Time
12-16 hrs
Wall Charger Charge Time
7 hrs
Battery Life Cycle
1200+
Weight (lbs)
17
Warranty
1 year
Goal Zero Yeti 400 is one of the best lithium portable power stations. The model is also available with a lead-acid battery. Comparing both versions, the lithium model prevails – it is much lighter (17 lbs compared to 29 lbs for the lead acid) and more durable (7-9 years for the lithium and 4-5 years for the lead-acid alternative).
Goal Zero Yeti 400 has a 428Wh battery that outputs 300 watts of continuous power and 1200 watts of surge power. Whether you are heading out into the wilderness or simply prepping for an emergency, this is enough wattage to juice up several of your gadgets for days to come.
According to the manufacturer, this battery-powered generator should be able to charge a GoPro 70+ times, digital camera 20+ times, and a smartphone 30+ times. And the best part is that the Yeti 400 is fitted with a pure sine wave inverter that makes it ideal for all your power-sensitive devices as well as those that use a motor.
Yeti 400 has enough ports to let you connect up to 7 devices at once. It has three USB ports, two 12v ports, and 2 AC outlets.
This portable battery generator also has an informative LCD display that keeps you posted on critical information such as battery level, input and output data, as well as the remaining runtime and recharge time.
PAXCESS Generator Portable Power Station
Best for: Travelling, camping, hiking, around-the-home use
Not suitable for: Prolonged outage backup solution
Compact
Reliable power
Great value for money
Lightweight
Fewer USB ports compared to competition
Picowe 250W Specifications
Starting Watts
300
Running Watts
280
Battery Capacity
280Wh
Solar Panel Charge Time
12-14 hrs
Wall Charger Charge Time
6-8 hrs
Battery Life Cycle
450+
Weight (lbs)
5.9
Warranty
1.5 year
The Paxcess is quite similar to the Picowe 250W battery generator in terms of shape. The two also come at around the same price tag and are also equal in terms of weight.
However, the Paxcess has the upper hand in terms of power albeit by a very small margin. This gasless generator has a battery capacity of 280Wh, a rated power output of 280 watts and a surge power of 300 watts.
While it makes more sense when used to power low-power gadgets at home during a blackout, its size 10.24'' x 3.94'' x 6.14'' and weight, around 5.9 pounds might allow you to take it anywhere your handheld devices follow you.
On this note, the Paxcess has one AC, 3 DC 12-volt, and 2 USB 3.1A outlets. Similar to other models in these reviews, it uses a pure sine wave inverter so you can throw anything at it without minding about its safety.
This lithium battery generator also offers 3 charging options; from a wall outlet where it takes 6-8 hours, car charger around 10 hours, and a 60w or 100w solar panel where it can take around 12 hours.
Picowe 250W Portable Power Station
Best for: Portable power on budget, hiking, clinics, camping
Not suitable for: High-power appliances
Compact
Affordable
Rugged design
Very portable
Fewer outlets
Low power capacity
Picowe 250W Specifications
Starting Watts
300
Running Watts
250
Battery Capacity
250Wh
Solar Panel Charge Time
10 hrs
Wall Charger Charge Time
7-8 hrs
Battery Life Cycle
450+
Weight (lbs)
5.95
Warranty
1 year
If you are looking for an affordable lithium battery operated generator to keep your devices powered up for a couple of days in the woods, the Picowe 250W might be what you have in mind.
People who tend to pack almost everything when heading to the campsites will really appreciate the compact size of this generator. Its size 10.2'' by 3.9'' by 6.2 inches and weight, 5.95 pounds make it a breeze to pack it alongside other items in the bag as opposed to hanging it in your hands.
Its shell has a seemingly rugged and sturdy construction design and seems like it could withstand a few knocks here and there.
Picowe's lithium battery has a rated wattage of 250 watts and a surge power of 300 watts. Sure, the surge power is almost inexistent. But then again, remember that this battery powered generator isn't meant for high-power motor-operated appliances.
It is meant for low-power gadgets including laptops, Bluetooth speakers, drones, gaming consoles, and tablets, etc- and it has a pure sine inverter for their safety.
This battery generator offers 2 DC outlets, 2 USB ports, and 1 AC outlet. It also has a LED power percentage indicator to keep you posted on when to recharge.
Lithium Battery Powered Generators Comparison
| Preview | Battery Generators | Rating | Starting Watts | Running Watts | Battery Capacity | Full Charge by Solar Panel | Full Charge by Wall Charger | Battery Life Cycle | Weight (lbs) | Warranty |
| --- | --- | --- | --- | --- | --- | --- | --- | --- | --- | --- |
| | Rockpals 300W | 5/5 | 600 | 300 | 280Wh | 14 hrs | 8 hrs | 500+ times | 7.3 | 1.5 years |
| | Maxoak | 4.7/5 | 600 | 300 | 400Wh | 12-14 hrs | 7 hrs | 800+ times | 12.3 | 1 years |
| | Goal Zero Yeti 400 | 4.6/5 | 1200 | 300 | 428Wh | 12-16 hrs | 7 hrs | 1200+ times | 17 | 1 year |
| | Paxcess | 4.5/5 | 300 | 280 | 280Wh | 12-14 hrs | 6-8 hrs | 450+ times | 5.9 | 1.5 year |
| | Picowe 250W | 4.2/5 | 300 | 250 | 250Wh | 10 hrs | 7-8 hrs | 450+ times | 5.95 | 1 year |
How do Battery Powered Generators Work?
Unlike gasoline, diesel, and LPG generators that create power on-demand by combusting fuel, battery-powered generators store power in their batteries in the form of potential energy.
These generators do not have an engine. Instead, they are fitted with a battery pack that can be charged by solar panels, car charger, or a wall outlet.
You could view a battery-powered generator as a portable phone power bank. The obvious difference is that these have a larger capacity that holds enough power to charge most handheld devices several times. The best battery generator for home can also keep some low-powered household appliances juiced up for several hours.
Advantages of a Lithium Battery Powered Generator
Durability
Lithium batteries last longer than lead-acid batteries – usually about 3 times longer. Also, they recharge quicker. Therefore, although more expensive, a lithium battery powered generator makes a better investment if you plan to use it for a long time.
Excellent portability
Lithium battery generators are very lightweight, most of them between 3lbs and 10lbs, which aids to their portability. Even the heaviest of them, for instance, the Yeti 3000 that weighs 68 lbs, are often very compact and, therefore, a breeze to move around with and store.
Gas-Free
When buying a conventional portable generator, you need to top up the tank with fuel. You might also have to carry several gallons more or at least map out all the nearby gas stations when moving off the grid. Lithium battery generators save you from this hassle as they pack the power from the solar or wall outlet.
They are usable indoors
The fact that these generators don't combust fuel means that they don't emit harmful gasses. And this means that they are completely safe to place right next to your laptop and even inside your tent while in the campgrounds. You'd never do this with other generator types.
Silent
Since lithium battery powered generators, like other top solar powered generators, don't use any fuel, they are practically noiseless.
Disadvantages of Lithium Battery Generators
Low power output
Battery generators may be silent, very eco-friendly, and incredibly portable. But you'll be mistaken to think that you can rely on them alone to live off the grid. Portable battery generators are meant for low-power gadgets. Even the most powerful battery powered generator (think of Goal Zero Yeti 3000) will power up your refrigerator and sump pump for a number of hours before giving out.
Dependent on weather and wall sockets
While you don't need gas or diesel for a lithium battery generator, you'll need a solar panel to charge when a wall socket isn't an option. It goes without saying that whether or not you'll have enough power for your devices will be dependent on the availability of the sun and its intensity.
Key Things to Consider When Buying a Portable Battery Powered Generator
Wattage requirements
Beyond everything, the ability of the battery-powered generator to meet your power needs comes first. So, calculate the total watts that all your devices and appliances need and then get a generator that meets that requirement.
Don't forget to consider the surge watts of the battery generator especially if you have appliances that are powered by a motor.
Expandability
You might require much more power than your lithium power station can output in the future. To avoid the inconvenience of having to purchase a second battery-powered generator, look for a model that allows you to add more lithium batteries and solar panels for a higher wattage output.
Portable design
Anyone searching for a lithium battery powered generator is definitely in need of optimum portability. In that case, consider the weight of the generator, shape (briefcase-style models are the most preferable), and additional features that add to its portability including sturdy and comfortable handles and wheel kits if necessary.
Durable construction design
As an outdoor enthusiast, you never know what the wild holds for you. Rough conditions and unpredictable weather patterns are some of the 'perks' that come with the tranquillity of the woods.
So, get a solid and rugged battery backup generator that will stay with you to the end. Of course, manufacturers are yet to give us 100% waterproof lithium battery powered generators. But there are models that can withstand mere splashes and raindrops at least.
Conclusion
Lithium battery powered generators are small, lightweight, noiseless, gasless and energy-efficient. They don't have the power that a top-rated portable generator could provide, but they can be a great option when you need backup power for small devices at home or at a campsite.
If you need a little more help in choosing the best lithium battery-powered generator, our suggestion would be Rockpals 300W. This battery-operated generator is much more affordable than the Yeti 400 and lighter than the Maxoak.
It also has a great power output for its price and also features a wide array of powering outlets including 3 QC USB ports.
There's no limitation, though. If you have the budget and want lots of power, the Yeti 400 is hands down the portable battery powered generator to go for. It's incredibly long battery lifecycle talks for itself. On the other hand, if you are on a tight budget, the Picowe or the Paxcess are worth checking out.