It goes without saying that the best portable diesel generator is much more efficient than an equivalent gasoline or propane model. And it comes down to one thing – diesel has a much higher energy density that results in more power per unit.
Precisely, diesel power generators have been found to be up to 20% more efficient than other generators.
This means that if you rely on a portable generator to power a number of power-hungry appliances and tools frequently, a diesel generator will be saving you a lot of money in fuel costs in the long run.
See our best recommendations in the following diesel generator reviews.
Our Top Picks

How to Choose the Best Diesel Backup Generator
There are several key considerations that you should make when purchasing a portable diesel generator – and size comes first always.
Size here refers to the amount of power that the generator is able to output and it's usually indicated in watts, for instance, 4500 watts or 10,000 watts.
To narrow down to your perfect diesel generator in terms of power, it becomes necessary to estimate the total wattage requirement of all the items that you'll need to power simultaneously.
This might seem quite hectic at first, but believe me, it's worth the effort. You don't want to buy a generator only to realize that it's not powerful enough to power your sump pump, freezer, and AC together.
On the other hand, you don't want to spend so much money on an oversized diesel generator when all you need to power is, let's say, a freezer and a line of bulbs.
Secondly, consider the features available in each unit. Portable generators often tend to get pricier depending on the features that they offer. But you can easily save money by opting out of features that you don't need so much. Though, there are a few critical features that you can't afford to compromise when looking for the best diesel generator. These are auto-low oil shutoff, overvoltage protection, and circuit protection.
Lastly, and more importantly, consider the portability and ruggedness of the diesel generator depending on where you intend to use. The key areas to consider here include the weight, wheel kit, handles, and overall construction quality.
Best Portable Diesel Generator Reviews
Generac 6864-XD5000E Diesel Generator
Best for: Home use, emergency power solution, worksites, and farms
Not suitable for: Camping and boating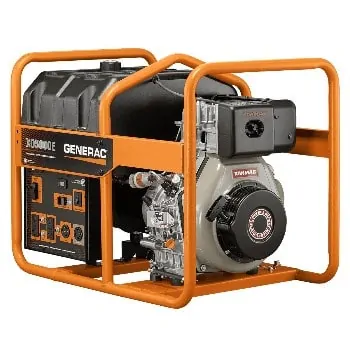 Industrial-quality frame
Capable engine
Long runtime
Almost inexistent peak watts
Generac 6864 Specifications
Starting Watts
5500
Running Watts
5000
Noise Level
72 dBA
Fuel Type
Diesel
Tank size (gal)
12
Run Time
32.4 hrs
Dimensions (in)
33.1 x 22.5 x 25.6
Weight (lbs)
252
Compared to Durostar DS7000Q, the first thing that makes an impression with Generac 6864-XD5000E is its open shell design. Although the enclosed design of the Durostar model does work some magic in reducing noise levels, I feel it also makes accessing the engine a tad cumbersome.
Generac 6864-XD5000E open design allows quick tweaks on the engine. The shell is industrial-quality and is made of 1 ¼'' steel tubing frames that have been fully welded for durability. It also has a high-quality set of mufflers that make this diesel generator quiet and usable in most neighborhoods.
The Generac 6864-XD5000E uses a Japan-made Yanmar LW Series 435cc air-cooled, direct injection engine that outputs 9.3 HP at 3600 RPMs.
Judging by its 5500 starting watts and 5000 running watts, the Generac 6864 seems to have been engineered purposely for home use.
But considering its 12-gallon fuel tank and breathtaking long runtime of 32.4 hours while operating at 50% load, this portable diesel power generator seems good enough for most outdoor applications including powering low-power construction tools provided you don't exceed its output.
The controls are set on a rugged panel too and it's quite easy to get a good hang of. This control panel houses virtually all the outlets that one would think of when using a diesel power generator. These include 2 duplex 120-volt outlets each with GCFI protection and individual breaker,120-volt 30A twist lock outlet, and (1) 30A, 120v/240v twist lock outlet.
Impressively, the Generac 6864 has a meter-hour so you can schedule its maintenance in a timely manner.
With regard to portability, this diesel backup generator weighs 252 pounds. To make it easy to move, it ships with 2 never-flat wheels and a dual grip handle.
DuroStar DS7000Q 6,500 Watt Portable Diesel Generator
Best for: Farms and ranches, construction site, RVs, and small to medium size homes
Not suitable for: Camping and boats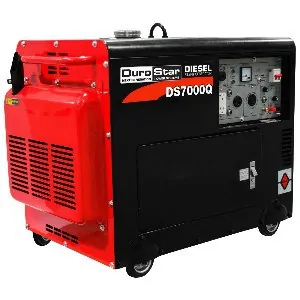 Affordable
Lots of power
Enclosed structure for low-noise operations
Lacks an hour-reading meter
DuroStar DS7000Q Specifications
Starting Watts
6500
Running Watts
5500
Noise Level
65-70 dBA
Fuel Type
Diesel
Tank size (gal)
3.83
Run Time
12 hrs
Dimensions (in)
37.8 x 22 x 30.3
Weight (lbs)
305
If you are looking for a budget-friendly diesel generator, Duropower is the brand for you. The brand tends to offer you a lot of value for money with most of its generators, and the Durostar DS7000Q isn't different.
Durostar DS7000Q outputs 6,500 watts of starting power and 5,500 watts of continuous power. By all means, this is enough wattage to let you use this generator in an array of applications at home, in farms and ranches, and at a construction site.
The portable diesel generator is powered by a 418cc, 186F, direct injection engine. Although Duropower does not reveal so much about its origin, its excellent efficiency is enough evidence that it has been engineered for heavy-duty performance.
The generator's engine draws fuel from a 3.83-gallon tank. Although the tank is relatively on the smaller side, Durostar DS7000Q is still capable of offering you up to 12 hours of runtime at 50% load which is very impressive for such a small tank.
The control panel has a basic layout which makes it very easy to understand and operate. It also has almost everything you'd require and perhaps a little bit more for a diesel generator at this price tag. You'll find a (2) 20A, 120v outlets for household appliances, 12v, 120v and 220v outlets, and a 120v Ground Fault Interrupter (GFI) outlet.
Durostar DS7000Q is quite heavy at 305 pounds. However, its 4-caster kit and handle still qualify it as a portable option.
Other impressive features include key ignition, voltmeter, low fuel indicator, automatic low-oil shutdown, and wireless remote control.
Sigma 7000W Silent Diesel Generator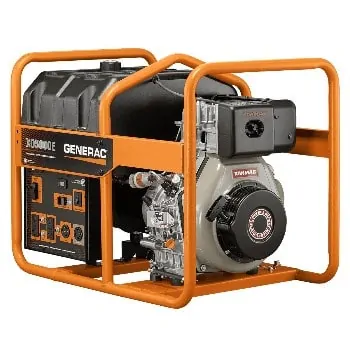 Very affordable
Enormous power
Electric start
Sigma 7000W Generator Specifications
Starting Watts
7000
Running Watts
5500
Noise Level
70 dBA
Fuel Type
Diesel
Tank size (gal)
3.96
Run Time
8 hrs
Dimensions (in)
37.5 x 22.5 x 30
Weight (lbs)
365
Sigma Power Products- a power products manufacturer based in Delhi, India- isn't a brand that comes up all the time when we are discussing generators. But there's no way their 7000-watt diesel powered generator would have missed in this list.
The price of this portable diesel generator is what grabbed our attention first, followed by its enormous power output. To put it into perspective, the Sigma Silent is almost 4 times cheaper than the Generac 6864 (depending on where you get it), and yet more powerful.
This generator is fitted with a 418cc 4-stroke engine with a maximum power output of 10 HP. It offers a whopping 7000 watts of surge power and 5,500 watts of continuous power.
Whether you intend to use it as a portable power backup solution at home or you plan to lug it to a job site, it's with no doubts that this generator's high peak watts will do you some good.
Its 3.96-gallon fuel tank isn't the biggest compared to its power output capabilities. But its 8-hour runtime at 50% load still means that fueling won't be so frequent even if you are running it throughout the day.
The control panel is choking with outlets including (2) 20A and 30A 120v outlets, 12v 8.3A DC outlet, and 20A and 30A 120V AC outlets each with an individual breaker.
It also has a switch that allows you to choose between 120v and 240v, a low oil indicator, a voltmeter, and an electric starter.
Portable Diesel Generators Comparison
| Diesel Generators | Rating | Starting Watts | Running Watts | Noise Level | Tank size (gal) | Run Time | Dimensions (in) | Weight (lbs) | Warranty |
| --- | --- | --- | --- | --- | --- | --- | --- | --- | --- |
| Generac 6864-XD5000E | | 5500 | 5000 | 72 dBA | 12 | 32.4 hrs | 33.1 x 22.5 x 25.6 | 252 | 2 years |
| DuroStar DS7000Q | | 6500 | 5500 | 65-70 dBA | 3.83 | 12 hrs | 37.8 x 22 x 30.3 | 305 | 1 year |
| Sigma 7000w | | 7000 | 5500 | 70 dBA | 3.96 | 8 hrs | 37.5 x 22.5 x 30 | 365 | 1 years |
Advantages of Portable Diesel Generators
Efficiency
Have you ever wondered why most infrastructural and high-power job site projects mostly use diesel generators? It has everything to do with high efficiency which translates to cost-effectiveness.
What makes portable diesel generators much more efficient compared to gas generators is the type of ignition. While gas-powered generators use a spark plug to ignite a mixture of air and fuel, diesel engine generators subject air to high compression that causes high temperatures in the engine. When diesel is injected, it causes powerful explosions that result in less fuel being wasted. This means that a diesel powered generator will run longer using the same amount of fuel.
Longer shelf life
Everything else held constant, portable diesel generators tend to last longer than gasoline alternatives. This is because gas burns hotter than diesel and this results in reduced life span in gas-powered generators. Something else that is often overlooked is that diesel generators tend to self-lubricate and this reduces tear and wear.
Maintenance
The fact that diesel engines rely on combustion-ignition means that they don't employ a carburettor and spark plug. This means that accessing the engine for maintenance and general lubrication is much easier. In addition, the mere absence of the carburettor and spark plug means that you have 2 fewer components to take care of.
Longer lifespan
Portable diesel generators are known for their ruggedness. With good maintenance, experts say that a diesel generator can outlast a similar size gas generator by up to 3 times. This means that although the initial outlay for diesel power generators is usually relatively higher, these generators are practically cheaper in the long run.
Disadvantages of Portable Diesel Generators
High noise levels
Diesel generators are famous for being noisy. Although contemporary models have superior features to mitigate this issue, they still run at higher decibels compared to similarly sized alternatives.
Expensive repairs and servicing
Considering the large and heavy components that are used to make diesel engines, repairs can be an expensive affair. They make up for that, though, with their infrequent maintenance needs.
Things to Consider when Purchasing a Portable Diesel Generator
Other than the price of the portable diesel generator, here are a few considerations to think of when looking for the best diesel generator:
Power output
Depending on where you intend to use the diesel generator, it needs to be powerful enough for the appliances that you intend to use it on.
Runtime
Runtime refers to how long in hours a portable diesel generator can run on a full tank at 25%, 50%, or 100% load. Runtime generally depends on the size of the tank; large tanks offer longer runtimes. But it is also affected by the load. Of course, the higher the load, the more fuel is consumed.
Noise level
Check the dBA level in the generator's spec sheet. Although diesel generators have for long been the worst performers on this front, most of the recent offerings now have high-quality mufflers and silencers to make them quiet. Still, if you need a quieter model, I suggest checking our recommendations for best quiet generators.
Portability
Since we are talking about portability, it's important to consider how easy it is to move the diesel generator. Depending on the weight of the generator, consider whether it has a wheel kit or sturdy grab handles. On the same note, consider its measurements especially if you want a model that you can carry on your truck.
FAQs
Are portable diesel generators better than gas generators?
Well, this will depend on what exactly makes a generator the 'best' for you. Diesel generators have the upper hand in terms of fuel efficiency, and they are also known to last up to 3 times longer than gas alternatives. But they also have a considerably higher initial outlay and can be quite expensive to repair when necessary.
What's the lifespan of a diesel generator?
There's no exact answer for how long portable diesel generators last since there are several factors that come into play including proper loading and regular and timely maintenance. However, if a gasoline generator lasts 10,000 hours, you can expect a diesel generator the same size to last up to 30000 hours.
How efficient is a diesel generator?
According to U.S. Energy Information Administration, One gallon of diesel offers 137,381 BTUs whereas the same amount of gasoline and propane offers 120,429 BTUs and 91,333 BTUs respectively. Considering that only 35% of each of these energy levels is converted to electricity, diesel emerges as the undisputed winner here.
What is the smallest sized diesel generator?
The 3 portable diesel generators that we included in our reviews are almost equal in size although they differ greatly in weight. The Generac 6864 is the smallest here at 33.1'' L x 22.5'' W x 25.6'' H. It's also the lightest among the 3 at 252 lbs. But it's way heavier compared to most gasoline and propane generators.
How can I make a diesel generator quiet?
There are a lot of ways of making your portable diesel generator quiet including using anti-vibration mounts (AVM), using Acoustic insulation barriers, and even placing it further away.
Conclusion
Diesel generators are a great option if you are after a powerful and durable generator. But keep in mind that they are pricier, nosier and less 'movable' due to their heavyweight compared to other types of portable generators.
If you still can't make your mind up about what is the best portable diesel generator for your power needs after reading our reviews, I would recommend DuroStar DS7000Q due to its excellent value for money. Although the Sigma Silent model has a promise of higher wattage and a much lower cost, this brand is yet to be known. On the other hand, the Durostar diesel backup generator comes from a manufacturer with a good reputation, and it has an impressive power output to fit the bill in most household and outdoor power needs.