The increased need for having emergency power backup and power solutions off-grid has had manufacturers scrambling to design highly functional portable generators.
Now, while these electric generators are engineered with utmost portability in mind, they differ in a whole lot of ways including wattage, runtime, type of fuel and fuel usage, mobility and noise levels. This means that a portable generator that is just right for my camping needs may not necessarily be your perfect go-to if you want something that will power up your entire house during an outage.
To help you find the best portable generator for your power needs, I checked the top-rated generators on the market and made a comparison table. In this article, you will find unbiased reviews of the top 10 portable generators as well as a detailed guide that covers all the important considerations that need to be made before buying a portable power generator.
Our Top Picks
Best Overall
Champion 7500-Watt
Dual fuel functionality
Powerful
Easy maintenance
Budget Pick
Firman P03601
Very Affordable
Long runtime
Light and easy to move around
Best Portable Generator Reviews
Champion 7500-Watt Portable Generator
Best for: Jobsite with several tools running concurrently, home power backup for occasional use
Not suitable for: Boating, camping, tailgating, and RVing
Dual-fuel compatibility adds a lot of conveniences
Although heavy, its wheels and foldaway handle make it easily portable
Tons of power for its price
Lots of outlets
Will require very minimal maintenance if you run it purely on propane
It's loud at 74 dBA but not as loud as you'd expect from a 7,500-watt generator
Its panel lacks a main breaker
Champion 7500-Watt Specifications
Starting Watts
9375 (gasoline), 8400 (propane)
Running Watts
7500 (gasoline), 6750 (propane)
Noise Level
74 dBA
Fuel Type
Gasoline, Propane
Tank size (gal)
6
Run Time
8 hrs (gasoline), 5.5 hrs (propane)
Dimensions (in)
27.8 x 28.7 x 26.4
Weight (lbs)
202.4
Champion 7500W is a dual-fuel generator, meaning it can run on both gasoline or propane. This can be very handy in case one of the fuels is not available but you still need backup power for your appliances.
With its 6.0-gallon fuel tank, this generator can run for up to 8 hours non-stop at 50% load on a full tank and provide you with 7,500 running watts when on gasoline.
When connected to a 20-pound propane tank, the Champion can afford you 8,400 starting watts and 6,750 running watts. While these figures tend to change slightly once you switch to propane gas, you'll still find this generator a real champ when powering a refrigerator, window AC, freezer, fans, hairdryers, and lights among other things.
There are plenty of outlets on the panel to cater to your different needs. You'll find four 120v 20A household outlets with GFCI protection, one 120/240V 30A (L5-30R) locking outlet, and A 120/240V (L14-30R) locking outlet.
Starting it is via an electric start (the battery is included in the package) and you could also use the pull-start cord. The good news is that Champion 7500W has been engineered with Cold Start technology that enables it to start even in wet weather.
Firman P03601 Portable Generator
Best for: Home power backup, outdoor entertainment, and camping
Not suitable for: Large homes and construction sites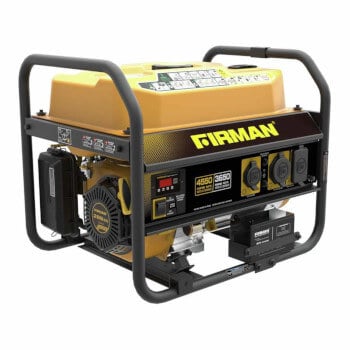 Very affordable
Relatively quiet
Offers the longest runtime per tankful for a generator its size
It's light and easy to move around
Multi-meter helps keep track of voltage and hours run
Not enough power for power-hungry tools and appliances like pumps
Although relatively lightweight, a set of wheels would make moving it around very easy for everyone
Does not have an electric starter (this is understandable, though, considering the price)
Firman P03601 Specifications
Starting Watts
4550
Running Watts
3650
Noise Level
N/A
Fuel Type
Gasoline
Tank size (gal)
5
Run Time
14 hrs
Dimensions (in)
23.2 x 17.5 x 18.5
Weight (lbs)
101.5
The Firman P03601 tends to tick most of the boxes for anyone who is looking for an affordable, quiet, lightweight, and reliable generator.
Of course, the fact that it is almost 10 times cheaper than the most expensive recommendation here means that you shouldn't expect an insanely high output performance.
However, with its 4,550 peak wattage and 3,650 running watts, you can still rely on it to power most appliances common in an average-size home including a refrigerator, fridge, several fans, lights, and an AC all running together. You could also use it to run a low-power water pump alone provided its starting watts requirement does not exceed 4,550 watts.
Marketed to homeowners who are tight financially and who want to save as much as possible on gasoline, the Firman P03601 is a direct competitor to the Westinghouse WGen 7500 with regard to efficiency.
While the latter boasts a runtime of 14 hours at 50% load with its 6.6-gallon tank full, the Firman offers you a whopping 15 hours with its 5.0-gallon tank– lesser fuel, longer running time!
It also has a whole lot of outputs; (1) L5-30R 120V – 30A Twist-lock, (1) TT-30R (RV Ready) 120V – 30A, and (2) 5-20R Duplex 120V – 20A ports.
Worth noting, this is one of the quietest generators on the market today. And while it does not come with a wheelset, its weight (110 lbs) is easy to lug around with ease for most adults.
Honda EU2200i Portable Generator
Best for: Camping, tailgating, and boating
Not suitable for: Prolonged power backup for home and construction sites
It's very lightweight at 47 pounds and has sturdy handles for easy mobility
Eco-throttle set up makes it incredibly fuel efficient
it's amazingly quiet
You can connect 2 generators to double the wattage
Ability to charge a battery directly from the generator is a plus
It's very expensive for a generator with its wattage
2200 watts may not be enough for most high-power appliances
Has no fuel gauge to alert you on the remaining fuel
Honda EU2200i Specifications
Starting Watts
2200
Running Watts
1800
Noise Level
48 dBA
Fuel Type
Gasoline
Tank size (gal)
0.95
Run Time
8.1 hrs
Dimensions (in)
20 x 11.4 x 16.7
Weight (lbs)
47
Dubbed the perfect portable generator for camping and tailgating, Honda EU2200i might fit the bill if you are looking for a compact and super lightweight power solution that you can take anywhere.
This generator was designed to be a revamped version of its predecessor, the EU2000i. And true to Honda's intention, this new version now packs more power and it's quieter and lighter for most outdoor enthusiasts' power needs.
The Honda EU2200i is an inverter generator. For starters, this is a new class of portable generators engineered to offer optimum fuel efficiency without compromising power output.
This is actually one of the standout features of the EU2200i. With the patented eco-throttle system, the engine speed varies from 4000 rpm to 4500 rpm depending on the power needs of the appliance being used.
Speaking of power, the EU2200i outputs 2,200 watts enough to power your lights, refrigerator, television set, and radio all at once. In case this wattage isn't enough for your household or job site needs, the good news is that that you can connect 2 of these generators using the parallel ports to produce up to 4,400 watts.
This inverter is fitted with a 0.95-gallon tank and offers a runtime of around 3.2 hours at 100% power and up to 8 hours at 25% load. It has 2 AC 120v 15A outlets plus a DC 12v 8.3A outlet for charging batteries.
Lastly, Honda EU2200i is one of the quietest portable generators that you'll come across today with an output of 48-57 dBA. Just so you understand how quiet this generator is, a normal conversation is usually around 50-60 dBA.
Westinghouse WGen7500 Portable Generator
Best for: Home power backup and average-size construction sites
Not suitable for: RVing, camping, and tailgating
Requires minimal straightforward assembly
Has a remote key start that works great all the time
Packs plenty of power
Offers a very long runtime per tank
Lots of certifications; EPA, CARB, and CSA
Its 3-year warranty is longer than what most brands offer
It's quite loud at 73 dBA
Heavy
Westinghouse WGen7500 Specifications
Starting Watts
9000
Running Watts
7500
Noise Level
73 dBA
Fuel Type
Gasoline
Tank size (gal)
6.6
Run Time
16 hrs
Dimensions (in)
27.2 x 26.5 x 26
Weight (lbs)
192
Westinghouse WGen 7500 is another relatively affordable and yet powerful portable generator.
There are a lot of reasons why this one earned a slot in these reviews, but its long runtime is what grabbed my attention first.
Boasting 7,500 running watts and 9,500 peak watts, the WGen 7500 can keep your appliances running for a good 16 hours on its 6.6-gallon tank at 25% load and 14 hours on 50% load. Honestly, that's the longest runtime that we've seen for a generator at this price range and I think it's a good thing economic-wise.
This generator utilizes a 420cc 4-stroke Overhead Valve engine in a long lasting cast iron sleeve for durability. Speaking Of durability, the WGen 7500 has an automatic low-oil shutdown to protect the engine from damage.
Designed to power most of your household essentials and power tools, Westinghouse WGen7500 has one 120/240V twist-lock receptacle and two 5-20R 120V Household Duplex Receptacle. In addition, there are 2 GFCIs (Ground Fault Circuit Interrupters) that automatically shut off electric power in case of an imbalance to protect your house wiring and receptacles from overheating.
Lastly, this is a plug-and-play thing and has been engineered to start at the push of a button even in cold weathers. The WGen 7500 is quite heavy at around 200 pounds. But its solid frame, foldable handle, and sturdy wheels make it very portable.
Read the Full Westinghouse WGen 7500 Review
or
Check price on Amazon
A-iPower SUA12000E Portable Generator
Best for: Large residential construction sites and emergency backup power
Not suitable for: Boating, camping, and tailgating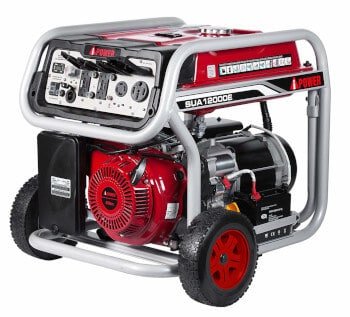 Lots of power at a reasonable price
Offers a long runtime per tankful at 9-11 hours at 50% load
Has an easy-reach and easy to use panel
Lots of running power to prevent tipping of current as additional appliances are added
Seems to be solidly built
Does not have a load metering
It's loud at 78 dBA
A-iPower SUA12000E Specifications
Starting Watts
12000
Running Watts
9000
Noise Level
78 dBA
Fuel Type
Gasoline
Tank size (gal)
7
Run Time
9 hrs
Dimensions (in)
27 x 27 x 27
Weight (lbs)
206
Our next recommendation is from a brand that you don't get to hear about every other day -A-iPower. This is an American manufacturer based in Los Angeles, California with a wide range of high-quality, powerful, and relatively affordable generators, pressure washers, and tillers.
What I have here is their largest portable generator, the SUA1200E- an underrated yet capable generator that packs a hefty punch in terms of power at a reasonable price.
One of the most impressive features about this generator is its 12,000 starting watts and 9,000 running watts at 100% load.
Generally, A-iPower SUA12000E is powerful enough to power up most average household items like fridges, pumps, fans, ACs, and TV at the same time. Its extra 3,000 starting watts offer you a good give and mean that it won't trip the current as you start appliances with high starting wattages such as refrigerators or a jigsaw, band saw, and ½'' drill at a construction site.
The generator weighs 206 pounds which is admittedly on the heavier side for a portable power solution. It has, however, been mounted on a rigid tubular frame with two 9-inch never-flat tires and a solid factory-installed fold out handle that make it good enough to power up your weekend getaways and camping trips.
The generator also has a decent panel with four GCFI-protected 120V outlets and a DC adapter plug for low-power gadgets.
To ensure that everyone including the elderly folks has an easy time turning on its 459cc/16 HP OHV engine, A-iPower SUA12000E is blessed with an electric starter. There's also a recoil starter should the electric option fail you.
DuroStar DS4000S Portable Generator
Best for: Home power backup for basic appliances, RVing, camping, and boating
Not suitable for: High-power construction tools
It is quite cheap compared to most of its equally rated competitors
Has a sturdy frame with 4-point motor mounts for quiet operations
Features 3 power outlets in case there are several appliances to power simultaneously
A low-oil light warning and low-oil automatic shutdown protects the engine from premature wearing
There's a fuel gauge to keep you posted on the remaining gas
Has a muffler system that keeps the noise level down to 69 dBA
It's quite heavy at 90 pounds
Does not have a set of wheels to boost mobility
DuroStar DS4000S Specifications
Starting Watts
4000
Running Watts
3300
Noise Level
69 dBA
Fuel Type
Gasoline
Tank size (gal)
3.96
Run Time
12 hrs
Dimensions (in)
23 x 18 x 17.5
Weight (lbs)
105
Durostar DS4000S is a great recommendation for homeowners who are looking for a generator with a good balance between power and affordability.
This portable generator uses a 4-stroke 7.0 HP engine that outputs a maximum of 4,000 watts of surge power before stabilizing it to around 3,300 running watts.
While it's not the most powerful generator in these reviews, it still packs enough juice to power up a small AC, a sump pump, and a full-sized refrigerator alongside other small wattage appliances like lights during a power outage at home. It is also a good option for RVs as it is it's powerful enough to run even the most powerful RV cooling or heating units that demand upwards of 1800 watts.
The Durostar DS4000S uses a 4-gallon fuel tank and offers an 8-hour runtime at 50% of its maximum rated load.
For versatility and convenience, this generator has 3 power outlets comprising of two 120V 20 Amp outlets, and another 3-pronged 120V 30 Amp outlet for use with 30 Amp generator cords.
Its panel also houses a low-oil light warning to attract your attention when it's time for oil change, and an automatic low-oil shutdown feature in case you don't add the oil on time.
Generac 5735 GP17500E Portable Generator
Best for: Emergency home power backup, small commercial outlets, large construction sites
Not suitable for: Camping, tailgating, and RVing
Massive power for a generator at its price range
Heavy-duty engine and frame for longer life
Decent value for wattage output
OHVI engine requires low maintenance
Electric start for easy startups
At 390 pounds, you'll need several people to lift it up and push it around
Requires a good amount of fuel due to its high output
It's loud
Generac GP17500E Specifications
Starting Watts
26250
Running Watts
17500
Noise Level
N/A
Fuel Type
Gasoline
Tank size (gal)
16
Run Time
10 hrs
Dimensions (in)
48.5 x 31 x 39.5
Weight (lbs)
390
Boasting an incredible running power of 17,500 watts and a startup wattage of 26,260 watts, you won't be wrong to refer to the Generac 5735 Generac GP17500E  as a portable 'standby' generator.
Honestly, this is just as powerful as a portable generator can get, and it's a highly recommendable option for powering up a large mansion and a small commercial outlet during prolonged blackouts. It's also a very reliable option for contractors with several types of equipment that run at high power settings that low-power generators can't offer.
Unlike the Duromax XP12000EH that restricts you on what appliances to power with it, there are virtually no limitations as to what electric equipment you can use with the Generac GP17500E- yes, including your power-hungry electric on-demand water heater and 5-ton AC!
Generac is a brand of Briggs and Stratton and the excellent craftsmanship that this American manufacturer is known for is reflected here.
This power generator is fitted with a 992cc OHVI engine. But what I find so fantastic is that this engine is served by a pressurized oil lubrication system similar to what you'd find in your car. This is a promise of a significantly longer and stress-free life.
This enormous engine is also accompanied by a beefy power panel consisting of four 120v, one 120v 30A, one 120/240v, and one 12VDC outlet.
Now, featuring a large 16-gallon tank, Generac GP17500E is rated at 10 hours at 50% load. Of course, not most American homes use 8,750w in a span of 10 hours. So you can expect to get close to 15 hours for your average-sized home.
WEN 56682 Portable Generator
Best for: Home backup power, small construction sites, and RVing
Not suitable for: Tailgating and boating
Relatively affordable
Lots of power
Strong frame and durable tires
Foldable handles for portability
Very easy to put up together with all the necessary tools included in the package
Lacks a wattage output display
WEN 56682 Specifications
Starting Watts
7000
Running Watts
5500
Noise Level
74 dBA
Fuel Type
Gasoline
Tank size (gal)
6.5
Run Time
11 hrs
Dimensions (in)
28.4 x 22.4 x 26
Weight (lbs)
200
How about a portable generator that costs a few hundred dollars but is designed to offer the power, reliability, and portability that most homeowners operating a tight budget look for? Enter the Wen 56682.
This model uses a 390cc 13 HP air-cooled OHV engine that outputs 7000 watts of power at peak, and 5500 watts of continuous power.
Carrying a 6.5-gallon fuel tank, Wen 56682 generator can keep your home appliances and job site tools running for up to 11 hours at half load.
This portable generator is designed to offer versatility at its best whether at home or in the wilderness. Its panel features a Twist-Lock 120/240V 30A receptacle for high-power 120V tools, four 120V 20A three-prong outlets, and one car-charger-style 12V DC outlet for most of your handheld portable devices.
Other great features that give it the upper hand when compared to other generators in its class include an Automatic Voltage Regulator (AVR) that stabilizes the voltage produced in various load conditions, and a Digital Hour Counter to keep you posted on the amount of time remaining till the need for refueling.
The Wen 56682 has the most coveted keyless electric start, and it also has a backup recoil starter in case the electric start battery is low on power.
Weighing around 200 pounds, this is not a generator that you'll easily grab and throw at the back of your pickup truck. Nevertheless, its never-flat wheels and foldable handles make it very easy for almost any capable adult to roll it around.
Briggs & Stratton 30664 Portable Generator
Best for: Job sites, emergency power backup for homes and commercial outlets
Not suitable for: Tailgating and camping
Very easy to start
Easy to set up
Outputs lots of power for a generator at its price
Lots of convenience features including an electric starter, low-oil shutdown, and fuel gauge
A few complaints about mishandling during shipping
Briggs & Stratton 30664 Specifications
Starting Watts
10000
Running Watts
8000
Noise Level
N/A
Fuel Type
Gasoline
Tank size (gal)
7.5
Run Time
9 hrs
Dimensions (in)
34.7 x 26.7 x 23
Weight (lbs)
246
Compared to the Westinghouse WGen 7500, the first thing that I loved about this Briggs and Stratton generator is its simple control panel.
This portable power generator also brings a lot more power to your home, job site, or campsite with its 2100 series 420cc OHV engine that generates 10,000 watts of start power and 8,000 watts of continuous power.
While Briggs & Stratton 30664 is almost two hundred bucks pricier than the WGen 7500, the extra 500 watts might be just what you need for your high-power tools and equipment.
This generator has a 7.5-gallon metallic fuel tank and will offer you over 9 hours of continuous runtime at 50% load. While this is notably shorter than what the WGen 7500 offers, don't forget that this Briggs & Stratton outputs more power.
Just as you'd expect from a generator this size, this model has four 120v outlets for most of your household items and one 120/240 volt 30-amp outlet that most power tools require.
Other great features that you'll definitely appreciate here include a key electric start for effortless powering, a fuel gauge and an hour meter to help you monitor the gas level with ease, and an onboard circuit breaker for protection.
In addition, I like that Briggs & Stratton 30664 comes with a 3-year warranty which is considerably longer than the 1-year warranty that most models come with.
DuroMax XP12000EH Portable Generator
Best for: Emergency power backup for homes and large residential job sites
Not suitable for: Camping, tailgating, and boating
Lots of power for most household, job site, and outdoor fun power needs
Relatively cheaper compared to other generators with similar performance
Dual-fuel compatibility ensures non-stop power supply
A large gasoline tank offering a runtime of up to 8 hours
Heavy-duty construction for durability
Electric start for effortless starting (there's a recoil start for backup too)
Sturdy wheels and foldable handle for excellent mobility
It's on the pricier side
269 pounds make it too heavy to move around without help
Not CARB-compliant (can't ship to California)
DuroMax XP12000EH Specifications
Starting Watts
12000 (gasoline), 11400 (propane)
Running Watts
9500 (gasoline), 9025 (propane)
Noise Level
74 dBA
Fuel Type
Gasoline, Propane
Tank size (gal)
8.3
Run Time
8.83 hrs (gasoline), 7.2 hrs (propane)
Dimensions (in)
40 x 27.5 x 29
Weight (lbs)
260
DuroMax XP12000EH is one of the most powerful portable generators that you'd ever add to your emergency power backup arsenal especially if you live in areas that are prone to hurricanes.
The first standout feature of this beast is its 12,000 starting watts and 9,500 running watts.
The Duromax XP12000EH utilizes an 18HP 457cc OHV engine that makes it a reliable option for most household's power needs.
To put it into perspective, this wattage is enough to power up several refrigerators, freezers, AC, electric stove, and microwave and lightings.
Although it's quite heavy at around 269 pounds, it's still portable as its large heavy-duty wheels and foldable handle depict, and this means that you can also take it wherever portable power is required. On this note, the Beast has a spark arrestor and it's actually EPA-approved for use in USA parks.
Another great feature that I should mention about this generator is its dual-fuel design. The XP12000EH can use either propane (which is cleaner, quieter, and cheaper) or gasoline (which is always easy to obtain and can be stored for emergencies).
Portable Generators Comparison
| Best Generators | Rating | Starting Watts | Running Watts | Noise Level | Fuel Type | Tank size (gal) | Run Time (hrs) | Dimensions (in) | Weight (lbs) | Engine Displacement | Starting Method | Warranty |
| --- | --- | --- | --- | --- | --- | --- | --- | --- | --- | --- | --- | --- |
| DuroStar DS4000S | 4.2/5 | 4000 | 3300 | 69 dBA | Gasoline | 3.96 | 12 | 23 x 18 x 17.5 | 105 | 208cc | Recoil | 3 years |
| Honda EU2200i | 4.4/5 | 2200 | 1800 | 48 dBA | Gasoline | 0.95 | 8.1 | 20 x 11.4 x 16.7 | 47 | 121cc | Recoil | 3 years |
| DuroMax XP12000EH | 4.0/5 | 12000 | 9500 | 74 dBA | Gasoline, Propane | 8.3 | 8.83 (gasoline), 7.2 (propane) | 40 x 27.5 x 29 | 260 | 457cc | Electric, Recoil | 3 years |
| Generac GP17500E | 4.2/5 | 26250 | 17500 | N/A | Gasoline | 16 | 10 | 48.5 x 31 x 39.5 | 390 | 992cc | Electric | 2 years |
| WEN 56682 | 4.1/5 | 7000 | 5500 | 74 dBA | Gasoline | 6.5 | 11 | 28.4 x 22.4 x 26 | 200 | 390cc | Electric | 2 years |
| Westinghouse WGen7500 | 4.3/5 | 9000 | 7500 | 73 dBA | Gasoline | 6.6 | 11 | 27.2 x 26.5 x 26 | 192 | 420cc | Electric, Remote, Recoil | 3 years |
| Briggs & Stratton 30664 | 4.1/5 | 10000 | 8000 | N/A | Gasoline | 7.5 | 9 | 34.7 x 26.7 x 23 | 246 | 420cc | Electric, Recoil | 3 years |
| Champion 7500 Watt | 4.6/5 | 9375 | 7500 | 74 dBA | Gasoline, Propane | 6 | 8 (gasoline), 5.5 (propane) | 27.8 x 28.7 x 26.4 | 202.4 | 439cc | Electric, Recoil | 3 years |
| Firman P03601 | 4.8/5 | 4550 | 3650 | N/A | Gasoline | 5 | 14 | 23.2 x 17.5 x 18.5 | 101.5 | 208cc | Recoil | 3 years |
| A-IPower SUA12000E | 4.3/5 | 12000 | 9000 | 78 dBA | Gasoline | 7 | 9 | 27 x 27 x 27 | 206 | 459cc | Electric | 2 years |
How to Choose the Best Portable Generator For the Money
Different portable generators are made to serve different needs and this can easily be seen in the reviews above. The following lines will help you understand better how much wattage you need in order to find the best portable generator for home use, recreational activities, or work.
Generator Size vs. Your Wattage Needs
The very first thing that you need to consider when choosing a portable generator is whether it packs enough juice to power up all the appliances and lights that you'll be using simultaneously.
Most portable generators are rated at between 1,000 watts and could go as high as 10,000 watts. A 2000-watt generator should suffice for camping and tailgating. This size will also come in handy at home during an outage only that you will be limited to small appliances such as lights and fans.
If you are looking for a portable generator to power multiple power-hungry construction tools such as table saws, consider generators in the 5000-watt range. This category allows also you to power a few more appliances during emergencies at home including a refrigerator and an AC fan.
Different uses of a portable generator
Emergency power backup for home– 3000-6500 watts (a 6500-watt generator covers a large furnace and pump too)
RVing– the AC is the energy hog in most average RVs, and that's the primary factor to consider when buying a portable generator for your recreational vehicle. For instance, a 7000 BTU Rooftop AC will require 1700 watts to start and 600 watts to run. A 10,000 BTU AC requires 2000 watts to start up and around 700 watts to run. Factor in other appliances such as a small TV (120-200 watts), slow cookers (170-200 watts) and a typical RV fridge that requires around 600 watts to start up and 180 watts to run. Generally, a portable generator with at least 3000 starting watts and 2000 running watts should suffice.
Camping/tailgating/boating– a generator with at 2000 starting watts and a continuous running output of at least 1000 watts
Construction and power tools– wattage requirements for different worksites vary depending on the power tools that need to be used concurrently. So start by building a rough estimate of the total wattage of the tools that will be humming together putting the highest starting watts into consideration. It's also important to add 10% to your total wattage needs to allow for error. Generally, an 8000-watt generator should suffice if you have around 4 tools running together; a miter saw, hand drill, portable air compressor, and a battery charger. However, if the jobsite crew agrees to run only 1 or 2 tools together, this could drop to around 5,000 watts.
Find out the best portable generators depending on their wattage output:
How to determine your wattage needs?
To determine your ideal size of generator, you need to calculate your wattage needs depending on where you'll be using it; camping/tailgating, emergency use at home, or job site.
When calculating the number of watts that your appliances will require in total, there are 2 measurements that you need to consider;
Running watts– this refers to the watts that a given appliance requires to continue operating under normal load.
Starting watts– yes, you guessed it right. This refers to the number of watts that some appliances require at startup and when running at their peak. Most appliances require 1.5-2x their running watts to start up and this means that you need to take this measurement seriously as it determines whether some of your appliances will start or not.
To determine your power needs, calculate the total running watts of your appliances then add the highest starting watts.
For instance, here are a few basic appliances that you might need when tailgating or camping with their running and starting watts;
| | | |
| --- | --- | --- |
| Appliances | Running watts | Starting watts |
| Cell phone charger | 10 | 0 |
| Inflator pump | 50 | 150 |
| TV 42'' | 240 | 0 |
| Electric Griddle | 1200 | 0 |
Your total wattage needs in such a scenario would be 1650W – the sum of running watts and starting watts.
How to Determine How Much Power Your Appliances Require
Most appliances will have an energy label either at the back or around the base. Others will also have it included in the name tag, or embedded on the motor. If you can't locate the number in any of these locations, then you might need to look for it in the user's manual.
There is a little twist here, though: in most instances, you will find out that manufacturers indicate the power requirements of the appliance in amps, not watts.
To convert it into watt, simply multiply the number of Amps with the voltage that the appliance runs at. In the US, most appliances operate at 120 volts although some also require 220v or 240v.
Watts= Amps x Volts
Types of Portable Generators in Terms of Fuel Used (Strengths and Drawbacks)
There are different types of generators depending on the fuel type they require for operations. Each of these types operates differently and comes with its pros and cons. Therefore, it is important to understand the difference between them in order to make an educated choice when selecting the best portable generator for specific power needs. Here are the different types of power generators:
Gasoline-powered generators
These are the most common types of generators and what you are going to come across in most instances for a few reasons.
Firstly, gas-powered generators are the smallest of the bunch and are, therefore, relatively more portable than other types.
These models are also more economical to run given that gasoline is much cheaper than other fuels and it's also widely available.
Unfortunately, these generators are poor performers in terms of efficiency when compared to diesel generators. In addition, they release a lot of emissions and tend to be a tad hard to start in cold weather conditions.
Diesel-powered generators
Efficiency is the major advantage that diesel-powered portable generators offer. While the price of diesel is at all time high due to federal excise duty, these generators tend to use a considerably lower amount of fuel than their gasoline-powered counterparts. This means that you get more power from diesel than you'd get from the same volume of gasoline or gas.
In addition, these generators are considerably heavier duty and will last longer before the need for major maintenance.
Diesel generators have their not-so-good side too, though. To begin with, although they score the highest on the durability front, these generators tend to come at a higher price most of the times.
In addition, they continue to lead in terms of noise pollution– a major factor that you need to consider when using a generator to power up a tailgating party or campsite.
However, it's good to acknowledge that manufacturers have put a lot of effort into curbing this issue and most of the recent releases are much improved compared to the earlier models.
Propane gas-powered generators
If affordability, low emissions, and lower noise decibels are your major priorities, a propane-powered generator is probably what you have in mind.
These generators are generally easier to construct and this is reflected in their lower price tags. In addition, propane gas tends to be much cheaper and have a longer shelf-life than other types of fuel.
Another major advantage to these generators is that propane gas is readily available in most cities. Hence, you are assured of continuous supply. But this also happens to be one of its major drawbacks.
In case of natural calamities, the supply of gas is most likely to be interrupted. And this means that the generator will be of absolutely no help when you need it the most.
Dual Fuel Generators
Dual fuel generators, as the name suggests, use two types of fuel (usually, gasoline and propane). These generators give you the option to choose what fuel to use depending on the situation. They also provide extended run time considering that you switch over to propane when the gasoline runs out or vice versa. However, this convenience has its price, as bi-fuel generators tend to cost more than one fuel models.
Solar-powered generators
Just as the name suggests, these generators use solar energy to create electricity through the photovoltaic process (most of them can also be charged through a wall socket, though).
Unlike the other types of generators that generate electricity on demand, solar-powered generators create electricity and store it in a battery for use when needed. And since they rely on renewable energy from the sun, you will never run out of 'fuel' for your generator.
However, solar generators are not that powerful as the fuel generators. Most of these generators have a power storage capability of 1kWh to 2kWh, which is hardly sufficient to power a full-sized fridge for 2-3hrs. Therefore, I wouldn't recommend them if you need a generator to power large appliances or heavy-duty equipment and tools.
Inverter generator
Inverter generators were introduced by Honda over a decade ago as a solution to the increasing demand for efficient, lightweight, and quiet generators.
Unlike conventional generators that have to run full tilt at a constant speed of 3600 RPMs, an inverter generator throttles its engine up and down electronically to meet the power demand.
The single most advantage of an inverter generator is its high fuel efficiency. Contrary to a traditional generator that has to make rotations of up to 3600 per minute regardless of the amount of power you need of it, an inverter generator is engineered to automatically adjust its speed to produce just the required amount of power according to the appliances in use. Resultantly, these generators have been known to save fuel by up to 40%. They are also quieter which is surely something you should consider if you going to use your generator for camping.
What type of generator is best for home use?
There are regular and inverter models powerful enough to run all your home's essentials. And while inverter generators are quieter and more fuel efficient, they are also more expensive.  Therefore, the choice of a portable generator for home use will strongly depend on your wattage needs and requirements. However, if you are looking for a whole house power backup solution then Generac 5735 GP17500E  is the model for you.
Important Features to Consider When Buying a Portable Generator
Runtime
This refers to how long in hours a generator can run when set at either 25% or 50% of its total power. While some portable generators will run for over 15 hours, others take only 4 hours to conk out.
Generator runtime depends on the size of its fuel; the more fuel it can hold, the longer it will run before the need for refueling.
Noise
A generator's noise level may not be at the top of your priority list, but this is an important consideration especially if you live in a neighborhood with strict noise regulations on generator usage.
An annoyingly loud generator may also impact your tailgating party and it's not the best for most outdoor events such as caravanning and camping.
The quietest portable generators produce noise in the range between 50 and 60 dBA. To put this into perspective, a normal conversation is rated at 55-60 dBA. So, this means that you can chat right next to such a generator without issues.
Worth noting is that, for every 10-decibel inclement, a generator becomes almost 2 times louder than another one. For instance, a 70 dBA generator is almost twice as loud as a 60 dBA model.
Noise reducing features to consider when hunting for a quiet generator
Completely enclosed casing
Rubber feet
Noise suppressor
Internal silent muffler
Quality construction
Easy starting
Depending on the manufacturer and brand, a portable generator may use either a recoil cord or an electric start to start. It goes without saying that the latter is the easiest to use especially if you are dealing with arthritis.
Ease of mobility
Although portable generators are meant to be moved around, they differ considerably with regard to the ease of mobility. On this issue, consider the weight of the generator and whether it has handles and/or wheels to make it easy to move.
Fuel-gauge
An important feature especially if the generator will be running for prolonged periods of time, a fuel gauge keeps you posted on how much fuel is left in the tank without having to open the lid. Some of the latest portable generators have a digital timer that shows how long in minutes or hours the remaining fuel will last.
Built-in low oil shut-off
You must know the importance of oil in an engine already and why it's so important to keep it lubricated. Without proper lubrication, the moving parts in the engine rub against each other leading to premature wearing or even seizing.
While it's easy to ensure regular checkup of the oil level, draining the generator can cost you handsomely. And that's where the need for a built-in low-oil shutdown comes in.
How to Use a Portable Generator Safely
Calculate your wattage needs to prevent overloading
Read the manufacturer's manual carefully noting any special procedures unique to that model
Never use a generator in a room or garage not even with the doors and windows open
Always place the generator at least 15 feet away from the house
Always keep it dry to prevent electrocution and damage
The generator should be steady and stable when running
Ensure proper connection and wiring from the generator to your home, RV, boat, and construction tools
Drain the fuel tank when storing the generator for more than 6 months. If not so, add a fuel stabilizer to keep the gasoline in good condition and to prevent gum build-up.
For more generator safety tips check our in-depth article on how to use a generator safely.
Frequently Asked Questions
Can I use a portable generator in a vented room?
No. Portable generators are meant to be used outside in areas with lots of fresh air due to the high levels of carbon monoxide that they produce. This gas is invisible and has no smell, but it kills within minutes. The generator should be placed at least 20 feet away from your home and far from windows and vents.
Can a generator explode?
Yes, it could but such occurrences are rare provided the manufacturer's instructions are followed to the latter. Remember that your portable generator runs on very flammable and explosive fuel that can lead to fire or explosion in case it comes into contact with a hot surface, for instance, the engine or if the gasoline fumes reach an open flame.
To prevent the risk of a generator explosion:
Never overfill the tank as fuel can expand and overflow onto the hot engine parts leading to fire or a deadly explosion
Never add fuel while the engine is running
Always wait for the engine to cool down completely before adding fuel
Never store a generator with fuel in a room with open flames or sparks
Avoid smoking while adding fuel to the tank
Can I use a portable generator in wet weather?
There is a good reason why you'll find a strict warning not to use the generator in wet weather or wet conditions in the user's guide.
When used in wet conditions, water can easily get into the outlets and this could lead to damage. But the main reason why you don't want to run your portable generator in such conditions is that the electrical panel can cause electrocution when wet.
Can I connect an emergency portable generator to the main supply?
It's possible to connect your portable generator to your electrical outlets so it takes over in case of an outage. But there are several precautions that you need to put in mind. Generally, this should only be done by a qualified electrician and a transfer switch should be installed. Otherwise, there is a risk of back-feed, i.e, feeding power to your main's utility lines which could electrocute employees trying to restore the power.
When should I change the oil in a portable generator?
Always follow the manufacturer's guide on matters regarding oil type and how often you need to change or top up it up. Generally, most small, portable generators will require an oil change after every 50 hours but keep in mind that the first oil change may be sooner than this.
Here are some useful tips regarding oil change:
After buying a new generator, check whether your installer did add oil
Don't use any other oil for your generator. Read the manufacturer's guide on the recommended type of oil depending on the type of engine
Consider the conditions in which you'll be running the generator. A dusty construction site means that the oil gets dirty often and should, therefore, be replaced sooner
During emergencies when generators run for prolonged periods of time, check the oil levels regularly and change if necessary
If possible, change the oil filter as often as you change the oil
How long can you run a portable generator continuously?
This will depend on your specific generator's running time at whatever percentage of the load that you are running it (100%, 50%, or 25%).
Different generators have varying running times depending on the size of the generator in terms of power output and size of the tank. For instance, while the Firman P03601 offers you 15 hours of runtime at 50% load from its 5-gallon tank, the Champion 7500-watt will offer you 8 hours at 50% load from its 6-gallon tank.
Importantly, while there's a temptation to refill the tank almost immediately and fire up the generator again, it's always recommended to let the engine cool down first.
Conclusion
The market has a whole lot of options for generators and they widely differ by type, size, and functionality as it comes clear from the portable generator reviews in this article.
Most people purchase these power backup solutions as a way of being prepared in case of an emergency power outage. Validly so, a portable power generator could be the difference between life and death in the event of natural calamities such as earthquakes, hurricanes, and tsunamis that tend to interrupt the local grid the most.
Other than being an emergency power backup, portable generators also come in handy in the construction industry especially when the worksite is either far from the main power grid, or is yet to be connected. In addition, they also help you bring the modern conveniences of your home when camping or tailgating with friends and family.
Now, while it's difficult to pick just one generator and crown it as the best portable generator overall, I feel that the Champion 7500-Watt generator is the leader here for a couple of reasons: it is relatively affordable, has enough power to run most of the home appliances, and can run on both gasoline and propane. Although it may not be a good fit for camping because of its weight and noisiness, Champion 7500-Watt is still a fantastic all-round portable generator you can rely on whenever power is needed.