Generators are a good thing to have especially when a utility power outage threatens to go for several days or weeks.
The major challenge, however, is that these gadgets can't generate power without emitting noise. If you live in a neighborhood with strict regulations with regard to noise pollution, then a silent generator becomes a MUST.
In the past few decades, generator manufacturers have developed technologies that maximize power output while keeping the noise level as low as possible.
This article brings some of the quietest portable generators for use at home and in your outdoor adventures: camping, tailgating, caravanning, and boating. We've also put together a buying guide to help you select the best quiet generator for your needs.
Our Top Picks
Best Overall
Yamaha EF2000iSv2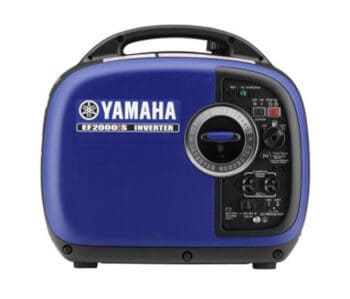 Lightweight
High Fuel Efficiency
Reliable and Durable
Premium Pick
Honda EU3000i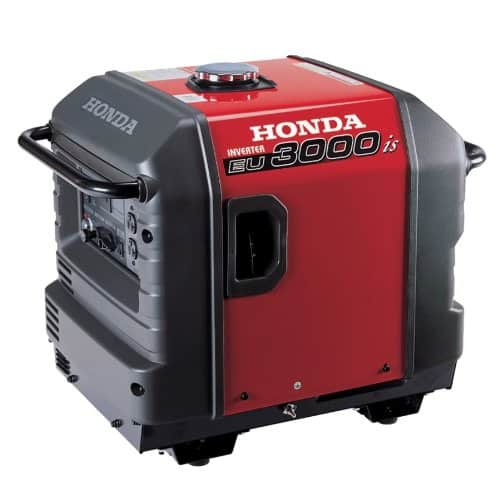 Budget Pick
Champion 73536i
Affordable
Sleek design
Parallel-ready
How to Choose the Best Quiet Portable Generator
It goes without saying that the very first consideration when choosing a low noise generator will be its noise decibel rating. Although not a requirement, almost all manufacturers will indicate this somewhere in the specs sheet.
Most of the silent generators that we've come across so far range between mid-40 dBA and 60 dBA. The lower the value, the quieter the generator.
Be careful when comparing these ratings, though, as different manufacturers will indicate the noise level of the generator at different load capacities. For instance, generator A may be 42 dBA loud at 25% load and generator B 57 dBA loud at full load. Since the noise level correlates with engine speed and power output, generator A is likely to be louder than B at full load. So, for an apples-to-apples comparison, compare the dBA ratings at equal load capacities.
Now, while silent operations may be a prerequisite in camping sites and in your neighborhood, remember that what you need most is power. So, as you gravitate towards the best quiet portable generator on the market, be sure to get a model that outputs enough power for your load.
That's to say that you need to add the wattage requirements of all the appliances that you'll want to power simultaneously first, and then identify the generator that meets that power demand.
Super Quiet Generator Reviews
Westinghouse iGen2500 Portable Inverter Generator
Best for: Light household power needs, camping, tailgating, and boating
Not suitable for: Heavy-duty job site tools and RVs
Free lifetime technical support
Affordable
Efficient
Long warranty
Not suitable for prolonged heavy-duty use
Westinghouse iGen2500 Specifications
Starting Watts
2500
Running Watts
2200
Noise Level
52 dBA
Tank size (gal)
1
Run Time
10 hrs
Dimensions (in)
19.7 x 11.22 x 17.91
Weight (lbs)
48.5
Warranty
3 years
Westinghouse iGen2500 might make a great purchase whether you are looking for a quiet portable generator for your home or your fish camping adventures or tailgating parties.
This generator outputs 2,500 starting watts and 2,200 running watts and might be enough for several basic low-power appliances including incandescent bulbs, fans, coffee machine, LED TV, and a refrigerator.
Operating at 52 decibels, the Westinghouse iGen2500 is less likely to irritate other campers or your neighbors at home. This is also one of those generators that you can comfortably place right outside your tent without bursting your eardrums.
This is a very efficient generator too, considering that it's capable of juicing up your necessities for up to 10 hours at 25% load with its 1.0-gallon tank.
An impressive feature that we like about this model and that which you won't find in most inverters at this price range is the LED Data Centre. Basically, this is a display indicating the fuel level, remaining runtime, and power output.
Generac 6866 iQ2000 Super Quiet Generator
Best for: Light household appliances, boating, tailgating, and camping
Not suitable for: RVs and long-term power back solution at home
Lightweight
Easy control panel
Can get really loud at full load
Generac 6866 Specifications
Starting Watts
2000
Running Watts
1600
Noise Level
53 dBA
Tank size (gal)
1.06
Run Time
5.7 hrs
Dimensions (in)
20 x 12.6 x 16.9
Weight (lbs)
46.2
Warranty
3 years
Generac 6866 IQ2000 is another quiet generator chock full of great features that intend to bring loads of convenience.
If you are looking for a grab-and-go style generator, this one weighs around 46 pounds thereby eliminating the need for a wheelset. Its 2,000 starting watts and 1,600 running watts, however, mean that you'll want to use it mainly for camping and tailgating parties and not for heavy-duty power needs in your RV and at home. It's parallel-capable, though, and you could easily join 2 of these for more power.
Fitted with a 1.06-gallon fuel tank, the Generac IQ2000 provide a runtime of 5.7 hours at 50% and 7.7 hours at 25% load capacity.
The inverter technology used in this generator works by regulating engine speed according to the load. But there's also an option to manually set between Turbo, Standard, and Economy modes according to your power needs.
This generator also has a LED fuel gauge to show the remaining fuel and a power bar to keep you posted on the power output.
Rockpals 2000-Watt Super Quiet Inverter Generator
Best for: Emergency household power back up, camping, and boating
Not suitable for: RVs with strong AC, job sites
Longer runtime at half load
Affordable
Clean electricity
Relatively new brand
Not parallel-ready
Rockpals 2000W Specifications
Starting Watts
2000
Running Watts
1800
Noise Level
58 dBA
Tank size (gal)
1
Run Time
6 hrs
Dimensions (in)
18.9 x 11.2 x 15.3
Weight (lbs)
47
Warranty
2 years
Our next quiet generator recommendation is currently not so popular, but it's giving most of the pricier models a real run for their money with its eye-catching design and feature-packed control panel.
The Rockpals R2000i is a user-friendly portable generator that generates 2,000 watts of surge power before leveling to 1,800 running watts.
It carries a 1.0-gallon tank that can offer you a good 9 hours of continuous power supply at ¼ load capacity and 6 hours at half load.
This is the most compact quiet generator on this list measuring 18.9 by 11.2 by 15.3 inches. It's super light too at 47 pounds and its 58 dBA operations at 50% load means that it won't take all the attention in your tailgating parties.
As far as quality power is concerned, this generator produces pure sine electricity with less <3% THD to make it safe for your sensitive gadgets- iPhones, tablets, laptops, drones, DSLR cameras, etc. Importantly, it also has two 5V charging ports for your handheld devices alongside two 120v 20-Amp household outlets.
Champion 73536i 2000-Watt Generator
Best for: Camping and tailgating
Not suitable for: high-power tools and appliances
Sleek
Easy start
Parallel-ready
Slightly heavier than competitors
Champion 73536i Specifications
Starting Watts
2000
Running Watts
1700
Noise Level
53 dBA
Tank size (gal)
1
Run Time
9.5 hrs
Dimensions (in)
18.9 x 16.5 x 22.4
Weight (lbs)
48.5
Warranty
3 years
Champion Power Equipment, an American generator manufacturer, isn't a stranger on this site having filled our number one slot of the best inverter generator.
The Champion 73536i inverter that we are looking at here is a model that most homeowners who are hunting for an affordable quiet generator might want to check out.
This model comes at less than half the cost of almost all other generators here besides being a feature-rich powerhouse that will come in handy both at home and in your outdoor adventures.
The Champion 73536i boasts 2,000 watts of starting power and 1,700 running watts. While it might not be strong enough for a 10,000 BTU RV AC, you'll really like it if your RV uses a 7,000 BTU AC that requires around 600 watts to run.
This generator might be an impressive pick, especially for camping and tailgating considering its size and 53 dBA noise output. You could also use it to power several home essentials, and the good thing is that it's stackable when conditions call for more power.
Honda EU3000iS Portable Generator
Best for: Light to medium duty loads at home and job sites
Not suitable for: Overkill for camping, tailgating, and boating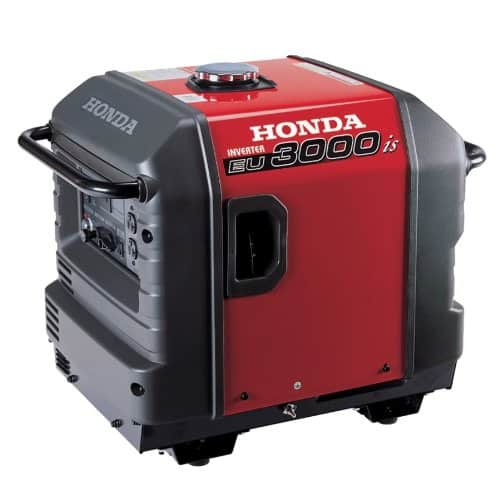 Lots of power
Electric starter
Quiet operations
Pricey
Heavy and lacks a wheelbase
Honda EU3000iS Specifications
Starting Watts
3000
Running Watts
2800
Noise Level
49 dBA
Tank size (gal)
3.4
Run Time
20 hrs
Dimensions (in)
25.8×18.9×22.4
Weight (lbs)
134
Warranty
3 years
Honda inverter generators are often very expensive- a true indication that good things don't come cheap. If money is a non-issue and you don't mind spending just a little more for a generator that is likely to last you for years, though, the EU3000iS could be it.
Compared to all other generators here, this quiet inverter generator is the most powerful maxing out at 3,000 starting watts and 2,800 running watts. This is good news especially if you have a small house with a good number of appliances that the Westinghouse iGen2500 (the second most powerful generator here) would not be able to withstand.
If you live in areas that are regularly hit by blackouts that last several days, this generator's 3.4-gallon tank got your back. What you'll love most is that you can reap 7-20 hours of an uninterrupted power supply with every tank depending on the load.
Mind you, besides being the most powerful model in this list, it's also among the quietest generators and can operate at between 49 dBA and 58 dBA depending on the load too.
Honda EU3000iS also has an electric starter that works at least 90% of the time- a huge relief for those who don't want to yank on the recoil starter.
Yamaha EF2000iSv2 Inverter Generator
Best for: Light loads at home, camping, tailgating, boating, caravanning
Not suitable for: High power tools and heavy loads at home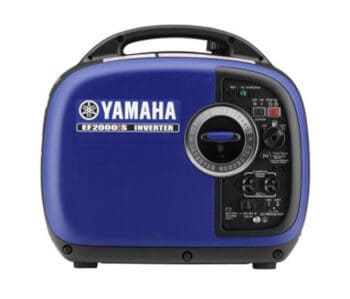 Very light
Durable and reliable
High fuel efficiency
Relatively pricey
No electric starter even at its price
Yamaha EF2000iSv2 Specifications
Starting Watts
3000
Running Watts
2800
Noise Level
49 dBA
Tank size (gal)
3.4
Run Time
20 hrs
Dimensions (in)
25.8×18.9×22.4
Weight (lbs)
134
Warranty
3 years
The Yamaha EF2000isv2 might interest you if you are looking for a reliable and durable quiet generator for outdoor use, but you feel that the Honda EU3000is is either too expensive or overkill in terms of power.
This generator boasts 2,000 starting watts and 1,800 running watts. Judging from its 44.1-pound weight and compact size- 19.3x11x17.9 inches– there's no doubting that this generator was engineered purposely for outdoor use- camping, tailgating, caravanning, and boating among other adventures.
But this generator is quite pricey compared to other brands here that offer similar wattage outputs- what's there to justify this price tag?
First, it has the upper hand as far as fuel efficiency is concerned. Its 1.1-gallon tank full, the Yamaha EF2000isv2 can keep your appliances powered up for an unbeatable 10.5 hours at 25% load capacity.
Another reason that seems to justify this generator's price tag is its ability to run for up to 13 minutes before tripping the overload circuit. This is unlike most generators that trip the circuit almost immediately thereby requiring you to reset it again.
Best Quiet Generators Comparison
| Quiet Generators | Rating | Starting Watts | Running Watts | Noise Level | Tank size (gal) | Run Time | THD | Dimensions (in) | Weight (lbs) | Engine Displacement | Warranty |
| --- | --- | --- | --- | --- | --- | --- | --- | --- | --- | --- | --- |
| Westinghouse iGen2500 | 4.4 | 2500 | 2200 | 52 dBA | 1 | 10 hrs | <3% | 19.7 x 11.22 x 17.91 | 48.5 | 98cc | 3 years |
| Generac 6866 IQ2000 | 3.8/5 | 2000 | 1600 | 53 dBA | 1.06 | 5.7 hrs | <6% | 20 x 12.6 x 16.9 | 46.2 | 80cc | 3 years |
| Rockpals R2000i | 4.2/5 | 2000 | 1800 | 58 dBA | 1 | 6 hrs | <3% | 18.9 x 11.2 x 15.3 | 47 | 79.7cc | 2 years |
| Champion 73536i | 4.0/5 | 2000 | 1700 | 53 dBA | 1 | 9.5 hrs | <3% | 18.9 x 16.5 x 22.4 | 48.5 | 80cc | 3 years |
| Honda EU3000iS | 4.0/5 | 3000 | 2800 | 49 dBA | 3.4 | 20 hrs | 5% | 25.8x18.9x22.4 | 134 | 196cc | 3 years |
| Yamaha EF2000isv2 | 4.2/5 | 2000 | 1600 | 51.5-61 dBA | 1.1 | 10.5 hrs | 1.2% | 19.3x11x17.9 | 44.1 | 79cc | 4 years |
What Makes a Generator Noisy
There are several factors that impact on the noise level of a generator, the obvious one being its size. More often than not, big generators tend to be louder than their smaller counterparts partly because the formers are fitted with bigger engines that output more power as well as more noise.
It's good to mention that the sound of any engine is energy wasted in the form of heat and noise, and the ratio of power to noise tends to get higher with the size of the engine. It's undeniable that manufacturers are keen to make their engines more efficient, but there's always a limit to how efficient an engine of any size can get. This, therefore, means that powerful engines are more likely to produce more noise.
On the same note, keep in mind that noise in generators is mostly caused by the vibrations of the moving parts. So, it follows that everything else held constant, a bigger engine vibrates more thereby leading to more noise.
The fans that are intended to cool down the engine also tend to get louder with an increase in operating speed and this also adds to the overall sound of the generator.
Understanding Noise Decibels (dBA) in Portable Generators
Decibel metrics are usually an indication of how loud or quiet a generator is. In portable generators, this can range from 45 dBA to 110 dBA.
Generator manufacturers usually measure their engine's noise level from a distance of approximately 7 feet. So, to ensure that you get the quietest generator, compare models with ratings that have been taken from the same distance.
It's important to note that the difference in decibel ratings is more than just the numbers. As a matter of fact, a 10-decibel difference makes one model 2x louder than another generator. Therefore, it follows that a mere 2-decibel difference could have a significant impact on the loudness of a generator and its effects on other people in the camping site or your neighbors.
Important Considerations and Features When Purchasing a Quiet Generator
Noise
Since you are after a quiet generator, the noise level should automatically be at the top of your checklist. There isn't a universal limit on how loud a generator should be. But generally, generators operating at between 40 dBA and 60 dBA are considered the best in terms of low noise performance.
Ease of mobility
Most quiet running generators are engineered with portability in mind. But they differ a lot in terms of ease of mobility. The weight of the generator greatly impacts how you'll be able to lift and move it around. That being the case, check out the configuration of the handles and whether your target model has a wheelbase.
Read More: What Is The Best Portable Generator?
Runtime (a.k.a efficiency)
Runtime refers to how long the generator can run steadily per tankful at a given load capacity. This also talks volumes about its fuel economy (a.k.a efficiency) and how often you'll need to refill the tank. Note that runtime is expressed depending on the load. For instance, generator A could offer you 8 hours of runtime at 25% load, and generator B 10 hours at the same load. What matters most, however, is the power output of each generator and the size of the fuel tank. Generally, you want a generator that offers the highest power possible from every gallon of fuel.
Go for a Reputable Brand
You want a low noise generator that will pull through nicely throughout the emergency period and offer you a nice time during your outdoor escapades. Believe us, the last thing that you want is to grab your generator from the garage after a storm only for it not to power up as expected. That being said, it's always advisable to deal with reputable brands. Quiet generators from renowned brands could be expensive at first. But they really pay for themselves in terms of reliability and durability. It's also much easier to get their replacement parts and customer service than it would be the case with newer brands.
Frequently Asked Questions
How can I make a generator quiet?
There are a few options to reduce the amount of noise coming up from you generator. The most straightforward remedy is to replace the muffler with a bigger one. You could also soundproof the generator by placing it on a rubber board or feet to minimize the vibrations. Installing a sound deflector- an object that changes the path of the sound away from you- is another option too although it does not make the generator itself any less noisy. For more ideas, check our dedicated article on how to quiet down a generator.
How quiet should a generator be?
There isn't a standardized decibel rating for quiet generators but those below 60 decibels are less likely to irritate your neighbors and other campers.
What makes inverter generators so quiet?
First, it has to do with their small engines that also tend to limit their maximum power output. Inverters are also crafted with modern technology that works exceptionally in dampening sound. Another reason is that these generators are designed to adjust the speed according to the load. The lower the wattage demand, the quieter the engine.
Read More: Best Inverter Generators: Reviews & Comparison Chart
How much do quiet generators cost?
Generators made with inverter technology are generally the best in terms of low noise output. But this technology also makes them quite pricier than conventional generators in similar power ranges. The increase in demand for inverter generators has led to the rise of newer brands that offer much lower price tags, though.
Conclusion
Manufacturers are in a constant race to make a super quiet generator that is both efficient and reliable. Our quiet generator reviews aim to help you find the best model that fits your needs. If you are still not sure what mode to go with, how about Yamaha EF2000isv2? This generator has, in our opinion, the perfect mix of everything that homeowners would be looking for in the best quiet generator. It is compact, light, comes from a reputable brand and is one of the quietest portable generators on the market.