When considering a portable generator with remote start, you might wonder whether this function is crucial. In my opinion, the ability to turn the generator ON/OFF remotely is a game-changer, especially when there's snow, ice, or a storm outside. It offers a satisfying experience when RV-ing, hunting, tailgating, and camping too.
In this article, I review 6 of the best remote start generators currently on the market. If you're not exactly sure what to look for when buying a generator with remote start, I've also prepared a short and precise buying guide below to help you find the right remote start portable generator for your needs.
Top Picks
Best Overall
Champion 75537i
Incredibly quiet
Compact and super portable
Quick touch panel
Premium Pick
Westinghouse iGen4500DF
Dual Fuel
Quiet
Long runtime
Budget Pick
Firman P03603
Affordable
Easy to use
Fuel efficient
The Best Remote Start Generators at a Glance:
Check the comparison table for more details.
What to Consider Before Buying a Remote Start Generator
Power needs
A generator that doesn't meet your power needs is simply useless, so to speak. That's why it's important to determine how much power your appliances and tools need first. As a rough idea, a generator with 5000-7500 watts should be able to run essential household equipment, including refrigerator, freezer, sump pump, and lighting circuits simultaneously. For RVing, a generator in the 3000-4000-watt ballpark should work just fine. For camping and tailgating, consider an engine with a rated output of around 2000 watts.
Type of Fuel
Most generators with remote start use gasoline, but some also offer an option to use a 20-pound propane tank. These dual-fuel engines are particularly lifesavers in areas where gas stations are regularly affected during intense weather, such as hurricanes and tornadoes. You can check our recommendations for the best generators for hurricane season here.
Runtime
Runtime refers to how long the generator runs before the need for a refill. A remote start portable generator with a longer runtime minimizes your movements to and from the powerhouse. This can be super convenient when the last thing that you want to do is getting out.
Number and type of outlets
A 20 amp outlet for household appliances comes standard in all generators. However, if you're looking for a remote start generator for RV, don't forget to match its outlet to your recreational vehicle's service. For instance, if your recreational vehicle uses a 30 amp service, a generator with a 30 amp outlet will make more sense since you won't need to use an adapter. Again, a generator with a 12v DC outlet as well as USB ports adds to its overall versatility when camping and tailgating.
Noise
A noisy generator can be an irritant for you and your neighbors at home and on camping grounds. In that case, consider the quietest wireless remote start generators within your budget. Preferably, go for a model in the 50-68 dB range.
Budget
With generators, the primary price determinant is the power output. High-power generators are fitted with bigger engines, and this definitely takes the price tag higher. The features on the generator also contribute to its overall cost. So, begin by determining how much you want to spend and then consider the generator that meets your power needs while offering all your desired features.
Reviews of The Best Remote Start Generators
Champion 75537i – Best Overall
Incredibly quiet
Compact and super portable
Quick touch panel
Inverter
Can get loud at max power output
Champion 75537i Specifications
Starting Watts
3100
Running Watts
2800
Fuel Type
Gasoline
Noise Level
58 dBA
Tank size (gal)
1.6
Run Time
8 hrs @ 25% load
Dimensions (in)
25.1 x 17.3 x 18.3
Weight (lbs)
96.6
Warranty
3 years
The Champion 75537i is a very popular generator with RVers, tailgaters, and campers due to its excellent portability and remarkably quiet performance.
This generator boasts 3100 peak watts and 2800 continuous wattage. Coupled with a 30A RV outlet, this is enough power to run a 13,500 BTU AC alongside other low-power appliances in a recreational vehicle. You won't have any problems powering most of your devices when camping and tailgating too using the 20A household outlet, 12v DC charger, and dual USB ports.
This unit is gasoline-powered and has a 1.6-gallon tank. Starting with a full tank, the manufacturer states that it's capable of running for up to 8 hours before the next refill at quarter load. Considering the size of the fuel reservoir, you might want to carry extra gallons of gas if you plan to run this generator all day.
The other aspect that makes this one of the best remote start generators is its 58 dBa noise level. I also value its compact size, the foldaway u-shape handle, and 'forever' tires that guarantee excellent mobility.
Westinghouse WGen7500 – Most Powerful
Relatively affordable
Lots of power
Versatile usage
Data center
No DC battery charger
Loud
Heavy
Westinghouse WGen7500 Specifications
Starting Watts
9500
Running Watts
7500
Fuel Type
Gasoline
Noise Level
74 dBA
Tank size (gal)
6.6
Run Time
16 hrs @ 25% load
Dimensions (in)
27.3 x 26.1 x 26.2
Weight (lbs)
192
Warranty
3 years
Westinghouse WGen7500 uses a 420cc engine capable of outputting a whopping 9500 watts of surge power before settling at 7500 running watts. This is more than enough juice for most mid-sized homes, and it actually ships transfer switch-ready. It also makes perfect sense if you want a portable generator with remote start to run a couple of power tools concurrently at a construction site.
With a noise level rating of 74 dB, this 192-pound heavy generator maybe a tad noisier for most RV campgrounds and tailgating parties. However, if you have a way of dampening the noise, there's no shortage of the appliances that you can keep humming with the WGen7500 even in a large recreational vehicle.
This is a gasoline-only generator, and it has a 6.6-gal tank. Starting with a full tank, you'll be getting a runtime of around 16 hours at quarter load and approx. 10 hours at half load.
Another unique feature of the Westinghouse WGen7500 is its data center. This is a small LED panel that shows you the voltage, noise level, and remaining runtime.
Its control panel is graced by a 120/240V 30A L14-30R and two 120v 20A 5-20R duplex ports with covers. Note that this generator does not have a 12v DC battery charger port or USB adapter.
Westinghouse iGen4500DF – Best Dual Fuel Remote Start Generator
Dual fuel
Inverter
Informative LED data center
Relatively quiet
Great runtime
Westinghouse iGen4500DF Specifications
Starting Watts
4500 (gasoline), 4050 (propane)
Running Watts
3800 (gasoline), 3330 (propane)
Fuel Type
Gasoline, Propane
Noise Level
52 dBA
Tank size (gal)
3.4
Run Time
18 hrs @ 25% load (gasoline), 14 hrs @ 25% load (propane)
Dimensions (in)
24.5 x 17.5 x 20
Weight (lbs)
98
Warranty
3 years
My premium pick in these remote start generator reviews is in a class of its own in that it can use gasoline or propane. This is what makes it a go-to generator for most homeowners when preparing for emergencies.
The Westinghouse iGen4500DF is a relatively compact generator measuring 24.5 by 17.5 by 20 inches. As such, it should be easy to take it on your RV expeditions, camps, and even fishing and archery adventures.
At 100%, this generator's 224 cc engine is capable of outputting 4500 watts of peak power and 3700 rated watts when running on gas. Since this is an inverter technology, you can always tweak the engine speed to generate just enough power for your load, thereby saving on fuel.
Speaking of fuel, this is a dual fuel generator that is extremely fuel-efficient. It can provide a runtime of up to 18 hours with its 3.4-gallon gas tank full, and up to 14 hours when running on propane.
What I find even more interesting with the Westinghouse iGen4500DF is its sophisticated LED data center. This is an automatic digital display that shows you the remaining runtime, current power output, fuel level (liters), voltage, and lifetime run hours.
Champion 100573 – Best Hybrid Generator with Remote Start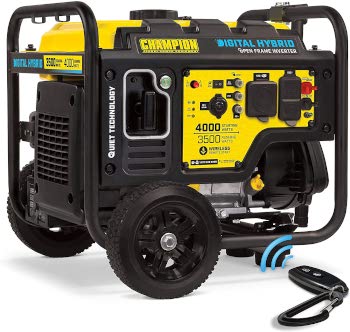 Plenty of power
Fairly low noise level
Long runtime
Handles higher attitudes nicely
Remote start sensor shuts after 12 hours
Champion 100573 Specifications
Starting Watts
4000
Running Watts
3500
Fuel Type
Gasoline
Noise Level
64 dBA
Tank size (gal)
2.9
Run Time
17 hrs @ 25% load
Dimensions (in)
23.5 x 24.8 x 20.5
Weight (lbs)
96.8
Warranty
3 years
Champion 100573 is a hybrid remote start generator. This means that it combines the robust construction design of traditional open-flame generators with the convenience of inverter technology.
The Champion 100573 employs a 224cc engine that boasts an impressive surge power of 4000 watts and 3500 running watts. It also has pretty much all the outlets that you'd ever wish for in a generator, including a 120v 30A TT-30R, two 120v 5-20R household outlets, a 12v DC port, and two USB adapters.
This power output plus the available ports make this generator an incredible consideration whether you plan to use it at home or for your outdoor adventures. The inverter technology, on the other hand, ensures that you get clean energy (less than 3% THD), which is safe for your ultra-sensitive devices.
Economic wise, the Champion 100573 is quite efficient and can run for at least 17 hours at quarter load from its 2.9-gallon tank. Of course, the runtime will be much shorter at 100% load, but it's still incredible for this generator.
Its remote start signal sensitivity is rated at 80 yards and the noise level at around 64 dBA. Albeit heavy at 96.80 lbs, moving this generator is relatively easy to thanks to its foldable handle and rugged wheels.
Worth noting, this generator's remote sensor shuts off after 12 hours of inactivity. Yes, this function may be inconveniencing at times, but it does a great job of saving the battery.
Pulsar PG4000iSR – Best for Long Runtime
Fairly priced
Longer runtime
Handles loads smoothly
Relatively loud
Whinny when idle
Pulsar PG4000iSR Specifications
Starting Watts
4000
Running Watts
3500
Fuel Type
Gasoline
Noise Level
63 dBA
Tank size (gal)
3.4
Run Time
15 hrs @ 50% load
Dimensions (in)
24 x 18 x 21
Weight (lbs)
92.6
Warranty
3 years
The Pulsar uses a 224 cc OHV engine with a rated wattage of 3500w and 4000 peak watts. It comes ready for your recreational vehicle credit to its 30A RV outlet. You can also use it as an emergency power backup at home or even at a small construction site. Its other outlets include two 120v 20A ports, one 12v 8A DC charger, and one 5v USB outlet for devices, such as phones, cameras, and drones.
One of the best remote controlled generators, the Pulsar promises up to 15 hours of runtime at 50% load from its 3.4-gal tank. It's quite a fuel-saver compared to other generators in its price range.
Note that this generator's 63 dB of noise is among the highest in these reviews, although it's not annoyingly loud.
As with most inverter generators with remote start, this model is notably heavy also. It weighs around 92.6 lbs without fuel and tends to get even heftier with gas. Portability isn't an issue, though, thanks to its telescopic handles and never-flat wheels
Firman P03603 – Budget Pick
Affordable
Breeze to use
Relatively fuel-efficient
Easy to maneuver
Maybe a little louder for inverter lovers
Not pure sine
Firman P03603 Specifications
Starting Watts
4550
Running Watts
3650
Fuel Type
Gasoline
Noise Level
68 dBA
Tank size (gal)
5
Run Time
14 hrs @ 50% load
Dimensions (in)
27 x 19 x 20
Weight (lbs)
128
Warranty
3 years
If you're looking for a powerful yet affordable remote start portable generator, the Firman P03603 could make an incredible purchase. This is a relatively inexpensive open flame generator judging from the amount of power that it outputs plus the features that it is endowed with.
One of the things that I like about this Firman powerhouse is its relatively higher power output. Boasting 4550 peak watts and 3650 continuous watts, this generator is a steal for the price that it comes at.
Another thing that caught my attention with this generator is its longer runtime compared to most traditional generators. The Firman P03603 has a 5-gallon tank with which it offers up to 14 hours of runtime. Now, this isn't the most fuel-efficient generator in these reviews. But it's still a good performer compared to the competition. The thing here is that you won't be needing to refuel the generator often.
If you're coming from a super loud old generator, this model's 68 dB noise level might surprise you. Albeit a bit higher than the inverters in these reviews, most people report that they can run it overnight without it being bothersome, whether at home or in RV campgrounds.
Comparison of the Best Generators with Remote Start
Preview
Generator
Rating
Starting Watts
Running Watts
Run Time
Fuel Type
Tank size (gal)
Noise Level
Dimensions (in)
Weight (lbs)
Engine Displacement
Warranty
Champion 75537i
5/5


3100
2800
8 hrs @ 25% load
Gasoline
1.6
58 dBA
25.1 x 17.3 x 18.3
96.6
171cc
3 years
Westinghouse WGen7500
4.9/5


9500
7500
16 hrs @ 25% load
Gasoline
6.6
74 dBA
27.3 x 26.1 x 26.2
192
420cc
3 years
Westinghouse iGen4500DF
4.8/5


4500 (gasoline),
4050 (propane)
3800 (gasoline),
3330 (propane)
18 hrs @ 25% load (gasoline)
14 hrs @ 25% load (propane)
Gasoline, Propane
3.4
52 dBA
24.5 x 17.5 x 20
98
224cc
3 years
Champion 100573
4.7/5


4000
3500
17 hrs @ 25% load
Gasoline
2.9
64 dBA
23.5 x 24.8 x 20.5
96.8
224cc
3 years
Pulsar PG4000iSR
4.5/5


4000
3500
15 hrs @ 50% load
Gasoline
3.4
63 dBA
24 x 18 x 21
92.6
224cc
3 years
Firman P03603
4.5/5


4550
3650
14 hrs @ 50% load
Gasoline
5
68 dBA
27 x 19 x 20
128
208cc
3 years
What is a remote start generator, and how does it work?
This is a generator with a remote start system. Similar to the remote start function in your vehicle, this system allows you to turn the generator ON and OFF at the comfort of your house or recreational vehicle using a key fob.
These generators have a kit connected to the engine's ignition switch. When you press the start button on the key fob or remote control, a signal is sent to the ignition switch through radio frequencies, thereby starting the generator.
Benefits of wireless remote start generators
Adds to your safety during bad weathers
When the weather outside is unbearable, for instance, during a storm, nothing beats the convenience of starting the generator remotely.
Have a simulated control panel 
Most generators with remote control feature a simulated control panel. This keeps you posted on critical updates besides allowing you to check for errors and rectify them on time.
Fire your generator immediately 
Whenever there's a power outage, especially at night, it's important to fire up your portable generator almost instantly. The benefit of a generator with remote start is that you can start it from a distance and without having to pull the cord. In most instances, the remote control key fob comes with a mounting bracket or a magnetic back for mounting on desktops and walls. This makes it easily accessible at any time.
It's ever powered 
The remote control system is AC powered and also has a battery backup. This a convenient feature that guarantees regular updates on the status of your generator at any given time. In case the battery level is low, the device has an alert tone to notify you of the issue.
Is a remote start function worth the investment? 
Remote start is a fairly new function in generators, and it tends to take the price tag a bit higher. If you're on a limited budget, it's understandable to wonder whether this feature is really worth it.
In my opinion, a generator does not lose its function if it does not include the remote start feature. However, I believe this is an important addition depending on the conditions under which you'll be using the generator.
For instance, consider a scenario where the electricity goes off when the weather is really bad outside. If your portable generator doesn't have a remote start functionality, you'll have to get out and manually start it. On the other hand, with a remote start generator, you only need to press a button on the key fob for the engine to fire up. This will prove a very convenient function, especially when it's raining or snowing and during a storm.
The same case applies to RVers and campers. I believe nothing beats the convenience of turning the generator ON and OFF without having to walk where it is.
Frequently Asked Questions
Can you put a remote start on a generator?
Yes. You only need to purchase a remote start kit, which consists of a connector and a key fob or remote control device. Installation is usually easy for experienced DIYers, although you can also have it installed for you by a professional.
What to do if the remote start doesn't seem to work?
Check the battery. For the remote start function to fire up the generator whenever necessary, you'll need to leave the engine switch ON all times. This uses up the battery and may deplete the voltage to a level that isn't enough to activate the remote start. If you've not used the generator for some weeks, this could be the case. So, you'll need to manually start the generator first for it to recharge the battery. You could also charge the battery with a compatible 120v charger.
From how far can I turn ON/OFF my generator with a remote control?
20-300 ft. This varies between brands. Most generators with remote start tend to work within a range of between 20ft and 300ft.
Does Honda make a remote start generator?
Yes and No. Honda does not have a generator that ships with the remote start/stop function already in place. However, this manufacturer has different wired and wireless remote start kits for all of its generators that have electric start and automatic choke. So, you can install a remote start system on your Honda if you find it convenient.
Conclusion
As I mentioned in the buying guide, the best remote start generator for you is going to be determined mainly by your power needs plus where you intend to use the generator. If you want a generator that you can use at home and take with you on your RV, camps, and in small construction sites, the Champion 75537i probably fits the bill. This inverter generator with remote packs a good punch in peak and continuous wattages, and it's super portable and quiet too. If power is what you are after then Westinghouse WGen7500 might be a good choice.