A portable generator is a great addition to your gear when throwing a tailgate party. It will help you power the lighting, electric smoker, sound system, or any other item that might need electricity.
In this article, we are reviewing the top tailgating generators on the market to help you find the right model for you. We've also put together a brief guide on how to choose the best generator for tailgating if you can't make a decision based on our reviews only.
In case you want to skip reading the reviews and save yourself time, check our top recommendations for a tailgating generator below.
Our Top Picks
Premium Pick
Honda EU2200i
Best Overall
Champion 3400-Watt
Powerful
Dual-fuel capability
Multiple outlets
Budget Pick
Wen 56200i
Affordable
Clean power
Heavy-duty build
The Best Tailgating Generators at a Glance:
Check the comparison table for more details.
What to Consider Before Buying a Generator for Tailgating
Power output
For your tailgating parties, you don't necessarily need a generator as powerful as your emergency power generator at home. Still, you need to ensure that it has enough glut to keep all your appliances, handheld devices, and lights running.
What size generator is suitable for tailgating?
A 2000-watt generator should generate enough power for most tailgate parties. Still, check the wattage requirements of all the appliances that you wish to run at your parties and add them up to ensure you get a tailgating generator that generates sufficient electricity for all of them.
Noise
Tailgating is all about entertainment and having a good time with friends, colleagues, and relatives. But all the fun and thrill can be easily dampened by a noisy generator. The quietest generators for tailgating keep the noise level at below 55 dB or even much lower while still meeting the required power needs.
Portability- size, and weight
Wherever your parties will take you, you want to be sure that you'll be able to lift the generator to and from the vehicle without straining a lot. If you are ever throwing parties and heading for camps, consider not only the weight of the machine but its size too. You want a portable generator that won't take up all the space in your vehicle, making it impossible to carry other gear. On this note, consider the wheels and the handles too. These will come in handy in lifting or dragging the generator.
Runtime
A tailgating generator that runs from the start of the party to the end will let you enjoy every minute of the party. Therefore,  look for a generator that can provide a runtime you'd be happy with.
Types of outlets
The type and number of outlets on your target generator will depend on what you intend to power. If you only need it for lighting a few bulbs and charging several handheld gadgets, then a model with low power outlets and a few USB ports should work. On the other hand, if you plan to power up high-power stuff, such as a portable beverage cooler and an electric grill, then be sure to grab a generator with high power outlets to match.
Budget
Price is another thing you should consider. Inverters make the best portable generators for tailgating since they pack just enough power while maintaining portability and low noise emissions. But they can be expensive. On the other hand, conventional generators are relatively affordable but they can be loud, bulky, and heavy.
Best Tailgating Generators: Reviews
Champion 3400-Watt Dual Fuel- Best Overall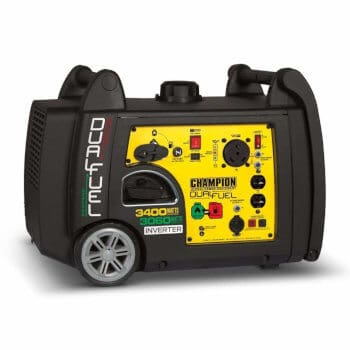 Dual fuel
Tons of power
Versatile usage
Lots of outlets
Champion 100263 Specifications
Starting Watts
3400 (gasoline), 3060 (propane)
Running Watts
3100 (gasoline), 2790 (propane)
Noise Level
59 dBA
Fuel Type
Gasoline, Propane
Tank size (gal)
1.6
Run Time
7.5 hrs at 25% load (gasoline)
Dimensions (in)
25.1 x 17.3 x 18.3
Weight (lbs)
95.7
More often than not, you'll require around 2000 watts to make your tailgating party a success. In case you need more power than this, there is an option to parallel 2 inverter generators. But getting two generators means two times of everything from the budget to storage space. Now, that's where a powerful inverter generator, such as this Champion 100263, comes in.
This generator is around the size of most generators in this list at 25.1 x 17.3 x 18.3 inches. However, it comes with a 192cc dual-fuel engine that outputs 3400/3060 watts at peak on gasoline and propane, respectively, and an incredible 3400/2790 watts of running power.
This power output is what makes it the best tailgating generator, especially if you'll be powering some high-power appliances, such as electric cookers. Its control panel boasts one 120v 30A RV outlet, two 120v 20A outlets, one 12v DC charger, and a USB port.
The Champion carries a 1.6-gallon fuel tank with which it offers 7.5 hours at a 50% load and an amazing 14.5h at a 25% load. It's also not too loud at 59 dB, but its, 95.7 lbs, put it on the heavier side. That's not an issue, though, thanks to its wheels and sturdy, foldable handle.
Honda EU2200i – Premium Pick
Reliable brand
Very quiet
Well built
Notoriously durable
No USB outlet
A bit pricey
Honda EU2200i Specifications
Starting Watts
2200
Running Watts
1800
Noise Level
48 dBA
Fuel Type
Gasoline
Tank size (gal)
0.95
Run Time
8.1 hrs at 25% load
Dimensions (in)
20 x 11.4 x 16.7
Weight (lbs)
46.5
If you are looking for a tailgating generator that will serve you for long, Honda EU2200i is probably what you have in mind. This premium generator is also one of the quietest on the market in its category. With noise levels of 48 dBA, it is perfect for use in public.
The EU2200i model has a 121cc GXR120 Honda engine with a power output capability of 2200 peaks watts and 1800 running watts. This is enough to power up a satellite dish, TV, fridge, coffee pot, DVD, and a line of lights. It also supports parallel connectivity when there's need for more power.
The Honda EU2200i utilizes a 0.95-gallon gasoline tank and can keep your load powered for 8.1 hours at 25% load. Its control panel features two 120v 15A receptacles and a DC 12V 8.3A port. However, one thing it misses is a USB port.
WEN 56200i – Best Value for Money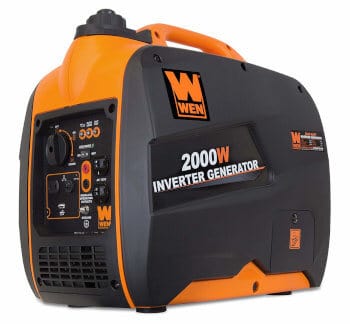 Very quiet
Efficient
Clean energy for sensitive gadgets
Lightweight
Slightly taller design
A tad heavier than the competition
WEN 56200i Specifications
Starting Watts
2000
Running Watts
1600
Noise Level
51 dBA
Fuel Type
Gasoline
Tank size (gal)
1
Run Time
6 hrs at 50% load
Dimensions (in)
18 x 11 x 18
Weight (lbs)
48
The Wen 56200i is a regular name in most recommendations for the best generator for tailgating. And that's probably because this unit is ideally designed for that and is one of the most affordable models on the market.
This generator is fitted with a 79.7cc 4-stroke OHV engine that pumps out 2000 watts of surge power and 1600 running watts. This power output, coupled with the two 3-prong 120v outlets, one 12v DC port, and one 5v USB port, makes this the generator for most of your low power needs. Should you need more power than this, there is an option to link this generator to another one for double power output.
This is an inverter generator, so expect to save a lot on fuel. With its 1-gallon gasoline tank full, the Wen can service your party for up to 6 hours at half load while maintaining the noise level at utmost 51 dB.
Lastly, let's talk about its size. This model measures 18 x 11 x 18 inches, which is much compact than most traditional generators. However, it has a slightly taller design compared to other contenders in our reviews. At 48 pounds, this unit is also a few pounds heavier.
Briggs and Stratton P2200- Best Design
Relatively affordable
Easy to move around
Quiet
Fuel efficient
No USB
Charges batteries slowly
Briggs and Stratton P2200 Specifications
Starting Watts
2200
Running Watts
1700
Noise Level
59 dBA
Fuel Type
Gasoline
Tank size (gal)
1
Run Time
8 hours at 25% load
Dimensions (in)
22.4 x 14.4 x 19.9
Weight (lbs)
54.6
Most people go with the Briggs and Stratton P2200 because, well, it is designed and engineered with tailgaters and campers in mind.
This generator uses a 110cc engine that draws fuel from a 1-gallon fossil fuel tank. Starting from a full tank, this engine can run for at least 8 hours on a quarter load. The engine peaks at 2200 watts and later settles at 1800 watts. This is more than enough power for most tailgating events. Since it produces its power in a pure sine wave of less than 3% distortion, there's no worrying about your sensitive devices getting fried due to sudden spikes.
The P2200 is built with Briggs and Stratton's Quiet Power Technology. This technology is responsible for the noise level at 59 dB at quarter load, which, although not the lowest in our reviews, will still let you have a good time at the party.
This generator has a clean control panel featuring two 120v 20A outlets and one 12v DC outlet. It weighs 54.6 pounds and has an H-shaped handled that makes it easy for two people to move it around.
AIMTOM SPS-155- Best Solar Generator for Tailgating
No noise
Very compact
Lightweight
Different charging methods
Not for high-power appliances
Requires recharging
AIMTOM SPS-155 Specifications
Starting Watts
150
Running Watts
100
Noise Level
0 dBA
Fuel Type
Solar power
Tank size (gal)
–
Run Time
–
Dimensions (in)
7.6 x 6.7x 3.5
Weight (lbs)
3.48
Our last contender in these reviews of the best portable generator for tailgating isn't a generator per se. This is more of a large power bank that lets you carry lots of power without the need for lagging around gallons of fuel or propane tanks.
The Aimtom SPS-155 boasts a 42000mAh 155Wh lithium-ion battery pack that can be charged by a Suaoki solar panel which is available on Amazon, a carport, and even an AC wall outlet. An LED battery capacity indicator will show you the amount of power remaining.
The fact that this generator does not burn fuel means that it's hushed. Therefore, it can be taken even to places with the strictest noise level requirements. This makes more sense once you consider the size of this generator and its weight.
Despite its large battery size, the Aimtom SPS-155 weighs 3.48 pounds only. It's also very compact at 7.48 x 6.69 x 3.54 inches. Besides being great for tailgating, this is a reliable solution if you want a generator to keep your devices powered when hunting, fishing, and hiking.
The SPS-155 has 110v 100w AC outlet that can charge a mini-fridge, small fan, laptop, and UAV. It also has a cigarette lighter socket ideal for a cooler, LED light, vacuum cleaner, and even a CPAP machine. You'll also get 3 USB ports that you can use to power up a USB fan LED light, and your smartphones, and cameras, and three 12v DC ports.
Top Tailgating Generators: Comparison
| Preview | Generator | Rating | Starting Watts | Running Watts | Fuel Type | Noise Level | Tank size (gal) | Run Time | Dimensions (in) | Weight (lbs) | Engine Displacement | Warranty |
| --- | --- | --- | --- | --- | --- | --- | --- | --- | --- | --- | --- | --- |
| | Champion 100263 | 5/5 | 3400 (gasoline), 3060 (propane) | 3100 (gasoline), 2790 (propane) | Gasoline, Propane | 59 dBA | 1,6 | 7.5 hrs at 25% load (gasoline) | 25.1 x 17.3 x 18.3 | 95.7 | 192cc | 3 years   |
| | Honda EU2200i | 4.8/5 | 2200 | 1800 | Gasoline  | 48 dB | 0.95 | 8.1 hrs at 25% load | 20 x 11.4 x 16.7 | 46.5 | 121cc | 3 years  |
| | Wen 56200i | 4.7/5 | 2000 | 1600 | Gasoline | 51 dBA | 1 | 6 hrs at 50% load | 18 x 11 x 18 | 48 | 79.7cc | 2 years |
| | Aimtom SPS 155  | 4.5/5 | 150 | 100 | Solar power | 0 dB |       - | - | 7.6 x 6.7x 3.5 | 3.48 | - | 1 year |
| | Briggs and Stratton P2200 | 4.2/5 | 2200 | 1700 | Gasoline  | 59 dB | 1 | 8 hours at 25% load | 22.4 x 14.4 x 19.9 | 54.6 | 110cc | 2 years  |
People Looking for a Tailgating Generator Also Ask:
Which brand has the quietest portable generator for tailgating?
Honda. The Honda EU2200i is the indisputable leader in terms of quiet operations. This generator produces noise in the range of 48-57 decibels depending on its load.
Is it possible to rent a tailgating generator?
Yes. Many stores, like Home Depot and Lowe's, offer generator rental services you can take advantage of if you need a portable generator on just one or two short-term occasions.
How can I use a tailgating generator safely?
Your safety and that of other people in the party comes first when using a portable generator. The most significant risk here is carbon monoxide poisoning, so ensure to position the generator away from the crowds and in an open space. Secondly, avoid overloading the generator and check all the wires and connections for any risks of fires and electrocution.
Conclusion
All models in these tailgating generator reviews will serve you well. Still, we think Champion 100263 is one foot ahead of the others as the best generator for tailgating because of its dual-fuel capability and the power it provides. This makes it a versatile portable generator that you can use not only for tailgating events but as an emergency backup generator at home, too. However, if you need a quieter option then Honda EU2200i and Wen 56200i might be the generators for you.