Getting a portable generator for your travel trailer could be a great investment. It will provide power for your gadgets and appliances making the whole camping experience more comfortable and enjoyable. It will also give you the opportunity to visit campsites and remote areas you otherwise wouldn't without having access to electrical hookups for your camper.
In this article, I provide brief reviews of the best generators for a camping trailer. You will also find some useful guidelines that may ease you finding the right model for you. But first, let's check which are the top travel trailer generators based on my research.
Our Top Picks
Best Overall
Wen 56380i
Fuel efficient
Parallel capability
Eco mode
Premium Pick
Westinghouse iGen4500
Tons of power
Incredible fuel economy
Quiet
Budget Pick
Firman W03082
Affordable
Lightweight
Efficient
What to Consider When Buying a Camper Trailer Generator
There are a few things you should check before buying a travel trailer generator if you don't want to end up with a model that doesn't meet your needs. Here are these things:
Wattage Requirements
Make sure the portable generator you are going buy for your travel trailer to have enough power to start up your appliances. Check the starting wattage of your appliances and ensure that the generator can start the device with the highest starting watts without having to unplug other basic appliances first. It is also important to check the running watts of all appliances you plan to use of the same time.
To give you a quick example, a typical 13,500 BTU air conditioner requires 2800-3000 starting watts and 1500-2000 watts to keep running. Therefore, if you plan to run the AC and other basic appliances together, you will need a travel trailer generator with at least 3000 starting watts and at least 2000 running watts.
Type of fuel
Portable generators come with a variety of fuel options – diesel, propane, gasoline and solar powered. It is up to you to decide which one you will choose for your travel trailer. Solar generators are the most environmentally-friendly as they do not produce lots of noise or pollutants. However, expect to spend handsomely on them. Diesel and gasoline generators are user-friendly and relatively affordable, but not very friendly to the environment.
Weight and Size
Look out for a portable generator that can be easily transported in your travel trailer. Bigger is not always better, so do not buy a giant generator because you want more power.
Noise
An overly noisy trailer generator can ruin the vibe when camping. So, as you compare different models in terms of power output, consider the noise level and any noise-reducing features that the generators are fitted with.
Best Generators for Travel Trailer: Reviews 
Champion 3400-Watt Generator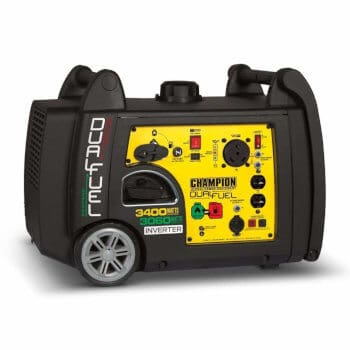 Dual fuel design
Ultra-quiet
Easy to start
Compact and portable
No remote start
A bit costly
Champion 3400-Watt Specifications
Starting Watts
3400
Running Watts
3100
Noise Level
59 dBA
Fuel Type
Gasoline, Propane
Tank size (gal)
1.6
Run Time
7.5 hrs (gasoline)
Dimensions (in)
25.1 x 17.3 x 18.3
Weight (lbs)
95.7
The Champion 100263 is one of the most popular and highly recommendable generators for RV today. This is a powerful, dual-fuel, and ultra-quiet inverter generator that tends to tick pretty much all the performance boxes that we've mentioned above.
To begin with, this model boasts an impressive starting power of 3400 watts and 3100 watts of running power. These 2 figures make it just perfect for most RVs' power needs, including efficiently powering a 15,000 BTU RV air conditioner alongside other smaller appliances.
Utilizing inverter technology, it's not a surprise that the Champion 100263 is among the most efficient camper trailer generators in the market today. This model can power up your trailer for an incredible 7 hours and 30 minutes with its 1.6-gallon tank of gasoline. There's also an option to connect it to a 20-pound propane tank from which you should expect at least 14.5 hours of non-stop power supply at half-load.
As you'd expect for an inverter generator, the Champion 100263 is ultra-quiet at 59 dB measured at 25ft (that's almost as loud as a conversation). It's also very easy to use thanks to an electric starter. Its outlets include 120v 30A RV, two 120v 20A household outlets with 3% THD, and a 12V DC outlet with 2 USB adapters.
WEN 56380i Portable Inverter Generator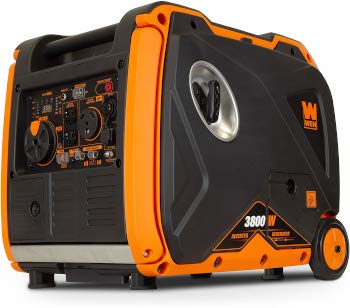 Efficient
It's parallel compatible
Clean and stable power with 1.2% THD
Has eco-mode
Has fuel shutoff switch
Relatively heavy
Instruction manual could be clearer
WEN 56380i Specifications
Starting Watts
3800
Running Watts
3400
Noise Level
57 dBA
Fuel Type
Gasoline
Tank size (gal)
2.2
Run Time
8.5 hrs
Dimensions (in)
23.2 x 18 x 20.1
Weight (lbs)
110
Wen 56280i is another model worth to be called the best generator for travel trailer. This inverter generator will make a great pick if you are looking for a model with a happy medium between affordability and power output. It is cheaper and more powerful than Champion 100263.
The Wen 56280i peaks at 3800 watts and generates 3400 watts of running power. This is enough output to keep your 13,500 BTU AC juiced up on hot summer days alongside the fridge, microwave, and other basic appliances. Its optimal harmonic distortion of 1.2% is among the best offerings, and it makes the generator safe for use in powering sensitive electronics such as cellphones and laptops too.
Switching gear to fuel and efficiency, this inverter generator runs purely on gasoline, and it's fitted with a 2.2-gallon tank. This tank, coupled with the powerful 212cc 4-stroke OHV engine used for this generator, means that you get 8.5 hours of power output before the need for refueling again. It also has an eco-mode that further helps you maximize fuel economy.
The Wen 56280i emits 57 dB of noise at quarter load. It's notably heavy at 99.2 lbs. Fortunately, it has a sturdy pair of wheels and a foldable handle that makes portability a breeze.
Westinghouse iGen4500 Inverter Generator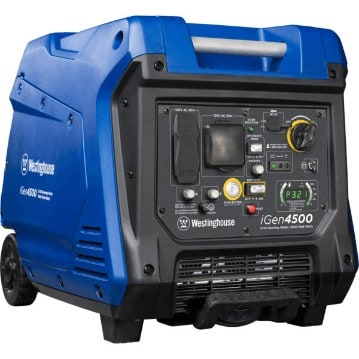 Has wireless remote start
Quiet operations
Super-efficient
Sturdy build
3 years warranty
Westinghouse iGen4500 Specifications
Starting Watts
4500
Running Watts
3700
Noise Level
52 dBA
Fuel Type
Gasoline
Tank size (gal)
3.5
Run Time
16 hrs
Dimensions (in)
18 x 10 x 15.5
Weight (lbs)
93
If neither of the above 2 generators packs enough power for your travel trailer needs, you definitely need to check out the Westinghouse iGen4500.
This is a high-performance portable inverter generator fitted with a 224cc OHV 6HP motor that maximizes 4500 watts of starting power and 3700 rated watts.
Despite its unbeatable higher output, this generator still manages to offer a runtime of up to 18 hours with its 3.4-gallon tank on eco-mode. This is actually what makes it a great generator for camping trailer.
What sets Westinghouse iGen4500 aside is the ability to switch it remotely right from your trailer using the included key fob. You can also start it with an electric starter or a recoil start if you like.
Its other key highlight is its 52 dB noise output, which is lower than normal conversation, and, therefore, ideal for use in most camping sites. The RV-ready Tt-30 30A outlet and two USB ports on this model mean that it is particularly engineered as a travel trailer generator. However, another pair of 5-20R 120v outlets makes it a great choice for home use too.
Firman W03082 Portable Generator
Runs quietly and efficiently
Lightweight
Seemingly durable
Easy to handle and maintain
Has an electric start button
Hard to start during cold weather
Sputtering and surging issues
Firman W03082 Specifications
Starting Watts
3300
Running Watts
3000
Noise Level
59 dBA
Fuel Type
Gasoline
Tank size (gal)
1.8
Run Time
9 hrs
Dimensions (in)
23.2 x 17.8 x 17.9
Weight (lbs)
90
The Firman W03082 is an innovative inverter generator packed with 3000 running watts and 3300 starting watts. The power in this unit is supplied by a Max Pro Series 171cc Firman engine that is engineered with a Phoenix Fat head block for better fuel economy.
You may argue that this generator' 1.8-gallon tank is on the smaller side for a portable travel trailer generator. While this is partially true, Firman won't sell you short when it comes to runtime considering that it manages a whopping 9 hours with every tank at half load.
Starting this generator is no big deal thanks to the push-button electric start alongside the reliable recoil system. Again, its lock automatic voltage regulator ensures that the power generated is not only stable but also clean with under 3% distortion.
Other noteworthy highlights of the Firman W03082 include its parallel capability, 59-decibel noise level, and a spark arrestor that qualifies it for use in forests.
Generac GP3000i
Relatively lightweigh
Ultra-quiet
Incredible efficiency
Small fuel tank
No electric start
Generac GP3000i Specifications
Starting Watts
3000
Running Watts
2300
Noise Level
52 dBA
Fuel Type
Gasoline
Tank size (gal)
1.06
Run Time
5.8 hrs
Dimensions (in)
22.2 x 13.3 x 18.4
Weight (lbs)
59.5
The Generac GP3000i is a model that you'll come across a lot in your search for the best quiet travel trailer generator. This is an affordable and compact generator perfect for most recreational activities, such as camping and tailgating, although it can also power some tools.
This generator is fitted with a 149-cc Generac OHV 4-Stroke engine that peaks at 3000 watts before settling at 2300 watts. When there's a need for more power, this model allows parallel compatibility, which will enable you to connect it to a similar generator.
The Generac GP3000i has one technology that everyone talks about- PowerRush. Basically, this technology enables the generator to emit 50% more power compared to its peers when starting.
At 1.06 gallons, this generator's tank size is quite small physically. But that's a non-issue since you'll be getting 5.8 good hours of constant power supply at 50% load before the need for refilling.
Its power comes out in a clean, pure sine wave rated at 3% THD, making it safe for delicate electronics. It has a duplex 120v 20A receptacle, 120v 30A L5-30R outlet, and two DC 5V USB ports
Top 5 Travel Trailer Generators: Comparison
| Generator | Rating | Starting Watts | Running Watts | Fuel Type | Noise Level | Tank size (gal) | Run Time | Dimensions (in) | Weight (lbs) | Engine Displacement | Warranty |
| --- | --- | --- | --- | --- | --- | --- | --- | --- | --- | --- | --- |
| Champion 3400-watt | 5/5 | 3400 | 3100 | Gasoline, Propane | 59 dBA | 1.6 | 7.5 hrs (gasoline) | 25.1 x 17.3 x 18.3 | 95.7 | 192cc | 3 years |
| Wen 56380i | 5/5 | 3800 | 3400 | Gasoline | 57 dBA | 2.2 | 8.5 hrs | 23.2 x 18 x 20.1 | 110 | 212cc | 2 years |
| Westinghouse iGen4500 | 4.8/5 | 4500 | 3700 | Gasoline | 52 dBA | 3.5 | 16 hrs | 18 x 10 x 15.5 | 93 | 224cc | 3 years |
| Generac GP3000i | 4.6/5 | 3000 | 2300 | Gasoline | 52 dBA | 1.06 | 5.8 hrs | 22.2 x 13.3 x 18.4 | 59.5 | 149cc | 2 years |
| Firman W03082 | 4.5/5 | 3300 | 3000 | Gasoline | 59 dBA | 1.8 | 9 hrs | 23.2 x 17.8 x 17.9 | 90 | 171cc | 2 years |
Frequently Asked Questions
Do travel trailers have generators?
Most standard travel trailers don't ship with a built-in generator. However, some motor coaches and 5th wheel trailers do come with one.
Can you add a built-in generator to a trailer?
Yes, you can. Some travel trailers have a built-in spacing for installing a generator, while others don't. If yours came without, it's possible to add a generator if you have the skills but considering the effort and cost it requires you would be better to buy a portable generator.
Do I need a generator for a travel trailer?
Well, it might not be necessary if you hang around campsites with electricity hookups. However, if you'll be venturing further away from the grid, a portable generator becomes necessary.
What size of a portable generator do I need for a travel trailer?
The wattage requirements of the electrical items you plan to use will determine the size of generator you need for your travel trailer. Usually, a 3000-watt generator should be sufficient to power a 13500 btu air conditioner and a few other appliances, such as a fridge, coffee maker, and laptop.
How do you hook up a portable generator to a travel trailer?
Start by driving the ground rod to the ground where you want to install your generator.
Connect the copper wire on the grounding rod to your generator.
Ensure that the generator's exhaust faces away from the camping trailer.
Plugin the travel trailer connector cable to the portable generator.
Turn on the generator
Read more about grounding a portable generator here.
Conclusion
The Wen 56380i emerges as the clear winner in the battle of the best travel trailer generators. This is a great pick for trailer owners who want a powerful generator without spending over a grand on one. One of its key strengths is its impeccable power output. Boasting 3800 starting watts and 3400 running watts, there's no doubt that this inverter will run most of your appliances in pretty much any combination. I should also commend its 8.5-hour runtime as well as quiet operations.