The Champion 7500-watt Dual Fuel Portable Generator (model 100165) has several great features that make it a popular choice over other portable generators.
Beyond its ability to run on both propane (LPG) and gasoline (petrol), this generator is also highly popular due to its insanely high starting watts (9375W) and running watts (7500W). This power output coupled with features such as the intelligauge and electric start makes it a viable option for virtually any project that requires portable electricity. You can rely on it for emergency power backup at home, juicing up your power tools at an off-grid job site, camping, and even RVing.
The Champion 100165 is a bigger and powerful sibling to the Champion 100248- another likeable generator from Champion Power Equipment that is fitted with a similar-size engine but produces lesser power and does not have dual fuel functionality.
Who should buy Champion 7500DF?
Judging by its power output, the Champion 7500DF will definitely appeal to homeowners with an average-size home looking for a power backup generator to keep several appliances including freezers, refrigerators, AC, sump pump, and a lighting system running in an outage. The fact that it comes transfer switch-ready is an affirmation of this.
This generator is also widely used in worksites that are either far away or not connected to the grid yet. Its impressively high starting wattage and above-average running watts mean that it can accommodate several power tools.
You can also use it for camping and even for an RV with a high-power AC. Worth of mention, this generator's 74 dBA noise level means that it might be way too loud for most camping grounds. So, consider your favorite camping ground's acceptable noise limits to ensure that you won't be breaking any rules.
Key Features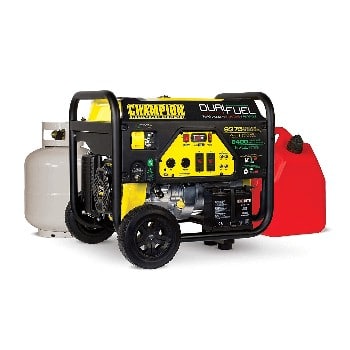 Dual Fuel – Gas stations are not immune to hurricanes, typhoons, and tornados- and this means that a generator that is capable of running on either gasoline or propane eliminates a whole load of inconveniences that may come up in case either of these fuels isn't available.
Electric start – This generator offers 2 starting options; a recoil for those times when you feel energetic, and an electric starter just in case you have some medical problems. The latter also comes in handy should anyone else want to fire it up but lacks the energy to yank on the recoil. A bonus feature of this electric start is Cold Start technology. This is a lifesaving technology that increases your generators chances of starting in extremely cold weather.
Intelligauge – The intelligauge is a common convenience feature among Champions across all price ranges. It helps you keep track of several important aspects of the generator including voltage, hertz, and runtime. The Intelligauge also helps you keep track of maintenance intervals- an important function that ensures that you carry out important maintenance requirements in a timely manner.
Low-oil shutoff sensor – What happens when you run a generator without oil? You got it right. It destroys itself, often within a couple of minutes. While it's easy to remain vigilant on the oil level and top it up whenever necessary, nothing beats the convenience of a sensor that shuts off the generator automatically in case the oil level is too low.
Specifications
Starting Watts
9375 watts (gasoline)
8400 watts (propane)
Running watts
7500 watts (gasoline)
 6750 watts (propane)
Noise Level
74 dBA
Fuel Type
Gasoline, Propane
Runtime
8 hrs at ½ load (gasoline)
5.5 hrs at ½ load (propane)
Tank Size
6.0 gal
THD
<5%
Dimensions
27.8 x 28.7 x 26.4 in
Weight
202.4 lbs
Engine Displacement
439 cc
Starting Method
Recoil, Electric
Outlets
120V 30A Locking (L5-30R), 120/240V 30A Locking, (L14-30R), GFCI 120V 20A Duplex (5-20R) (2)
Warranty
3 years and Free lifetime support
Certificates
EPA, CARB
Champion 100165 7500-watt Generator Review
Power Output and Capability
This Champion generator is referred to as a 7500-watt unit denoting its running watts while running on gasoline. The starting wattage is considerably higher at 9375 watts and it gives you greater leeway to add several other motor-powered appliances and power tools to the load without causing the generator to shut down.
The starting and running watts are a little bit lower when running this Champion on propane; 8400 watts and 6750 watts respectively.
However, regardless of the type of fuel that you choose to go with, this generator still packs enough juice to power several interspersed household appliances such as TV, refrigerators, sump pump, window AC, microwave, and a lighting system together. You can also power most electric water heaters and even a 6000-watt clothes dryer singly.
For a workshop or construction site, this generator has the ability to run most power tools including routers, jigsaws, table saws, lathe, and circular saw either singly or in groups provided you take care of the starting watts.
Performance
Runtime in a generator is an important value that speaks volume about its efficiency; the longer the generator can run at your perfect power load, the better for you in terms of fuel cost.
The Champion 7500-watt offers runtimes of 8 hours and 5.5 hours when running at 50% load on gasoline and propane respectively. This is a really good performance if blackouts don't last so long in your area.
Importantly, the Champion outputs power with <5 THD thereby making it ideal for your power-sensitive gadgets.
Convenience
There's no doubting that the Champion 7500-watt is all about convenience and ease of use. The electric starter that boasts Cool Start technology is an assurance that this unit will always start even in extreme weather conditions and without you or a family member having to die on the recoil.
It also comes heavily loaded with outlets including 2 20A outlets for high power appliances and tools, and a 30A L14-30R 120v/240v receptacle for easy Transfer Switch installation.
Another convenience feature that you won't find on the WGen 7500 (a similarly priced and equally powerful competitor) is the low-oil shutdown that adds another level of protection to the generator.
With regard to portability, this generator's 202 lbs make lugging it around a little bit daunting for most people. But its 9.5-inch never-flat wheels, sturdy fold down handle, and heavy-duty frame add a good degree of mobility.
Dependability and reliability
Champion generators are generally known for their heavy-duty construction design and reliable performance- and the Champion 7500DF isn't any different.
This generator's reliable design is evident right from its open-shell construction design featuring a sturdy frame and wheel kit.
Its dual fuel design coupled with its relatively long runtimes and the electric starter built with Cold Start technology is a proof of its reliability.
Lastly, while most dual generator brands offer utmost 2 years of warranty, Champion offers 3 good years. What's more, you get free lifetime support.
Price
Despite its high power performance and lots of convenience features, it's quite amazing that the Champion 7500DF generator still comes at a price tag way below a thousand bucks. If you are short of investing in an automatic standby generator, this model is one of the next best choices.
Drawbacks
Quite heavy– although the wheels and handle add some sort of portability to this beast, it might not be easy for most people to lift it up or down alone
Loud– this generator's 74-dBA noise level is still acceptable considering its power output. But there are other slightly quieter alternatives including the WGen 7500
What do previous buyers say about Champion 7500 DF Generator?
Impressed by its overall quality and incredible performance, I was anxious to see what other buyers had to say about it- and the results were in line with what I expected.
The Champion 7500 has garnered a really good star rating and lots of positive reviews. Scanning through the reviews, most homeowners affirm that it fires up right away even after several years of usage and powers most appliances and power tools with ease.
The major negative review that I came across was about a generator that was probably mishandled during storage or shipping and, therefore, arrived with a bent frame. While this didn't affect its power output, Champion still cared enough to replace it without any extra costs to the buyer.
Alternatives to Champion 7500 Watt Generator
If you'd like a little bit more power without going over the one grand mark, the Duromax New XPE12000E might interest you. This model is a little pricier than the Champion but has 12000 starting watts and 9000 running watts to show for its slightly higher price tag.
The Westinghouse WGen 7500DF, on the other hand, might make a really great purchase if you want a generator with a longer runtime. Mind you, the WGen 7500DF is a little bit cheaper than the Champion 7500 and has several outstanding features including being RV-ready. It's also much quieter at 64 dBA.
Conclusion
The Champion 7500 has all that it takes to make a great pick for an outdoorsman, RV'r, constructors working on an off-grid job site, and pretty much most homeowners who want peace of mind amidst bad weathers.
This generator is capable of powering several household appliances and power tools and even an RV. In addition to its power output, it also comes fully loaded with convenience features. It boasts an electric starter that works even in cold weather and an intelligauge that keeps you posted on the voltage, hertz, and runtimes. Above all else, it can run on either gas or propane- whatever is available.
If you want to learn more about Champion brand and the quality of their products then you might want to check our Champion generator review where we've also listed 5 of their best models.