Champion generator brand belongs to Champion Power Equipment. This is an American manufacturer with its headquarters in Santa Fe Springs, California. This line was started in 2003 and offers everything from traditional to inverter engines. These generators also boast pretty much all of the modern convenience features and technologies, including dual-fuel performance, electric start, and wireless remote control.
If you've heard anything about Champion, that must be its comparatively low prices. Champion generators are indeed among the most affordable units on the market today. This could be why they are ubiquitous in most homes, RV campgrounds, commercial establishments, and even in mining sites.
But are they reliable? Are Champion generators any good? These are some of the queries you're probably grappling with if you're about to purchase a Champion. And we'll answer all of them in this Champion generator review.
Distinguishing Features of Champion Generators
All generators have an unmistakable yellow and black theme.
Almost all of them have Cold Start technology.
Some units have dual-fuel configuration and electric and wireless start.
The latest generators have CO ShieldTM. This sensor automatically switches off the engine in case of a carbon monoxide buildup hazard.
Most of them are EPA certified and CARB compliant.
All of them come with a 3-year limited warranty.
Pricing
Champion generators are relatively affordable compared to other brands, such as Dewalt, Honda, and Yamaha. The average price of Champion generators is around $760. The cheapest model costs approx. $200 while the most expensive one is about $1900.
Are Champion generators good?
Yes. In our opinion, Champion generators are worth their weight in gold, especially if you're after an affordable but reliable generator. Check our Champion generators reviews below to learn more about their best models currently on the market.
Besides their wallet-friendly price tags, what we appreciate about Champion generators is the level of user-friendliness that they offer. Whichever model that you choose to go with, you'll realize that a good deal of consideration was made when making the control panel as easy-to-use as possible.
Besides, Champion is ever pushing the envelope on which features and technologies can fit into an affordable generator. That being said, it's possible to get a generator with high-end features, including electric or wireless start, dual-fuel configuration, Cold Start technology, and the recent CO Shield without breaking the bank. The hundreds of 5-star reviews and positive feedback that Champion generators get on Amazon are evidence of their reliability.
Pros
Relatively affordable
Most of them have Cold Start technology
Clean control panel with clearly labelled ports and controls
Generators feel sturdy and well made
Most of them are loaded with high-end safety and convenience features
Cons
Country of origin- China- may be an issue to some people
Although the generators pay for themselves with proper use, they aren't the most durable
Best Champion Generators – Reviews
Champion 100263 Dual Fuel Inverter Generator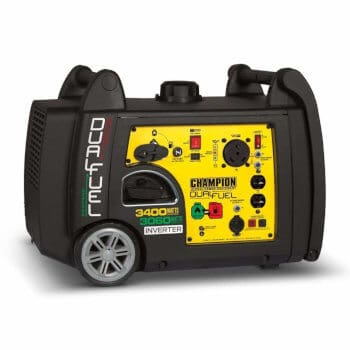 Has dual-fuel configuration
Quiet
User-friendly
Easy to transport
Fuel-efficient
RV ready
Tiny wheels require you to hold the handle at an angle
Heavy at 100 lbs
Does not have wireless remote start
Champion 100263 Specifications
Starting Watts
3400 (gasoline), 3060 (propane)
Running Watts
3100 (gasoline), 2790 (propane)
Noise Level
59 dBA
Fuel Type
Gasoline, Propane
Tank size (gal)
1.6
Run Time
7.5 hrs (gasoline), 14.5hrs (propane) at 25% load
Dimensions (in)
25.1 x 17.3 x 18.3
Weight (lbs)
95,7
Emissions
CARB, EPA
Champion 100263 is our first recommendation in these Champion portable generator reviews. It is a dual fuel inverter generator that offers  3400 starting and 3100 running watts of power. This model also shines in terms of convenience in that it can run on either propane or gasoline- whatever is economical and easily available for you.
Champion 76533 Dual Fuel Portable Generator
RV ready
A breeze to operate
Built-in Volt Guard technology
Dual-fuel configuration is super convenient during emergencies
Has electric start
Electric start drains the battery
Quite loud
Not the most fuel-efficient
Champion 76533 Specifications
Starting Watts
4750 (gasoline), 4275 (propane)
Running Watts
3800 (gasoline), 3420 (propane)
Noise Level
68 dBA
Fuel Type
Gasoline, Propane
Tank size (gal)
3.4
Run Time
9 hrs (gasoline), 10.5hrs (propane) at 50% load
Dimensions (in)
26.3 x 24.8 x 22.9
Weight (lbs)
119
Emissions
CARB, EPA
This dual fuel generator offers a starting power of 4750W (gasoline) and 4275W (propane) and a running wattage of 3800W (gasoline) and 3240W (propane). At this power range, the Champion 76533 proves a reliable companion for home power backup, small-to-medium-sized construction sites, and most outdoor fun activities, including tailgating and RV-ing.
Champion 100555 Portable Generator
Inexpensive
Covered outlets
Has intelligauge to monitor runtime, voltage, and frequency
Tons of power for the price
RV-ready
A little noisy
Vibrates a lot
Champion 100555 Specifications
Starting Watts
4375
Running Watts
3500
Noise Level
68 dBA
Fuel Type
Gasoline
Tank size (gal)
4.7
Run Time
12 hrs at 50% load
Dimensions (in)
26.3 x 24.8 x 22.9
Weight (lbs)
103.4
Emissions
CARB
This model is worth checking out if you're looking for an inexpensive Champion generator for home power backup. Despite its lower price tag, the Champion 100555 generates 4375 and 3500 starting and running watts respectively. It comes RV-ready and has most of the great features that you'd want in a generator, including voltage and runtime monitor and Volt Guard surge protector.
Champion 100302 RV Ready DH Series Open Frame Inverter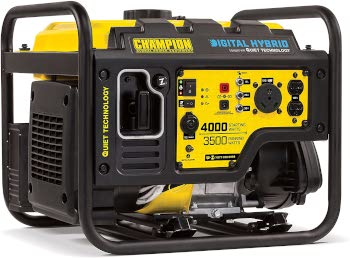 Clean output (less than 3% THD)
Long runtime
Relatively quiet
RV ready
A little heavy at 81.6 lbs
A bit noisy at 64 dB
Champion 100302 Specifications
Starting Watts
4000
Running Watts
3500
Noise Level
64 dBA
Fuel Type
Gasoline
Tank size (gal)
2.9
Run Time
17 hrs at 25% load
Dimensions (in)
20.5 x 17.9 x 17.7
Weight (lbs)
81.6
Emissions
CARB, EPA
The Champion 100302 is one of the best generators in Champion's DH (Digital Hybrid) series. Similar to other generators from this line, this model combines open-frame design with inverter technology. As such, it's much more efficient than you'd expect from a traditional design model. This generator has 4000 starting watts and 3500 running watts.
Champion 75531i RV Ready Inverter Generator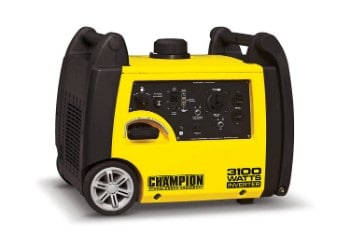 Relatively quiet at 58 dB
Has wireless remote start
Compact and easy to move around
Clean energy
RV ready
Oil refill isn't as convenient
Champion 75531i Specifications
Starting Watts
3100
Running Watts
2800
Noise Level
58 dBA
Fuel Type
Gasoline
Tank size (gal)
1.6
Run Time
8 hrs at 25% load
Dimensions (in)
22.4 x 17.3 x 18.3
Weight (lbs)
83.8
Emissions
CARB, EPA
This is a highly recommendable unit for RVers and crafty homeowners looking for an affordable Champion inverter generator. It outputs 3100 starting watts and 2800 running watts and comes with a 30A RV outlet, two 20A household outlets, and a USB port.
About Champion Brand
Champion is a brand of Champion Power Equipment, which debuted in 2003. This is a relatively new entrant in the world of generators compared to generator companies that were formed in the 1900s, such as Generac and Ford.
The main headquarters of Champion Power Equipment is at 12039 Smith Ave, Santa Fe Springs, California. However, it also has several other facilities, including in Wisconsin, Tennessee, and Canada.
Although Champion is mainly known for its generators, its catalog consists of other products, including water pumps, log splitters, pressure washers, snowblowers, and chainsaws.
Frequently Asked Questions
Who makes Champion generators?
Champion generators are made by Champion Power Equipment. This is an American brand that also makes and sells several other products, such as leaf blowers, snowblowers, and pressure washers.
Where are Champion generators made?
Champion generators are made in Champion production facilities based in Zhejiang district, China. However, all the research and design are done in the USA. Manufacturing the generators in China is Champion's strategy of ensuring that the buyers get the generators at a much lower cost compared to its competitors.
Where to buy Champion generators?
Besides Champion's official website, you can buy Champion generators from Amazon, Costco, Absolute Generators, and Atwoods, among other dealers listed here. To learn more about the brand's best models, check our Champion generator reviews above.
What warranty does Champion offer for its generators?
3 years. Whether you're buying an ultra-light 1200 watt or a 12,000-watt heavy-duty generator, Champion offers a 3-year limited warranty with all of its models.
Which is the best oil for Champion generators?
10W-40 or 10W-30, depending on the predominant temperature in your area. If you live in an area that is always mostly warm (800 F and above), use 10W-40 oil. If you are using the generator in a place that is 200 F or thereabouts, 10w-30 will be the best oil. Lastly, if you live in areas below zero degrees Fahrenheit, consider 5-30W oil.
Conclusion: Should You Buy a Champion Generator?
As a summary of our Champion generator review, you can't go wrong with this brand, especially if you want an affordable generator without compromising power performance and reliability. The fact that the blueprint is drawn in the USA but the generators are made in China means that you're getting a quality generator with some cool features at an amazingly low price.
If you're on a budget and want an affordable but powerful Champion generator for home power backup, we'd recommend Champion 76533 Dual Fuel Generator. For RVers and enthusiastic DIYers looking for a generator that they can move around with, remember to check out the Champion 100302 DH Series. Lastly, if all you need is an inverter generator for RVing, tailgating, and camping, the Champion 100263 is all yours.
As we wind up, if you would like to compare Champion to other brands with affordable generators, we'd suggest checking out our WEN generator reviews or Firman generators review.
Latest Champion Generator Reviews: