Honda is probbaly the most popular brand when it comes to portable generators. And it makes sense: this Japanese manufacturer boasts an unparalleled reputation of having the most fuel-efficient, quiet, and reliable generators. Not to mention, Honda generators have the best technologies, and they tend to last forever when taken care of.
So, this Honda generators review won't be a question of whether these generators are good or not. Instead, it will be more of what makes Honda generators worth it.
Our team of experts has analyzed this brand's portable generators in detail to determine their most standout features. Also, we've identified 5 of the best Honda generators that most people tend to go with.
Distinguishing Features of Honda Generators
Wattage– Honda generator wattage range starts from 1000W to 10,000W.
Advanced DAVR technology– Digital Automatic Voltage Regulator technology is used in Honda EG-series generators. It maintains voltage stability at +/- 1% change for better engine performance and increased protection for your appliances and tools.
CycloConverter technology– this technology is unique to the EB3000C generator. It replaces the bulky alternator in traditional generators with a special CPU. This results in more power and a lightweight generator.
iAVR technology– generators with iAVR technology reduce voltage fluctuations up to 50% better than the current AVR systems.
Fuel efficient– Honda generators, especially those fitted with GX-series engines, offer runtimes of between 7.1 hours and up to 20 hours.
Super quiet– Honda EU-series generators are stellar performers where low-noise output is critical. This low-noise characteristic is evident even with its high power generators.
A generator for every need– Honda generators come in 4 series:

EU series- boasts high fuel efficiency. They are the best for areas with noise ordinances thanks to their low noise operations.
EU-i series- designed with excellent portability in mind.
EM and EG series- home generators with large fuel tanks that don't require regular refills.
EB series- these are industrial-quality generators with GFCI outlets.
Pricing
There's no beating around the bush; Honda generators cost a premium. Actually, they are the most expensive generators on the market in almost all categories. The average price for a Honda generator is around $2100. Expect to part with approximately $950 for the cheapest model and up to $5700 for the most potent units.
Are Honda generators good?
Honda generators are the gold standard of portable generators judging from their outstanding reliability and competitive durability. These generators are among the most fuel-efficient, especially the inverter models. On the other hand, Honda open-frame generators feature large fuel tanks that eliminate the need for regular refueling. Both of these make a lot of sense if you'll be running the generator regularly for several hours.
Honda is also famous for making one of the most silent generators. Their portable generators emit noise in the range of 42- 58 dBA and are commonplace in RV parks, camping grounds, and tailgating parties. To learn which their quietest model is, make sure to read our Honda portable generator reviews below.
There are other more affordable generator brands that compete favorably with Honda in terms of low noise performance and power output but Honda generators blow all other competitors out of the water with their excellent durability and resale value. Precisely, a Honda generator can outlast 3-5 units of its closest competitor. And in 5-10 years, it's possible to sell these generators for ¾ of their original price provided you follow the manufacturer-recommended maintenance schedule. Even better, Honda service centers are all over, and replacement parts are readily available.
Pros
Relatively well built
Durable
Hold resale value
Generally quiet (42-58 dBA)
There are service centers everywhere
Cons
Expensive
Most of them lack a digital fuel gauge and digital meter
Bait for thieves
Best Honda Generators Reviews
Honda EU2200I Companion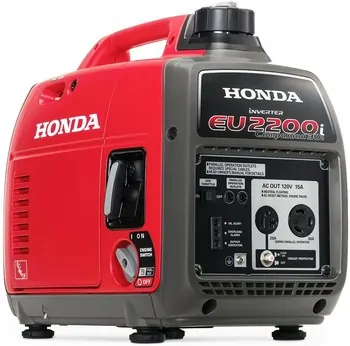 Super quiet
Parallel capability
Durable
Lightweight
Inverter
No fuel gauge
Lacks a precise hour meter
Honda EU2200IC Specifications
Starting Watts
2200
Running Watts
1800
Noise Level
48 dBA
Fuel Type
Gasoline
Tank size (gal)
0.95
Run Time
8.4 hrs at 25% load
Dimensions (in)
20 x 11.4 x 16.7
Weight (lbs)
46.5
Emissions
CARB, EPA
The EU2200i Companion is Honda's most popular generator. It runs on a 121cc Honda GXR120 engine that produces 2200 surge watts and 1800 rated watts. The Companion is super quiet and operates at 48-57 dBA, so it's ideal for home-use, RVing, and tailgating. This generator is super lightweight too at 47 lbs and offers 8.1 hours from its 0.95-gallon tank.
Honda EU7000iAT1
Uses Fuel Injection technology for longer runtimes
Versatile usage
Quite operations
Offers pull cord and electric starters
Foldable handles and wheels for mobility
Lacks a fuel gauge
Heavy at over 250 lbs
Honda EU7000iAT1 7000 Watt Specifications
Starting Watts
7000
Running Watts
5500
Noise Level
52 dBA
Fuel Type
Gasoline
Tank size (gal)
5.1
Run Time
18 hrs at 25% load
Dimensions (in)
33.4 x 27.6 x 28.4
Weight (lbs)
261
Emissions
CARB, EPA
This is one of the most powerful Honda inverter generators at the moment. So, it's a perfect pick when you want a quiet generator without compromising on power output. The Honda EU7000iAT1 uses a 389cc Honda GX390 EFI engine that manages 7000w maximum and 5500 rated watts. It offers 18 hours of runtime at quarter load from its 5.1-gallon tank and operates between 52 and 58 dB.
Honda EU3000IS Inverter Generator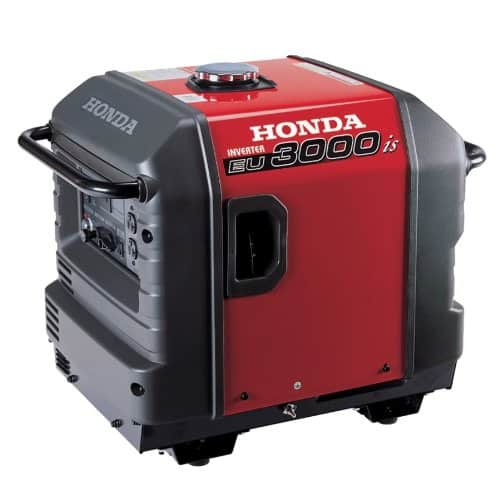 Cranks up easily
Fuel efficient
Quiet
Low oil shutoff
Has no hour meter
Lacks an in-line fuel filter
No wheels
Honda EU3000IS Specifications
Starting Watts
3000
Running Watts
2800
Noise Level
50 dBA
Fuel Type
Gasoline
Tank size (gal)
3.4
Run Time
20 hrs at 25% load
Dimensions (in)
25.9 x 17.6 x 22
Weight (lbs)
131
Emissions
CARB, EPA
The Honda EU3000IS might fit the bill if you want a powerful inverter generator to power a 13,500 BTU RV AC, a fridge, or furnace. This generator utilizes a 196 Honda GX200 engine that is protected by an automatic low-oil shutoff feature. The Honda EU3000IS generates 3000 surge watts and 2800 running watts. It has recoil and electric start options and manages runtimes of 7.2 to 20 hours, dependent on load.
Honda EU1000i
Very lightweight
Very quiet
Efficient
Supports light loads only
Pricey for its power range
Honda EU1000i Specifications
Starting Watts
1000
Running Watts
900
Noise Level
42 dBA
Fuel Type
Gasoline
Tank size (gal)
0.6
Run Time
7.1 hrs at 25% load
Dimensions (in)
17.7 x 9.4 x 15
Weight (lbs)
28.7
Emissions
CARB, EPA
The EU1000i is an entry-level unit designed for people who want an affordable but reliable generator for emergency use. With its 1000 peak watts and 900 rated watts, this generator might not be the best for your high-power appliances and tools but its compact size and weight make it a perfect unit for all your low power needs at home and outdoors. Like its siblings, the EU1000i is super-efficient and offers over 7 hours at quarter load from its 0.6 gallons. It is also probably the quietest fuel-powered generator on the market with a noise level of just 42 dBA.
HONDA EU3000IH Handi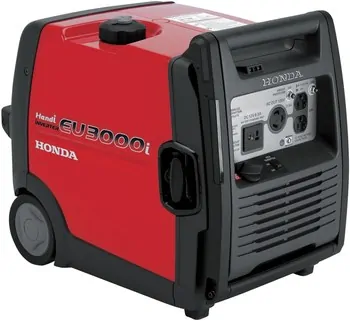 RV-ready
Comparably lightweight
Saves on fuel
Keeps noise down
Has wheels and handle for portability
No fuel gauge
Has no voltage meter
Carburetor requires manual draining
HONDA EU3000IH Specifications
Starting Watts
3000
Running Watts
2600
Noise Level
52 dBA
Fuel Type
Gasoline
Tank size (gal)
1.6
Run Time
7.7 hrs at 25% load
Dimensions (in)
24.5 x 14.9 x 19.3
Weight (lbs)
78
Emissions
CARB, EPA
Designed with exceptional portability in mind, the Honda EU3000IH Handi is the lightest 3000-watt generator today. This model weighs 78 lbs, and it has a folding handle and wheel kit for easy maneuverability. Its 166cc Honda GX160 engine produces 3000 rated watts and 2600 rated watts and keeps the noise level at between 52 and 58 dB.
About Honda Brand
Honda (official name- Honda Motor Company, LTD) is a Japanese corporation known for automobiles, motorcycles, engines, and power equipment, among other products. This company is named after its founder Soichiro Honda and was started in 1948.
Honda's main headquarters are in Minato City, Tokyo, Japan. It also has offices in Ohio, USA, where it develops and tests its US-made products.
Besides automobiles and power generators, Honda also makes lots of other products, including lawn and garden tools, multipurpose pumps, and snow blowers.
Frequently Asked Questions
Who makes Honda generators?
Honda generators are made by Honda Power Equipment division.
Where are Honda generators made?
Honda produces its generators in Japan, the USA, China, Thailand, and India and distributes them worldwide.
Where to buy Honda generators?
You can buy a Honda generator from Amazon, Home Depot, Electric Generators Direct, Walmart or directly from their official website.
What warranty does Honda offer for its generators?
Honda portable generators come with a warranty of 2 or 3 years.
Which is the best oil for Honda generators?
Most Honda portable generators use SAE 10W-30 oil, but it's important to check from your generator's manual before proceeding.
Conclusion: Should You Buy a Honda Generator?
There's a reason why most people who've switched to Honda portable generators never look back. And that's the reliability and durability that comes with this brand. Honda generators boast exceptionally high standards of construction quality. These generators are quiet, incredibly fuel-efficient, and unbelievably durable. But the best part is that they retain their unbeatable resale value for years.
Your choice of the best Honda generator will depend on your budget and how much power you want for your appliances. Based on our Honda generator reviews,  EU2200i is an excellent choice if you are looking for a high-end inverter generator that will last you for years to come and can power smaller appliances. On the other hand, the EU7000iAT1 is pricey, but it's best if you want a generator that you can use at home and off-grid construction sites. If you're looking for a mid-range generator, that would be the Honda EU3000is.
Honda generators are undeniably the best generators in terms of quality and performance. But other brands try to offer the same quality at a lower price. Check our Westinghouse or Duromax generator reviews for a more affordable altenrative to Honda generators. If you want nothing but the best, you may want to compare Honda to other premium generator brands. In that case have a look at our Yamaha generator reviews.