Powerhorse generator brand doesn't pop up a lot in most lists of the most popular generators. At least, we can't compare it to other commonplace manufacturers, including Honda, Westinghouse, and Champion.
However, in our assessment, we imply that this brand's unpopularity is perhaps due to a lack of aggressive marketing. Otherwise, Powerhorse generators tick almost all the boxes of top portable generators from design to reliability. If anything, these generators are often regarded as Honda clones owing to the quality of their engines.
Don't take a word for it, though. In these Powerhorse generators review, we intend to answer all of your questions regarding this brand from its major strengths to weak points. In addition, we've compared its products and identified 5 of the best Powerhorse portable generators that you can buy this year.
Distinguishing Features of Powerhorse Generators
Low oil alert and shutdown features– almost all of these generators come with these 2 features, which help a lot in protecting the engine from self-damage.
O.H.V. engine technology– Powerhorse generators (except 2) use Over Head Valve engines resulting in a compact design with no compromise on power output. The other 2 generatos- 74006 and 42411- use Powerhorse engines, which are quite popular too.
Electric start– most of the Powerhorse portable generators that we've come across feature an electric start for easy firing. Our only gripe is that you have to purchase the battery separately as it's not always included with some models.
Copper wound generator– with most of the generators, Northern Tool claims to use 100% copper-wound generator heads. They say that this eliminates the issues of overheating even with prolonged operations.
Eight 120v 20A outlets– most high-power Powerhorse generators have 4-8 120v 20A outlets. This is something that we don't often see with other brands.
Less than 5% T.H.D.- inverter and open-frame Powerhorse generators claim to produce power with less than 5% T.H.D. This is the acceptable threshold for a generator that won't fry your sensitive electronics.
Pricing
In our experience with most people's purchasing patterns, Powerhorse generators are in the range that buyers consider affordable. These generators fall in the same category as other popular brands like Westinghouse, Generac, and Duromax. They aren't the cheapest nor the most expensive. The average price for a Powerhorse portable generator is around $850. The cheapest model costs around $430, while the most expensive unit comes at $3000.
Are Powerhorse generators good?
Powerhorse generators offer almost every feature and function that you'd want in a good generator. Some of the high-power units offer dual-fuel functionality. Almost all of them have low-oil indicators and shutdown functions for durability.
Besides, these are generators that you can use almost anywhere. Both open-frame and inverter Powerhorse generators generate power with less than 5% T.H.D. Moreover, inverters run relatively quiet, so you can use them comfortably at home and even in parks.
As you can see from our Powerhouse portable generators reviews, these units are designed with ease of use in mind. A good number of them have a multi-functional V.F.T. LCD, oversized fuel tanks, foldable handles, and a wheel kit for easy maneuverability.
Of course, we don't mean that all Powerhorse generators are great. Some of them just don't cut it, but this happens with all generator brands, including Honda.
Pros
Most of them have oversized tanks for longer runtimes
Open-frame generators feature multiple outlets
Generally well designed
Most of them feature low power indicator and auto shutdown function
They produce power with 5% distortion
Most of them have multi-functional LCD
Cons
Open-frame generators are a bit louder than most competitor brands
High-power units are comparably heavy
These generators aren't so popular (not so much is known about them)
Best Powerhorse Generators Reviews
Powerhorse LC3500i
Electric start
Long runtime (11 hours)
Very quiet
Has low oil alert and shutdown
Rollers are too tiny for rough terrains
Quite heavy
Powerhorse LC3500i Specifications
Starting Watts
3500
Running Watts
3000
Noise Level
57 dBA
Fuel Type
Gasoline
Tank size (gal)
2.6
Run Time
11 hrs at 25% load
Dimensions (in)
22.8 x 17.3 x 20.1
Weight (lbs)
99.2
Emissions
CARB, EPA
The Powerhorse LC3500i is engineered with campers in mind- and what's good for the campers is good for RVers and tailgaters too. This model uses inverter technology, so it's not surprising that most people rave about its quiet operations. It produces 3500 surge watts and 3000 rated watts. You can also connect two generators (2000w or 35000w) to power your heavy loads.
The Powerhorse LC3500i has an electric start (battery included), but it also offers a recoil start option. It also has an LCD digital display and low-oil shutdown.
Powerhorse LC2000i Inverter Generator
Produces clean power with less than 1.5% T.H.D.
Lightweight
Relatively affordable
Very quiet although not as a Honda
No electric start
Ideal for low power needs
Powerhorse LC2000i Specifications
Starting Watts
2000
Running Watts
1600
Noise Level
52 dBA
Fuel Type
Gasoline
Tank size (gal)
1.1
Run Time
8.5 hrs at 25% load
Dimensions (in)
19.6 x 11.2 x 17.1
Weight (lbs)
46.3
Emissions
CARB, EPA
This is the smallest generator by Powerhorse, but an excellent pick if you want a portable camping generator for your regular outdoor power needs. The LC2000i weighs around 55 lbs (dry weight). Its 80cc engine produces 2000 surge watts and 1600 running watts.
Powerhorse 7000 Watt Generator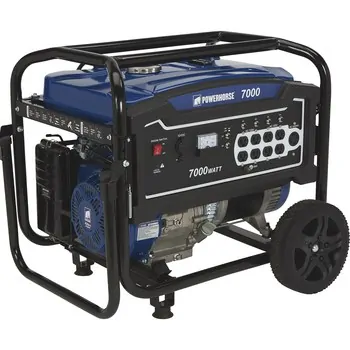 Relatively affordable
Large wheels and handle for portability
Lots of power outlets
Has fuel gauge and voltmeter
Not CARB compliant
Bulky
It's still heavy
Powerhorse 750140 Specifications
Starting Watts
7000
Running Watts
5500
Noise Level
N/A
Fuel Type
Gasoline
Tank size (gal)
6.6
Run Time
10.4 hrs at 50% load
Dimensions (in)
33 x 24 x 25
Weight (lbs)
186
Emissions
EPA
This generator offers a sweet spot on the price-wattage-portability continuum. This model is considerably affordable, yet it has so much to offer. Its 420cc generates 7000 surge watts and 5500 running watts with below 5% T.H.D. The Powerhorse 750140 carries a 6.6-gallon gas tank and has a fuel gauge.
Powerhorse 9000ES Portable Generator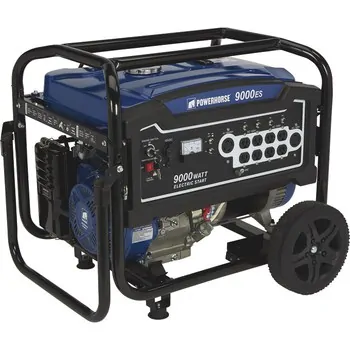 Lots of power
Electric and recoil start options
Multiple power outlets
Produces clean energy
Not CARB compliant
Battery not included
Very heavy at 200 lbs
Powerhorse 9000ES Specifications
Starting Watts
9000
Running Watts
7250
Noise Level
75 dBA
Fuel Type
Gasoline
Tank size (gal)
6.6
Run Time
9.6 hrs at 25% load
Dimensions (in)
33 x 24 x 25
Weight (lbs)
131
Emissions
EPA
The Powerhorse 9000ES may be a perfect pick for small-to-medium size worksites. This open-frame generator is powered by a 420cc engine that produces 9000 starting watts and 7500 running watts. You can trust it to run several high power tools and keep a good number of your appliances running at home. Its outstanding features include 11 power outlets, less than 5% T.H.D. power, electric start, and rugged non-flat wheels.
Powerhorse 11000ES Generator
Tons of power
Produces power with less than 5%
Includes electric and recoil start
Large tank
Not CARB compliant
Most people will need help lifting it up
Powerhorse 11000ES Specifications
Starting Watts
11000
Running Watts
8400
Noise Level
78 dBA
Fuel Type
Gasoline
Tank size (gal)
6.6
Run Time
8.5 hrs at 50% load
Dimensions (in)
29.3 x 26.6 x 26.4
Weight (lbs)
209
Emissions
EPA
If the Powerhorse 11000ES above doesn't cut it for you in terms of power output, this one might interest you. The Powerhorse 750144 uses a 457cc engine capable of outputting 11000 surge watts and 8400 running watts. It has a 6.6-gallon tank with fuel gauge and 11 power outlets, including eight 120v 20A ports.
About Powerhorse Brand
Powerhorse is a Chinese brand that is marketed and distributed in the U.S.A. by Northern Tool and Equipment. Northern Tool and Equipment was started by Donald L. Kotula in 1981, and it's located in Burnsville, Minnesota.
In addition to generators, Northern Tool and Equipment specializes in many other products ranging from automotive to construction, electricals, and welding tools.
Frequently Asked Questions
Who makes Powerhorse generators?
Powerhorse generators are made by Northern Tool and Equipment
Where are Powerhorse generators made?
Powerhorse portable generators are produced in China but their design and quality control are done in the USA.
Where to buy Powerhorse generators?
You can purchase Powerhorse generators from Northern Tool website, Amazon, eBay, Sears, and Walmart.
What warranty does Powerhorse generator come with?
Northern Tool offers a 2-year warranty with most Powerhorse generators.
Which is the best oil for Powerhorse generators?
The manufacturer recommends 10w-30 oil.
Conclusion: Should You Buy a Powerhorse Generator?
As a conclusion to these Powerhorse generator reviews, we can say that Powerhorse may not be as popular as other brands but it's certainly worth considering if you want a good balance of affordability and quality. This brand has everything for everyone, from a small, quiet, and easily portable inverter for light loads to 10,000+ watts generators for construction tools.
If you are looking for the best Powerhorse generator then why not check LC3500i. It's quiet and has enough power to run most of your houshold appliances. In case, you want a powerful generator then Powerhorse 7000 Watt model might be a perfect pick.
For alternatives to Powerhorse, check this list of best generator brands, or read our Duromax generators reviews or Briggs and Stratton generator review.