Sportsman has some of the most affordable generators in the market today. Not to take them lightly, most of these generators compete favorably with other pricier brands in performance and usability. A quick search in online reviews reveals some incredible ratings and positive feedback from current users too.
For this Sportsman generator review, we aim to give you a closer look at everything about these generators, including their common pros and cons.
In our analysis of this brand's catalog, we also came across a couple of the best Sportsman generators worth considering today.
Distinguishing Features of Sportsman Generators
Power output range– Buffalo Sportsman generators range from 1000w to 10,000w.
Single, dual-fuel, and tri-fuel variants– some of these generators give you the option to run them on dual fuel (gasoline and propane) or tri-fuel (gasoline, propane, and natural gas).
4-stroke OHV engine– all Sportsman generators are fitted with a 4-stroke OHV engine, which is considerably more reliable than 2-stroke engines.
Electric start– a few of these generators have a built-in electric start for hassle-free startups. However, we noted that some of them don't ship with the battery in the package.
Automatic low-oil and low-oil shutdowns– all Sportsman generators will shut down automatically if you fail to add fuel or oil timely, preventing engine damage.
Pricing
Sportsman generators are among the cheapest in the market today at almost any power category. The average cost for a Sportsman generator is around $590. At this price range, you're looking at generators in the 5000-6000w range. At about $1450, you'll find generators with around 10,000 peak watts and extended runtimes.
The lowest price for a Sportsman generator is about $150. This category has the least potent generators ideal for powering low-power appliances and devices and a couple of lights.
Are Sportsman generators good?
Sportsman generators are good, but not perfect. These generators have a lot to go for, especially if you're looking for the most affordable generators. But there are a few things that you want to keep in mind as we will explain in this Sportsman generators review. Let's start with the positives.
Overall, we appreciate that these generators use 4-stroke OHV engines despite their low price range. Portable generators with OHV engines have the upper hand in fuel efficiency, high power output, and reduced fuel and oil combustion.
Moreover, we like that these engines come in all types from single-fuel to dual and triple-fuel varieties. Most of these generators have above-average runtimes, too. This is an incredible thing to know when buying a budget generator. Importantly, these engines are fitted with automatic low-oil and low-fuel shutdown features, which boost the durability of the generator by preventing damage.
The fact that Sportsman generators are EPA-approved also shows that there's a good amount of thoughtfulness in their design and construction.
Switching gear to the downsides, most Sportsman generators are notably louder than their slightly pricier competitors. If you plan to use the generator regularly, you'll need to lower the noise output for your neighbors' sake. If you need a quiet generator, then check our article about the best quietest generators currently on the market.
Secondly, we're disappointed that Sportsman generators come with a warranty period of 3 months to 1 year. This is significantly shorter than the 2-3 years that most generator brands offer.
Lastly, beware that Buffalo Corp. keeps the cost of these generators down by not including the wheel kit, foldable handles, and battery (where applicable). You may need to purchase these separately.
Pros
Relatively affordable
Decent construction quality
Generators use 4-stroke OHV engines
There are single-, dual-, and triple-fuel options
Generators are EPA-approved
Cons
Some accessories may not be included (wheel kit, foldable handles, and battery)
These generators tend to be loud
They have short warranties
Best Sportsman Generators Reviews
Sportsman GEN4000DF Dual Fuel Portable Generator
Dual-fuel capability
Easy to use
Lightweight for portability
Has a built-in RV port
Lacks foldable handles and wheel kit
Gets loud
Sportsman GEN4000DF Specifications
Starting Watts
4000 (gasoline), 3600 (propane)
Running Watts
3500 (gasoline), 3100 (propane)
Noise Level
69 dBA
Fuel Type
Gasoline, Propane
Tank size (gal)
3.6
Run Time
10 hrs (gasoline), 12 hrs (propane) at 50% load
Dimensions (in)
24.5 x 17 x 16.5
Weight (lbs)
90
Emissions
CARB, EPA
This generator is practically similar to the Sportsman GEN4000 in almost all aspects. However, for a few more dollars, the GEN4000DF gives you the versatility to run the generator on either gasoline or propane. When using gas, this generator outputs 4000 peak watts and 3500 running watts. On propane, it has a peak wattage of 3600 watts and 3100 rated watts. This generator has a runtime of around 10 hours at 50% load when running from its 3.6-gallon tank. When using a 20-lb propane tank, the runtime is approximately 12 hours.
Buffalo Tools GEN2200DFI Inverter Generator
Dual-fuel technology
Comparably quieter than others here
Long runtime of 7 hours from 1-gallon of gasoline
Generates clean power
Parallel-capable
Low power output
Minimal power outlets
Buffalo Tools GEN2200DFI Specifications
Starting Watts
2200 (gasoline), 1900 (propane)
Running Watts
1800 (gasoline), 1600 (propane)
Noise Level
60 dBA
Fuel Type
Gasoline, Propane
Tank size (gal)
1
Run Time
7 hrs (gasoline), 18 hrs (propane) at 50% load
Dimensions (in)
19.2 x 12 x 18.1
Weight (lbs)
45
Emissions
CARB, EPA
Inverter and dual fuel versatility are the best technologies in the generator world. Having them in one package makes the Buffalo Tools GEN2200DFI a must-have for tailgaters, campers, and DIY-ers in need of versatility and efficiency. This is a compact and lightweight generator with a peak wattage of 2200w and a running wattage of 1800w when gas-powered. When running on propane, it generates 1900 peak watts and 1600 running watts. It's parallel-capable too for higher loads.
Sportsman GEN4000 Portable Generator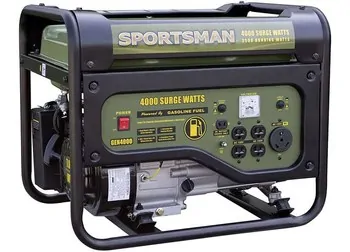 li>RV-ready
Lots of power outlets
Long runtime
Fuel efficient
A little bit loud
Wheel kit sold separately
Sportsman GEN4000 Specifications
Starting Watts
4000
Running Watts
3500
Noise Level
69 dBA
Fuel Type
Gasoline
Tank size (gal)
3.6
Run Time
10 hrs at 50% load
Dimensions (in)
23 x 19.5 x 17.5
Weight (lbs)
91
Emissions
EPA
The Sportsman GEN4000 is a basic generator for most of your low-to-mid level power applications. With its 4000 surge watts and 3500 running watts, this generator is popular with amateur DIY lovers, RV-ers, and individuals who occasionally throw outdoor parties and events. It will also keep your fridge, lights, and cooking appliances powered during a blackout. The Sportsman GEN4000 has a 3.6-gallon gas tank from which it offers a runtime of up to 10 hours at 50% load.
Sportsman GEN4000LPC Propane-powered Portable Generator
EPA-approved
Minimal maintenance needs
Has automatic low-oil and low-fuel shutdowns
Comes RV-ready
Cheaper than competitors
Additional propane tank occupies more space
Sportsman GEN4000LPC Specifications
Starting Watts
4000
Running Watts
3250
Noise Level
68 dBA
Fuel Type
Propane
Tank size (gal)
N/A
Run Time
10 hrs at 50% load
Dimensions (in)
23 x 18 x 18
Weight (lbs)
33
Emissions
EPA
Unlike other portable generators, the Sportsman GEN4000LPC does not carry a gasoline tank at the top. That's because this is a propane-only generator. Propane is cheaper per gallon than gasoline. So, this generator makes more sense if propane is your go-to fuel. Another added advantage of propane-only engines is their low maintenance needs. This generator offers a runtime of 10 hours at 50% load from a 20-pound tank and produces 4000 starting watts and 3250 running watts.  You can find alternatives to GEN400LPC on our propane generator reviews.
Sportsman GEN7000 Portable Generator
Lots of power at a reasonable price
Multiple outlets
Recoil and electric start options
Long runtimes
Large wheels for maneuverability
Air-filled wheels may require pumping
Loud
Heavy to lift
Sportsman GEN7000 Specifications
Starting Watts
7000
Running Watts
6000
Noise Level
86 dBA
Fuel Type
Gasoline
Tank size (gal)
7
Run Time
12 hrs at 50% load
Dimensions (in)
28 x 20 x 23.2
Weight (lbs)
192
Emissions
EPA
Boasting a peak wattage of 7000w and 6000 running watts, the Sportsman GEN7000 presents a capable generator for homeowners looking for a potent generator to keep a mid-size home powered. It will also interest food van owners, RV travelers, and contractors working in an off-grid job site. Besides its high wattage performance, another strength of this generator is its 12-hour runtime at 50% load from its 7-gallon gas tank. It also has an electric start option and a fully packed control panel with four 120v outlets, one 240v port, and a 12v DC charger.
About Sportsman Brand
Sportsman generator brand is one of several other series of products under an American import and distribution company called Buffalo Corp. This company has been around for over 5 decades, and it's based at St. Louis, Missouri, USA.
Buffalo majors in providing affordable household, commercial, and construction tools and products. Besides its line of Sportsman generators, Buffalo Corp. also owns several other brands, including AmeriHome, which deals with household products, such as step stools, dining sets, rubber mats, and storage and utility. It also owns the Pro-Series, which deals with affordable home improvement tools.
Frequently Asked Questions
Who makes Sportsman generators?
Buffalo Corp. Sportsman generator brand is one of the series of products imported and distributed by Buffalo Corp.
Where are Sportsman generators made?
China. Buffalo Corp. imports Sportsman generators from China and markets and distributes them around the USA.
Where to buy Sportsman generators?
Buffalo does not sell Sportsman generators from its official website. Once you identify your go-to product, you'll need to purchase it from other dealers and online stores, including Amazon, eBay, Walmart, Lowes, Home Depot, and Alibaba.
What warranty does Sportsman offer for its generators?
1 year. Most Sportsman generators are covered for 1 year. Others have a 90-day warranty. Double-check beforehand.
Which is the best oil for Sportsman generators?
5W-30. Buffalo Corp. says that any standard oil will work with Sportsman portable generators. You can also switch to quality synthetic oils provided you (or future owners) continue to use synthetic oil.
Conclusion: Should You Buy a Sportsman Generator?
If you want an affordable generator for occasional and light-to-medium-duty use, Sportsman will make a good purchase. These generators are not designed to last forever but they are a good investment where affordability and a good level of reliability are needed. If you want a premium generator that is durable and dependable then read our Honda generators review.
Based on our Sportsman generator reviews,  the GEN4000DF is one of our favorite recommendations for homeowners, DIY enthusiasts, and RV travelers looking for a basic generator. If you're looking for a generator with higher power output at a considerable cost, the Sportsman GEN7000 awaits you. It's powerful and has lengthy runtimes that offer you excellent value for money spent on gasoline.
For alternatives to Sportsman generators, have a look at our Firman generator review. Firman is another Chinese brand, which generators are in the low price range. In case you want to go with a proven generator brand that is still affordable then check our Champion generator reviews.