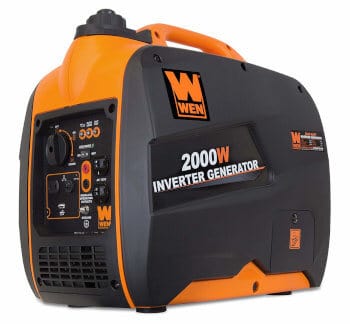 WEN 56200i inverter generator is a very popular choice among homeowners and outdoor enthusiasts. Compared to Yamaha EF2000i, it's two times cheaper but still has lots of value to offer.
The generator has 2000 watts of starting power and 1600 watts of running power. This power output coupled with its 52-decibel noise level is what makes it a perfect pick for most RV'ers, tailgaters, and anglers. It also offers parallel connection functionality thereby making it possible to double up its power output for heavy demands, for instance, in construction sites.
Wondering whether this is the best inverter power generator for your needs and budget? Let's dig a bit deeper into its specs and features with this WEN 56200i generator review.
Who should buy WEN 56200i?
WEN 56200i is a great choice for people who are looking for a super quiet portable generator. The US Department of Health and Human Services compares its noise level to that of a standard conversation between 2 people. This means that you can use it for most outdoor activities that call for a low-noise generator such as camping, RV-ing, tailgating, and angling.
Understand your wattage requirements first, though. If your appliances and equipment will require more than 2000 watts of starting power and 1600 of running watts, you need to look for a powerful alternative or buy 2 of this generator as it supports parallel connectivity.
Key Features
Cleaner Power (<1.2% THD) – The WEN 56200i has a built-in inverter that consistently smooths the DC power produced into a much cleaner alternating current that does not fluctuate as much as the power from regular generators does. For the record, this generator is capable of limiting its Total Harmonic Distortion to under 1.2% when loaded. This makes it much safer for vulnerable gadgets that you might want to think twice before plugging directly into a regular portable generator; tablets, laptops, cellphones, and TVs.
Eco-Mode – The Economy Mode (shortened to Eco-mode) is hands down the best feature of this generator. Its role is to make what's already an efficient generator ultra-efficient. This mode tends to strain the engine so that it produces just enough power for the load at hand- and this leads to reduced fuel consumption. To put this into context, while this generator is engineered to offer a runtime of 6 hours at half-load with its 1-gallon tank, the eco-mode can stretch this to over 10 hours when powering a light load.
Parallel Connection Ports – The WEN 56200i may not be powerful enough to juice up a range of small hand equipment at a work environment simultaneously. But you can double up its power output by connecting it to another WEN. This way, you get double the number of starting and running watts while still keeping the price tag at way below what the Honda EU2000i costs.
Specification
| | |
| --- | --- |
| Starting Watts | 2000 watts |
| Running watts | 1600 watts |
| Noise Level | 51 dB at 25% load |
| Fuel Type | Gasoline |
| Runtime | 6 hrs 1/2 load |
| Tank Size | 1.0 gal |
| THD | <1.2% at 100% load |
| Dimensions | 18 x 18 x 18 (in) |
| Weight | 48 lbs |
| Engine Displacement | 79.7 cc |
| Starting Method | Recoil |
| Outlets | (1) 12V DC 8.3A, (2) 120V 20A three-prong receptacles, and (1) 5V USB Port |
| Warranty | 2 |
| Certificates | EPA III, CARB |
WEN 56200i Generator Review
Power Output and Capability
A generator's output (starting and running watts) is the most important thing that you need to consider before clicking 'buy' or swapping your credit card. Basically, these 2 values determine whether or not the generator will power your intended appliances, equipment, or power tools.
The WEN 56200i is fitted with a 79.7 cc 4-stroke OHV engine that produces 2000 watts of starting power and 1600 watts of running power. These numbers seem quite small if you to compare them to what most regular generators offer.
But you'll still be able to run most common household appliances including freezers, refrigerators, lock dryers, coffee makers, microwaves, a sump pump, and low-power ACs. The only twist, however, is that you may not be able to run all of them concurrently.
Hint: to determine the units that you can run together, multiply the Amp rating of each unit by the voltage.
When RV-ing, you could use this generator to top off your deep cycle house battery from which you can draw power for your appliances.
As a camper, you should be able to watch TV, run a small fan, make coffee, and charge a phone and a laptop simultaneously.
Performance
This generator uses inverter technology- so, the quality of its power is unquestionable. The WEN 56200i has a Total Harmonic Distortion of <1.2% which is the highest quality that you can get from an inverter.
Put in other words, this is almost as clean as the power you get from the grid or from a high-end standby type generator. This power quality allows you to power all your electronics that feature ultra-sensitive microprocessors including LCD screens, TVs, and medical devices among others.
Switching gear to efficiency, this generator's run time will depend on the load. Its 1-gallon tank will last you roughly 4 hours at full load (1600 watts) and 6 hours at 50% load.
Convenience
Everything about this generator tends to point at convenience from the recoil starter that fires it up in utmost 2 pulls (or 4 during very cold weather), to its lightweight and compact design (48 pounds) that make portability a non-issue.
The WEN 56200i is much quieter too and produces 51 decibels when running at quarter load. Although it does get louder at over 75% load capacity, its 55-decibel noise level is still much quieter compared to regular generators that can get as loud as 75 dB.
This generator's control panel isn't the most eye-catching, but it is impressively very easy to use. It consists of;
3-in-1 (Off-On-Choke) switch
Eco-mode switch
3 Indication lighting to alert you on when the engine oil is low, when you've overloaded the generator, and when power has been supplied to the ports
Energy switch- to engage the choke before pulling the recoil starter
Grounding nuts for use whenever necessary
The WEN 56200i also has most of the ports that you'd need for a generator its size; (1) 12V DC 8.3A, (2) 120V 20A three-prong receptacles, and (1) 5V USB Port. These outlets have push-to-reset circuit breakers to protect the generator from overloads.
Maintenance is very easy too and everything has been laid out clearly in the manual. The major maintenance requirements include checking and replacing the oil, inspecting the spark plug and replacing it as necessary, and cleaning the air filter.
To add to its overall convenience, the manufacturer has also included everything that you'll need to get the generator working from the word go;
Nicely detailed manual
Tool kit for easy assembly and maintenance
Oil funnel
12v DC battery charging cable
Dependability and Reliability
Inverter generators are generally very dependable provided you keep your wattage demands within their ability.
The 2000-watt starting and 1600-watt running power of the WEN 56200i coupled with its low noise operations mean that you can take and use it pretty much anywhere. This includes federal campgrounds that allow generators that emit 59 dB and below during the day.
In addition, you can also use this generator at altitudes of up to 8000 feet above sea level. The manufacturer, however, recommends using this altitude kit to keep the generator's fuel economy and general performance from plummeting.
Lastly, you also get a 2-year warranty with the purchase.
Price
The WEN 56200i is among the latest releases in the inverter generator market and has managed to include all the important features that one would want to see in these models. But what's so impressive is that it comes at a fraction of the cost of its biggest rival, the Honda EU2200i, although both are offering similar features and wattage.
Drawbacks
This generator does come with a few snags but not deal breakers:
Shorter runtime- this generator's 4-hour runtime at 100% might be an issue if you plan to leave it running throughout the night
To check the oil level, you'll need to unscrew the entire side panel
Although it's relatively lightweight at 48 lbs, most people might appreciate a set of wheels
Alternatives
Should you want more power than the WEN 56200i can output and don't mind spending a pretty penny, the Honda EU3000iS might be a great investment. This generator is among the most powerful inverters and outputs 3000 starting watts and 2800 running watts.
The Champion 3400 Watt generator is another very recommendable option if you'd like the versatility of a dual-fuel inverter generator. What I like most about this generator is its 14.5-hour runtime at ¼ load and a wheel kit that makes it very portable.
Conclusion
An inverter generator is a huge upgrade from regular generators if you want a power backup supply minus most of the gas and noise emissions that the latter come with. These generators are very easy to use and maintain and are usable pretty much anywhere.
Although it's not the most powerful in the bunch, the WEN 56200i makes a solid buy for campers, tailgaters, and anglers. Its parallel connection capability also allows you to link 2 generators when you need more than 2000 watts.
if you are still not sure whether this is the right model for you, check our detailed WEN generator review where we've listed and reviewed other models of the brand.
WEN 56200i Super Quiet Inverter Generator