The name Westinghouse is synonymous with power generation. This brand of generators was started back in 1886, and it's owned by Westinghouse Electric Company. For a manufacturer that has been around for well over a century, it's not a surprise that its lineup consists of all sorts of power generators from traditional open-frame to inverter and solar power machines.
Westinghouse generators also boast pretty much all the technologies that you'd want to have in a modern power engine. But everything boils down to one question: are Westinghouse generators any good?
That's what we'll be finding out in this Westinghouse generator review. We'll zoom in on these generators' quality, reliability, and major strengths and problems. Our team has also identified a couple of the best-rated Westinghouse generators that you can buy today.
Westinghouse Generators Comparison (Our Top Picks)
| Generator | Rating | Starting Watts | Running Watts | Inverter | Fuel Type | Run Time (25% load) | Noise Level | Dimensions (in) | Weight (lbs) | CARB Compliant | View at Amazon |
| --- | --- | --- | --- | --- | --- | --- | --- | --- | --- | --- | --- |
| Westinghouse iGen2200 | 5/5 | 2200 | 1800 | yes | Gasoline | 12 hrs | 52 dBA | 19.8 x 11.4 x 17.9 | 46 | yes | See it |
| Westinghouse iGen4500 | 4.9/5 | 4500 | 3700 | yes | Gasoline | 18 hrs | 52 dBA | 24.5 x 17.5 x 20.5 | 98 | yes | See it |
| Westinghouse WGen7500DF | 4.9/5 | 9500 (gasoline), 8550 (propane) | 7500 (gasoline), 6750 (propane) | no | Gasoline, Propane | 16 hrs (gasoline), 11 hrs (propane) | 74 dBA | 27.2 x 26.5 x 26 | 194 | yes | See it |
| Westinghouse WGen9500 | 4.8/5 | 12500 | 9500 | no | Gasoline | 17.5 hrs | 73 dBA | 27.2 x 26.5 x 26 | 220 | yes | See it |
| Westinghouse WGen3600DF | 4.7/5 | 4650 (gasoline), 4180 (propane) | 3600 (gasoline), 3240 (propane) | no | Gasoline, Propane | 18 hrs (gasoline), 20 hrs (propane) | 69 dBA | 24 x 23 x 21.5 | 109 | yes | See it |
Distinguishing Features of Westinghouse Generators
Characterized by a blue and black color combination. A few jobsite Westinghouse generators have a black and gray theme, though.
Westinghouse generator engines are designed in the USA but manufactured in China.
Power output ranges from 1200w to 12000w.
Choke is either manual or automatic.
Some generators have Smart Idle to reduce fuel consumption.
Most generators have an electric start, remote ready.
Some have a dual-fuel configuration.
Most of them are CARB and OSHA compliant.
Pricing
Westinghouse generators are in the mid-range of the price spectrum. They are not as cheap as Champion and WEN generators. But then again, they are way affordable compared to other high-end brands, such as Honda, CAT, and DeWalt. In general, expect to pay around $350 for the cheapest Westinghouse generator and about $2500 for the priciest models. The average price for an all-rounder Westinghouse generator is about $900.
Are Westinghouse Generators Good?
Westinghouse generators are among the best-rated on the market today. Most models get a star rating of 4 and above (as 5 being the best) and hundreds of positive reports.
Saying that these generators are easy to assemble and use will be an understatement. The instructions are documented in the manuals and are easy to understand for anyone. Also, in almost every generator that we've encountered, the control panel is nicely laid out, and every feature is clearly labeled. We also appreciate that Westinghouse never forgets to include a lifetime technical support telephone number somewhere on the control panel. So, in case you have an issue running your generator, help is always a dial away.
Performance-wise, Westinghouse generators crank, start and run smoothly. Importantly, most of these generators don't bog down easily, unless there's a mechanical issue with the engine.
A major complaint about Westinghouse generators is that they are notably heavier than most of their comparable contenders. While this is true, we attribute the additional weight to the durable cast iron sleeve that Westinghouse uses for the engines and the heavy-duty frame, handles, and wheels. All of these add to the overall durability of the generator, which is a good thing.
Pros
Start and run smoothly
Very easy to assemble and use
Engineered for durability
Designed with ergonomics in mind
Most of them are EPA and CARB compliant
Cons
A few of them lack the 12v outlet
Engines are manufactured in China
They are not the cheapest
Best Westinghouse Generators Reviews
Westinghouse iGen2200 Portable Inverter Generator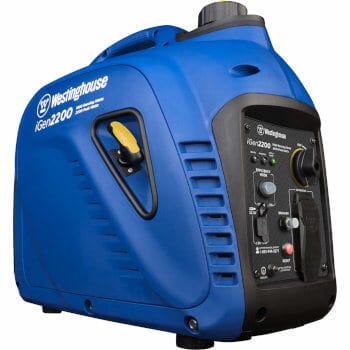 Incredible runtime of 12 hours
CARB, EPA, and USFS compliant
Starts and runs easily
Engine runs quietly
Compact and lightweight
Lacks a 12v port
Doesn't have a fuel gauge
Westinghouse iGen2200 Specifications
Starting Watts
2200
Running Watts
1800
Noise Level
52 dBA
Fuel Type
Gasoline
Tank size (gal)
1.2
Run Time
12 hrs at 25% load
Dimensions (in)
19.8 x 11.4 x 17.9
Weight (lbs)
46
Emissions
CARB, EPA
The Westinghouse iGen2200 is a popular unit in most tailgating parties, and RV and camping grounds. With a power output of 2200 peak watts and 1800 watts, this generator will also come in handy when powering a light load during emergencies and at job sites. This is an inverter generator, so it's incredibly efficient, quiet, and compact.
Westinghouse iGen4500 Inverter Generator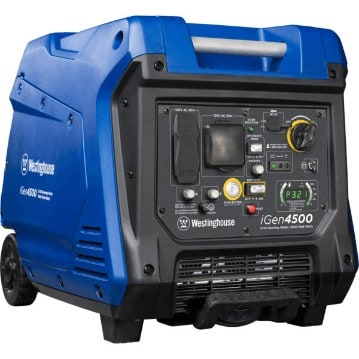 Remote start function
Has an automatic choke
A LED display adds to the convenience
Relatively quiet
Starts easily
It's not parallel capable
Doesn't have a 12v outlet
Westinghouse iGen4500 Specifications
Starting Watts
4500
Running Watts
3700
Noise Level
52 dBA
Fuel Type
Gasoline
Tank size (gal)
3.4
Run Time
18 hrs at 25% load
Dimensions (in)
24.5 x 17.5 x 20.5
Weight (lbs)
98
Emissions
CARB, EPA
One of the most reputable inverter generators on the market today, the Westinghouse iGen4500 manages up to 4500 watts of peak power and 3700 running watts. In that case, you can comfortably rely on it to run a couple of your household appliances during an outage. Among its notable highlights include a rotational digital display, remote start option, automatic choke, and a runtime of up to 18 hours.
Westinghouse WGen7500DF Dual Fuel Portable Generator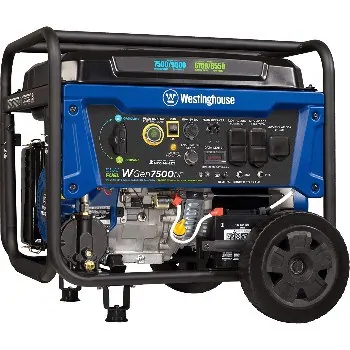 Packs a punch in power output
Has remote start function
Dual-fuel configuration
Straightforward control panel
Fuel efficient
Quite loud at 64 dB
Heavy at 200 lbs
A few complaints regarding start-up
Westinghouse WGen7500DF Specifications
Starting Watts
9500 (gasoline), 8550 (propane)
Running Watts
7500 (gasoline), 6750 (propane)
Noise Level
74 dBA
Fuel Type
Gasoline, Propane
Tank size (gal)
6.6
Run Time
16 hrs (gasoline), 11 hrs (propane) at 25% load
Dimensions (in)
27.2 x 26.5 x 26
Weight (lbs)
194
Emissions
CARB, EPA
The WGen7500DF is a fantastic generator for a couple of reasons. Consider its massive power output, for instance. With 9500 peak watts and 7500 running watts, it's hard to imagine what this generator can't power in your home or at a job site. What's even more appealing is its dual-fuel configuration: you can run it on either gasoline or propane gas. Again, the Westinghouse WGen7500DF has a remote start function, and it's EPA and CARB compliant.
Westinghouse WGen9500 Portable Generator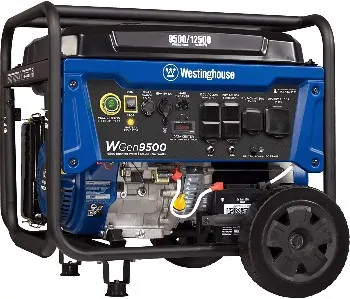 Push-button and remote start functions
LED digital hour meter
Plenty of power
Relatively affordable for what it is
Easy to use
Westinghouse WGen9500 Specifications
Starting Watts
12500
Running Watts
9500
Noise Level
73 dBA
Fuel Type
Gasoline
Tank size (gal)
6.6
Run Time
17.5 hrs at 25% load
Dimensions (in)
27.2 x 26.5 x 26
Weight (lbs)
220
Emissions
CARB, EPA
This is one of the most powerful Westinghouse generators that are still classified as portable. It maxes at 12500 peak watts before levelling at 9500 watts. To complement its high power output, the WGen9500 is transfer switch- and RV-ready. It also has two 5v USB ports in addition to its standard outlets. That's to say that you can use it for nearly any power needs. Other great features include a remote start function, a 12-hour runtime, and a digital hour meter.
Westinghouse WGen3600DF Dual Fuel Generator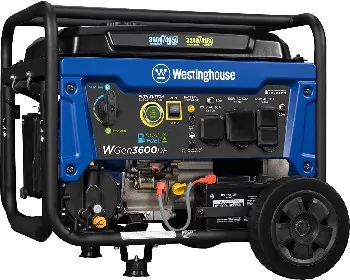 Dual fuel
RV ready
Electric push-button and remote start
EPA and CARB compliant
Starts easily
Loud (but not noisy)
No data center
Westinghouse WGen3600DF Specifications
Starting Watts
4650 (gasoline), 4180 (propane)
Running Watts
3600 (gasoline), 3240 (propane)
Noise Level
69 dBA
Fuel Type
Gasoline, Propane
Tank size (gal)
4
Run Time
18 hrs (gasoline), 20 hrs (propane) at 25% load
Dimensions (in)
24 x 23 x 21.5
Weight (lbs)
109
Emissions
CARB, EPA
The Westinghouse WGen3600DF uses a 212cc 4-stroke engine that emits 4650 peak watts and 3600 rated watts. But that's when you're running it on gasoline. You can also connect it to a propane tank, and you'll get 4180 peak watts and 3240 running watts. This generator has 4 power outlets, push-button and remote start options, and an automatic low oil shutoff. Even better, it's EPA and CARB compliant, and it comes with a 3-year warranty.
About Westinghouse Brand
Westinghouse generators are made by Westinghouse Outdoor Power Equipment part of Westinghouse Electric Corporation. The company has a history of more than 130 years. Besides portable generators, it also deals with lots of other power-related tools, including lawn and garden tools and pressure washers.
Frequently Asked Questions
Who makes Westinghouse Generators?
Westpro Power Systems. Westinghouse generators are manufactured and distributed by Westpro Power Systems, an American company located in Pewaukee, WI.
Where are Westinghouse generators made?
China. All the research and design of Westinghouse generators are done in the USA. But manufacturing is carried out by MTD in China.
Where to buy Westinghouse generators?
You can purchase a Westinghouse generator directly from the manufacturer's official website. Also, you can buy Westinghouse generators from Amazon, Home Depot, Lowe's, Walmart, and Sam's Club among other dealers listed here.
What warranty does Westinghouse offer for its generators?
For household and recreational use, Westinghouse generators have a 1-year warranty that covers parts and labor. Besides, you get a 2-3-year warranty on all replaceable parts. For commercial applications, Westinghouse covers parts and labor for 1 year only.
Which is the best oil for Westinghouse generators?
Westinghouse recommends 10w-30 oil for its portable and inverter generators. However, you should use 5w-30 in areas that are mostly below zero temperatures.
Conclusion: Should You Buy a Westinghouse Generator?
If you are on the fence about purchasing a Westinghouse generator, we can confidently advise you to. These generators are generally well made and are of high quality. Actually, this is one of the brands that most people go for when they want 'Honda-quality' but at a budget.
The Westinghouse WGen9500 is usually our first pick for homeowners who want a generator that they can use both at home and a worksite. If you want a versatile Westinghouse generator that will keep an average home powered during a blackout, the WGen3600DF should fit the bill. Lastly, for tailgating parties, RV-ing, and camping, the iGen4500 or iGen2200 will make a reliable choice depending on your power needs.
So, that's it for this Westinghouse generators review. If you'd like more options before committing to Westinghouse, check our  Duromax generator reviews or Pulsar generator reviews.
Latest Westinghouse Generator Reviews: