A-iPower is an American generator brand headquartered in Los Angeles, California. This manufacturer has been around for around 20 years and has 2 major generator lineups differentiated by their prefixes.
Its original generators have names starting with SU, while the newest line starts with SUA. Generators in both of these lines are characterized by a rugged steel framework and large never-flat tires that create a perception of sturdy construction.
For this A-iPower generators review, we'll look beyond the design and into the features of these generators. We'll also give you a clearer picture of how these portable generators work and whether or not they are reliable.
If you've already made up your mind and are looking for suggestions of the best A-iPower generator to buy, we've highlighted a few models that seem popular with most people.
A-iPower Generators Comparison (Our Top Picks)
Distinguishing Features of A-iPower Generators
Electronic Fuel Injection (EFI) System– unlike carburetor engines, A-iPower generators with an EFI system have excellent air/fuel ratio optimization, which results in improved hot and cold ignition performance. This system also boosts runtime by enhancing fuel efficiency.
Rugged framework– these portable generators are easily distinguishable thanks to their unique and nicely welded frame construction.
Port covers– A-iPower generators have port covers that prevent dust and debris from collecting inside with only a few exceptions.
Dual fuel– in one of its releases (SUA12000ED), A-iPower gives you the option of running the generator on either propane or gasoline.
Electric– the E in most of these generators' name signifies that the generator has an electric starter besides a recoil. A-iPower is yet to introduce a remote start generator, though.
Pricing
The prices of A-iPower portable generators vary between $300 and $2600 but just a few models exceed $1200. The average price for these generators is around $665. At this price range, you're assured of a generator that's in the middle of the road in features, portability, and power output.
Are A-iPower generators good?
A-iPower portable generators are overall great products. This manufacturer seeks to fill the vacuum created by the need for affordable generators that meet the consumer's performance and reliability needs. In our analysis of the construction details and performance, we believe that A-iPower has filled this gap successfully.
From a construction quality point of view, A-iPower generators have an attractive frame design and nicely laid out control panel. Except for inverter generators, all other models have rugged non-air wheels and foldable handles for easy portability and maneuverability.
These generators are very easy to start, and they run smoothly too. But what's even more important is that their engines are incredibly fuel-efficient.
We didn't come across any significant complaints regarding performance and durability when analyzing current A-iPower generator reviews and feedback. However, we have to mention that these generators are often heavy, perhaps due to the heavy-duty frame, handlebars, and wheels. In addition, a few of them can get a little bit loud, although not to annoying levels.
Pros
Fuel-efficient engines
Generators are sturdily built
Intuitive control panel
Sturdy wheels and foldable handles make maneuverability easy
Cons
These generators are generally heavy
A few of them tend to be loud
Best A-iPower Generators Reviews
A-iPower SUA2000iV Portable Inverter Generator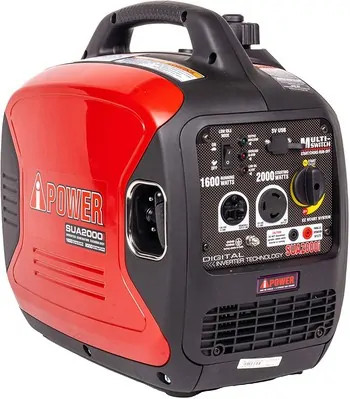 Lightweight
Compact
Impressive design with intuitive controls
Has a fuel gauge
Quiet
Adding oil requires removing the side panel
A-iPower SUA2000iV Specifications
Starting Watts
2000
Running Watts
1600
Noise Level
58 dBA
Fuel Type
Gasoline
Tank size (gal)
1.1
Run Time
7 hrs at 50% load
Dimensions (in)
22 x 13 x 20
Weight (lbs)
46
Emissions
CARB, EPA
Weighing around 46 lbs, the SUA2000iV is probably what you need for your Rving, picnics, camping, and tailgating needs. This inverter generator's super compact design and quiet operations further make it an excellent pick for other uses that require a light and compact generator. The SUA2000iv uses a 79cc engine that produces 2000 surge watts and 1600 running watts. It has a low (idle) mode to boost efficiency and parallel capability for double the power. It also has a fuel-gauge to alert you on when it's time to refuel.
A-iPower SUA12000E Generator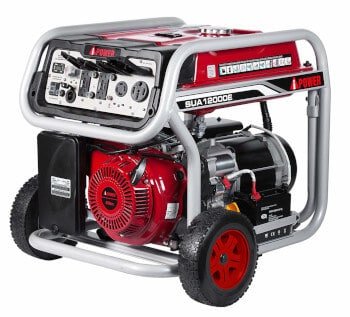 Incredible fuel efficiency
Lots of power for versatile usage
Has an electric start
Excellent quality at a reasonable price
It's heavy
Can be loud
Not CARB compliant
A-iPower SUA12000E Specifications
Starting Watts
12000
Running Watts
9000
Noise Level
78 dBA
Fuel Type
Gasoline
Tank size (gal)
7
Run Time
9 hrs at 50% load
Dimensions (in)
27.6 x 27.2 x 25.6
Weight (lbs)
216
Emissions
EPA
Our second recommendation goes to construction contractors and home and business owners looking for a powerful generator at a reasonable price tag. The A-iPower SUA12000E is powered by a mighty 459cc engine capable of outputting 12000w of surge power and 9000 running watts. We believe this generator will make an incredible power backup station at home and in most business premises. Its high surge power also makes it an incredible unit for most off-grid construction sites. The A-iPower offers a runtime of 9-12 hours from its 7-gallon tank and has an electric one-touch push start button.
A-iPower SUA12000EC Gas-powered Generator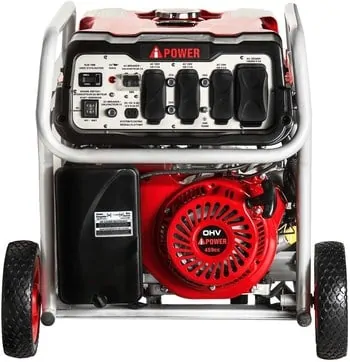 Lots of power
CARB, EPA, and CSA approved
Multiple outlets with cover
Electric start (battery included)
Multiple outlets
Heavy at 221 lbs
A little noisy
A-iPower SUA12000EC Specifications
Starting Watts
12000
Running Watts
9000
Noise Level
78 dBA
Fuel Type
Gasoline
Tank size (gal)
7
Run Time
8.5 hrs at 50% load
Dimensions (in)
29 x 22 x 26
Weight (lbs)
221
Emissions
CARB, EPA
Similar to the SUA12000E above, the SUA12000EC uses a 459cc engine with 12000 starting watts and 9000 running watts. That's to say that you can rely on it for most of your medium-to-high power needs at home or outdoors. It also has an electric keyless electric start in addition to the recoil start. The significant difference that the SUA12000EC brings is its EPA, CARB, and CSA certifications. This means that it's available for sale in all 50 states plus Canada.
A-iPower SUA4500 Portable Generator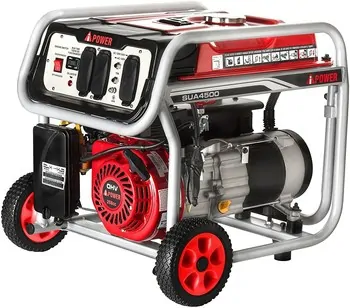 Fuel efficient
Has a built-in fuel gauge
A sweet spot in size and power
Comes RV-ready
Not CARB-compliant
Relatively loud
A-iPower SUA4500 Specifications
Starting Watts
4500
Running Watts
3500
Noise Level
68 dBA
Fuel Type
Gasoline
Tank size (gal)
4
Run Time
11 hrs at 50% load
Dimensions (in)
24.5 x 22.8 x 22.6
Weight (lbs)
111
Emissions
EPA
The SUA4500 offers a sweet spot in terms of affordability and performance. This unit is fitted with a 208cc 4-stroke engine capable of outputting 4500 starting watts and 3500 running watts. This is enough power to run most appliances and power tools around your home and in a construction site. Its 30 amp RV adapter coupled with its power performance again makes it a great pick for most RVs. A key strength of this generator is its fuel efficiency. With its 4-gallon fuel tank full, the A-iPower SUA4500 offers runtimes of up to 11 hours at 50% load.
A-iPower SUA8000i Portable Inverter Generator
Easy push-button electric start
Super-efficient
Powerful for most applications
Quiet
Adding oil requires removing the side panel
Hefty (230 lbs)
A-iPower SUA8000i Specifications
Starting Watts
8000
Running Watts
7000
Noise Level
65 dBA
Fuel Type
Gasoline
Tank size (gal)
6.7
Run Time
13 hrs at 50% load
Dimensions (in)
29 x 24 x 28
Weight (lbs)
231
Emissions
CARB
The SUA8000i is among the most powerful inverter generators on the market today, the best of which we've ranked on our inverter generator reviews page. It's powered by a 459cc engine that averages 8000 peak watts and 7000 running watts. This power performance makes it the ultimate inverter generator for most applications around the home and outdoors. This generator features a 6.7-gallon tank from which it manages a 6.5-hour runtime at full load and around 13 hours at 50% load.
About A-iPower Brand
A-iPower Corp. is a relatively small American company with its headquarters in Ontario, California and an engineering facility in Charlotte, North Carolina. This company was founded in 2009, so it's comparably a fresh face in the generator business. However, within the short time that it has been around, A-iPower has managed to create a full line of portable generators, most of which are doing impressively well in power output and fuel efficiency.
Besides portable generators, A-iPower also makes power tool engines, pressure washers, and water pumps.
Frequently Asked Questions
Who makes A-iPower generators?
A-iPower generators are made and owned by the American company A-iPower Corp.
Where are A-iPower generators made?
While some of the components are designed and engineered in the USA, A-iPower generators use China-made engines.
Where to buy A-iPower generators?
You can purchase an A-iPower portable generator from Amazon.com, Lowe's, Target, Walmart, and Costco and other dealers listed here.
What warranty does A-iPower generator come with?
A-iPower Corp. offers a 2-year warranty with most of its generators.
Which is the best oil for A-iPower generators?
A-iPower generators use SAE 30 oil, but you can also use its synthetic variations- SAE 5W 30 and SAE 10W-30.
Conclusion: Should You Buy a A-iPower Generator?
A-iPower is one of our most recommendable brands for people who want a great portable power generator at a decent price range. These generators are not as popular as other brands but we expect this to change in a couple of years judging from their unique construction design, fuel efficiency, and reliable operations.
From our list of the best A-iPower generator reviews, the A-iPower SUA12000EC scored the highest marks in high power output, usability, and certifications. On the other hand, the A-iPower SUA4500 might make the best choice if you want a generator that is mid-range in pricing and power output. For those looking for an affordable inverter generator, the SUA2000iV model is worth considering.
Lastly, if you've not decided on the brand yet, you may want to compare what other competitor manufacturers have to offer. For models in the same price range as A-iPower, check our Firman generators reviews or Duromax portable generators review. For other generator brand reviews, check this page here or use the navigation menu.