An RV offers a great way to explore the word together with friends or family. Your time outdoor is even more adventurous if you have a quiet RV generator to keep your electrical appliances running. Having a reliable generator makes it possible to avoid congested camping grounds and venture deep into the unknown lands, all while enjoying the comfort of modern-day living.
To help you narrow down to the best RV generator for you, I've reviewed 5 of the top-rated models currently on the market. For first-time buyers, I'll also teach you how to choose the best portable generator for 30 Amp and 50 Amp RV.
Our Top Picks
Best Overall
Champion 3400-Watt
RV-ready
Dual-fuel
Compact
Premium Pick
Westinghouse iGen4500
Tons of power
Remote start
Quiet
The Best RV Generators at a Glance:
*The links in the list lead to the generators' listings on Amazon.
Check the comparison table for more details.
What size generator for an RV?
There are two critical aspects that you need to consider first when buying a portable generator for RV:
the amount of power required to run all the appliances in the RV
your RV's electrical system.
Evaluating power requirements
Figure out the amount of power that the camper appliances will need in order to determine what size of RV generator to buy. For instance, an RV refrigerator requires 400-1000 watts, toaster 1150 watts, microwave 1000 watts, laptop 250 watts, and TV 600 watts.
Adding up all these power requirements helps you determine the minimum number of watts required and the right size generator for your RV appliances.
RV electrical system (30 Amp vs 50 Amp)
An RV's electrical system may be designed with either a 30 Amp or 50 Amp service. The major differences between these 2 systems lie in the type of plugs used, which consequently determines the maximum wattage available in the line.
In a 30 Amp RV, the plugs have 3 wires: one 120v hot wire, a ground wire, and a neutral wire. On the other hand, in a 50 Amp RV, the plugs have 4 prongs: two 120v hot wires, a ground wire, and a neutral wire.
The maximum wattage that these 2 services can offer is expressed using the formula: Wattage=volts x amperage.
In a 30 Amp system, the maximum wattage would be 120 volts x 30A which is 3600 watts.
For a 50 Amp system, the total wattage would be 2 x 120 x 50A, which is 12000 watts.
As you can see, a 50 Amp service carries a lot more power than a 30 Amp system. That's why a 30 Amp service is usually fitted in an RV with minimal power requirements while a 50 Amp one is used in big RVs with higher wattage needs.
Best size generator for a 30 amp RV
As the calculations above illustrate, if your RV is fitted with a 30A plug service, the maximum wattage that you can draw is 3600 watts. This means that even if the generator outputs 5000 watts, all the excess wattage (that is, 1400 watts) will go to waste. As such, it only makes sense to get a 30 Amp generator that offers around 3600 watts, for instance, the Wen 56380i.
Best size generator for a 50 amp RV
We've just learnt that a 50 Amp service can allow you to draw up to 12000 watts of power. However, you don't need such a powerful generator unless your appliances dictate so, in which case it might worth checking our guide on the best 50 amp generators.
The size of the generator will be determined by the total wattage requirements of your electrical items. Keep reading to learn how to calculate your devices' total wattage and what is the best size generator for a 50 amp RV.
Total wattage can be calculated by adding all the running watts of the appliances plus the highest starting watts on the list. For instance, assume that your RV has the following appliances with the indicated running and starting watts.
| Appliance | Running watts | Starting watts |
| --- | --- | --- |
| RV Refrigerator | 200w | 600w |
| 11,000 BTU AC | 1,010w | 1600w |
| 46'' Flat TV | 190w | 190w |
In the example above, the total wattage requirement would be 200w + 1,010w + 190w+ 1600w (highest starting watts) totaling to 3000w.
Of course, there are lots of other appliances that we've left out in the example above. For instance, you'll likely need a coffee maker, a laptop, a microwave oven, and a satellite receiver.
To cater to most of the essential appliances that a family would need when RVing, aim at a generator that outputs at least 4000 watts. An excellent recommendation here would be the Westinghouse iGen4500.
Best RV Generators: Reviews
* The list below includes 30 Amp generators only. For recommendations of what generators are best for 50 Amp RVs, check our article here.
Champion 100263 – Best Overall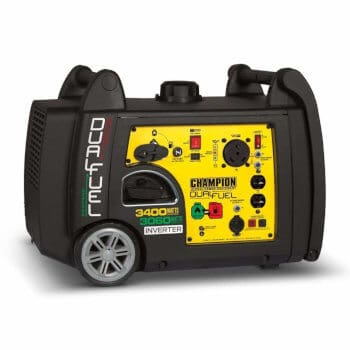 Dual fuel
Comes RV-ready
Quiet
Compact
Small wheels
Quite pricey
Champion 100263 Specifications
Starting Watts
3400 (gasoline), 3060 (propane)
Running Watts
3100 (gasoline), 2790 (propane)
Noise Level
59 dBA
Fuel Type
Gasoline, Propane
Tank size (gal)
1.6
Run Time
7.5 hrs @25% load (gasoline), 14.5 hrs @25% load (propane)
Dimensions (in)
25.1 x 17.3 x 18.3
Weight (lbs)
95.7
The Champion 100263 is a model that you'll find most people using in RV camps, but it's also common in boats, tailgating parties, and BBQ. While its popularity has something to do with its compact size, its dual-fuel versatility is another of its key strengths.
This generator can run on either gasoline or propane. With its 1.6-gallon tank full, the Champion 100263 offers a runtime of around 7.5 hours at quarter load. Using a 20-pound LPG tank, expect it to run for at least 14.5 hours.
This generator is fitted with a 192cc engine that outputs 3100 running watts and a surge power of 3400 watts. This wattage performance makes it an ideal option for running a variety of basic appliances in most RVs, including a 15000 BTU air conditioner. Its electricity comes out in a clean sine wave with less than 3% THD and should be ultra-safe for most sensitive appliances.
Considering its power output, the Champion is a perfect pick for RVers looking for the best 30 Amp RV generator. This makes more sense considering that it comes ready with a 120v 30A RV outlet. Other outlets are two 120v household outlets and a 12v DC outlet with dual USB adapters.
Westinghouse iGen4500 – Premium Pick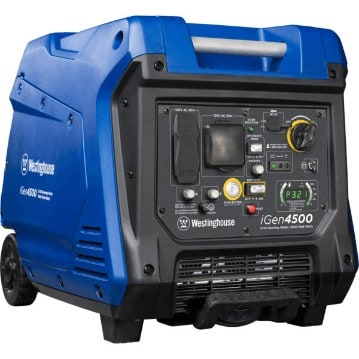 Tons of power
Extremely fuel-efficient
Quiet
Remote start
Westinghouse iGen4500 Specifications
Starting Watts
4500
Running Watts
3700
Noise Level
52 dBA
Fuel Type
Gasoline
Tank size (gal)
3.5
Run Time
16 hrs
Dimensions (in)
18 x 10 x 15.5
Weight (lbs)
93
One of the best inverter generator brands, Westinghouse has a solid reputation for engineering high-quality and reliable mini power plants. If affordability and higher power output are among your key considerations, then the iGen4500 is just what you need.
This is the most powerful unit in these reviews, and it's capable of generating 4500 watts of surge power and 3700 rated watts. Its high peak power means that you can start several power-hungry appliances and power tools at once. Its running power, on the other hand, makes it possible to run multiple high-power appliances, including 15,000 BTU AC, toaster, microwave, and refrigerator without minding so much about optimization. It comes with a TT-30 Amp outlet and also includes two USB ports and a 5-20R 120V duplex household outlet.
Now, it's very unlikely that you'll be drawing all the 3700 running watts of this generator continuously. In most instances, you are very likely to be using 25% of the total load, in which case the iGen4500 should keep your RV powered for around 16 hours from its 3.4-gallon tank.
Starting this generator is always a breeze thanks to its electric start but that's not all. Westinghouse iGen4500 is one of the best remote start generators. It has a wireless remote start, which means you can start it off without having to leave your RV. This feature could be very useful, especially when it's raining.
WEN 56380i – Budget Pick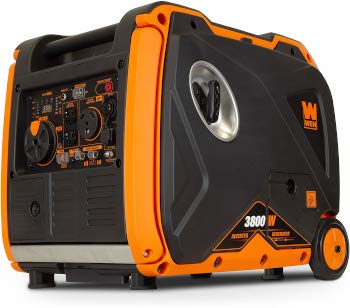 Relatively affordable
Dual starting options
Excellent fuel economy
Quiet
WEN 56380i Specifications
Starting Watts
3800
Running Watts
3400
Noise Level
57 dBA
Fuel Type
Gasoline
Tank size (gal)
2.2
Run Time
8.5 hrs
Dimensions (in)
23.2 x 18 x 20.1
Weight (lbs)
110
WEN 56380i is an EPA III and CARB-compliant gasoline-only inverter powered by a 212 cc engine. It made it as the best generator for travel trailers in another article of ours.
Despite being the most affordable model in these RV generator reviews, the Wen 56380i comes second in terms of power after the iGen4500. It peaks at 3800 watts before settling at 3400 continuous watts.
With regard to fuel economy, the Wen 56380i is actually one of the best given that it offers a full 8.5 hours from its 2.2-gallon tank at half load. Interestingly, it generates power without rattling the entire camping ground as its 57 noise decibel rating implies.
Its other key features include a 30A TT-30R twist lock receptacle, one 12v DC outlet, and one 5v USB port for phones and tablets. It also has two 120v household receptacles. I should also acknowledge its push-button and recoil starter options.
Wen 56225i – Best for Portability (Lightest)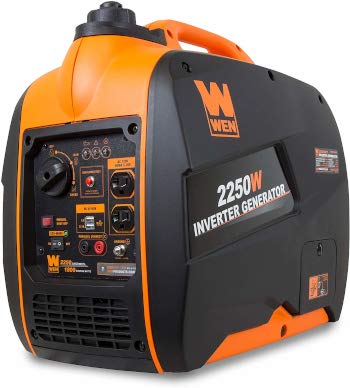 Light and compact
Ultra-quiet
Fuel efficient
Outputs clean energy
Changing oil can be challenging
Wen 56225i Specifications
Starting Watts
2250
Running Watts
1800
Noise Level
53 dBA
Fuel Type
Gasoline
Tank size (gal)
1
Run Time
10 hrs
Dimensions (in)
19 x 11.5 x 18.2
Weight (lbs)
48.5
Wen 56225i is engineered purposely for RVers who are after a small and lightweight generator. This generator weighs a mere 48.5 lbs and has a convenient handle for enhanced portability.
The Wen 56225i produces 1800 rated watts and 2250 surge watts. Not to despise it yet, this is enough power to start and run a 7000 BTU air conditioner that requires 1800 watts to start and around 600 watts to run. This means that you would still have a lot of juice left to power other basic appliances, such as a small refrigerator, TV, and even a toaster with proper optimization.
This is a gasoline-only generator only and offers 6 hours of runtime from its 1-gallon tank. It has a harmonic distortion of less than 1.2%, and it's one of the quietest RV generators considering its 53 dB operations at 75%.
Briggs & Stratton 30545 P3000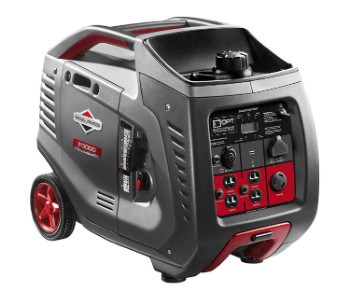 Incredible runtime
Parallel connectivity
Low noise level
Easily portable
Pricier than average
Not CARB-compliant
Low running watts for its price
Briggs & Stratton 30545 Specifications
Starting Watts
3000
Running Watts
2600
Noise Level
58 dBA
Fuel Type
Gasoline
Tank size (gal)
1.5
Run Time
10 hrs
Dimensions (in)
26 x 14 x 21
Weight (lbs)
85
Another 30 Amp RV generator that you are very likely to see in most camping sites is the Briggs and Stratton 30454 P300.
This model produces 21.7 running amps or 2600 watts to be precise. That being said, we'd only recommend it for use in small RVs with minimal power needs.
Its peak power is estimated at 3000 watts. So, there's no doubt that it will be able to start and run a 13,500 BTU RV air conditioner alongside several other appliances. Importantly, this model allows parallel connectivity, which provides over 5000 watts of running power.
Unlike the Champion 100263, the Briggs and Stratton P3000 inverter generator runs on gasoline only. The good news, however, is that with its 1.5-gallon fuel tank full, this model's 171cc engine can afford up to 10 hours of continuous power production at 25% load before refilling again.
This generator does not have an electric starter, but its engine picks from the first pull of the recoil almost all the time.
As far as noise is concerned, the P3000 is a quiet RV generator operating at around 58 dB measured from 23ft. Again, it's relatively lighter than most of its peers at 85 lbs, and moving it is super easy thanks to a telescopic handle and 6'' solid wheels.
Best Portable RV Generators: Comparison
Preview
Generator
Rating
Starting Watts
Running Watts
Fuel Type
Noise Level
Tank size (gal)
Run Time
Dimensions (in)
Weight (lbs)
Engine Displacement
Warranty
Champion 100263
5/5
3400 (gasoline),
3060 (propane)
3100 (gasoline),
2790 (propane)
Gasoline, Propane
59 dBA
1.6
7.5 hrs @25% load (gasoline),
14.5 hrs @25% load (propane)
25.1 x 17.3 x 18.3
95.7
192cc
3 years
Westinghouse iGen4500
4.8/5
4500
3700
Gasoline
52 dBA
3.5
16 hrs
18 x 10 x 15.5
93
224cc
3 years
Wen 56380i
4.7/5
3800
3400
Gasoline
57 dBA
2.2
8.5 hrs
23.2 x 18 x 20.1
110
212cc
2 years
Wen 56225i
4.6/5
2250
1800
Gasoline
53 dBA
1
10 hrs
19 x 11.5 x 18.2
48.5
79.7cc
2 years
Briggs & Stratton P3000
4.2/5
3000
2600
Gasoline
58 dBA
1.5
10 hrs
26 x 14 x 21
85
171cc
2 years
What to Look for When Buying an RV Generator
Choosing the best generator for RV camping is always daunting for first-time buyers. But it gets much easier once you understand what you need to check for. Here are the key features to consider when selecting a 30 Amp or 50 Amp RV generator:
Conventional vs Inverter
A traditional generator produces much more power than an inverter since the former uses a bigger engine and larger fuel tank. However, due to the way it generates its electricity, a conventional generator is noisier. Again, its electricity portrays a messy sine wave making it unsafe for sensitive devices.
Inverter generators, on the other hand, have more stable electricity with incredibly reduced distortion. As such, they are a safer power source for sensitive personal medical appliances, laptops, and phones. They are also relatively quieter and compact compared to their conventional alternatives.
However, keep in mind that inverters are generally expensive although their price is coming down year by year.
Power output
Of course, your choice of the best RV generator should be able to meet your RV's power needs. As a rule of thumb, the best generator for a 30 Amp RV should output power in the region of 3600 watts. On the other hand, while there's almost no limitation with a 50 Amp RV, a generator with at least 4000w should suffice.
Portability
For an RV, you would like to have a light generator with sturdy handles, so you can easily carry it around. For heavier portable generators, a pair of wheels is recommendable.
Noise
Noise in generators tends to correlate with power output and size of the engine. All in all, there are a few techniques that manufacturers employ to minimize noise production, including the use of mufflers and soundproof enclosures. Generally, a quiet RV generator has a noise level in the range of 49 lbs and 60 lbs.
Fuel consumption
Fuel economy is an important consideration when camping. Let's face it, you don't want a generator that keeps you searching for the nearest gas station near you. Therefore, consider how much fuel it consumes by determining its runtime in relation to the size of the fuel tank. The longer it runs before the need for refueling, the better.
Best RV Generator Brands
Besides all the critical features that we've discussed above, the brand also matters a big deal when hunting for the best portable generator for RV camping. Here are the most respected brands that you can rarely go wrong with:
Champion – its generators are highly-rated for their durability and relative affordability
Honda – Honda RV generators win in terms of quiet performance and portability
Yamaha – this is a renowned brand when it comes to reliability and availability of parts
Westinghouse – when looking for a happy medium between power output and affordability, Westinghouse generators, such as the iGen4500 should be your first consideration
Frequently Asked Questions
What type of fuel is ideal for RV generators?
Gasoline is the most preferred fuel for RV generators since it's easily accessible in most gas stations and it's also much more efficient. However, if you want a slightly greener option, propane will do. The only catch is that it may not be easily accessible in case it runs out.
How many watt generator to run RV air conditioner?
A portable generator between 2000W and 4000W should allow you to run a 10000 BTU RV AC alongside other appliances with ease.
Which is the best generator for RV air conditioner?
Champion 3400-watt generator would make a great choice. It can easily run a 13500 BTU AC, it comes RV ready, and is very easy to install.
How long do I need to run a generator to charge RV batteries?
For a battery with at least 20% charge remaining, the generator might take utmost 2 hours to charge it fully. However, if the battery is depleted, this process could take longer.
How can I prepare and maintain my RV generator for my travels?
To ensure that your RV generator performs as expected throughout the camping trip:
Be sure to lubricate it and change the oil at the manufacturer-recommended intervals
Always drain the fuel if you won't be using the generator for some time
Get it serviced by a professional regularly. It will cost a few dollars, but this saves you chunks of money that would have gone into repairs and replacement parts
Store it properly free from falling hazards, moisture, and water
How do I connect a generator to my RV?
To connect the generator to your RV, you'll need:
A grounding rod and pole driver
Copper wire
Here is how to connect it:
Use the pole driver to drive the rod into the ground where you plan to position the generator
Connect the generator and the grounding rod using the copper wire
Ensure that the generator's exhaust is facing away from the RV
Plug the RV's cable into the generator and turn it ON.
Conclusion
I hope our guide will prove useful when selecting a portable generator for your recreational vehicle (be it 30 or 50 Amp). All models in my RV generator reviews will serve you well but if I had to choose the best RV generator I would select the Champion 3400-watt model. It packs tons of power while still being compact for portability and quiet. In addition, it also offers a dual fuel functionality, which could prove quite useful when one type of fuel is not available.