If you're reading this WEN generator review, the chances are that you are eyeing a WEN generator, but you're not exactly sure whether it's the right decision. Join us as we dig into the distinguishing features of these generators and their significant strengths and weaknesses. Our team has also identified some of the best WEN generators that you might want to check out today.
WEN Generators Comparison (Our Top Picks)
| Generator | Rating | Starting Watts | Running Watts | Inverter | Fuel Type | Run Time (50% load) | Noise Level | Dimensions (in) | Weight (lbs) | CARB Compliant | View at Amazon |
| --- | --- | --- | --- | --- | --- | --- | --- | --- | --- | --- | --- |
| WEN 56200i | 5/5 | 2000 | 1600 | yes | Gasoline | 6 hrs | 50 dBA | 18 x 11 x 18 | 50 | yes | See it |
| WEN 56380i | 5/5 | 3800 | 3400 | yes | Gasoline | 8.5 hrs | 57 dBA | 23.2 x 18 x 20.1 | 99.2 | yes | See it |
| WEN 56225i | 4.9/5 | 2250 | 1800 | yes | Gasoline | 6 hrs | 53 dBA | 18 x 11.5 x 18.2 | 48.5 | yes | See it |
| WEN DF1100T | 4.8/5 | 11000 (gasoline), 9500 (propane) | 8300 (gasoline), 7500 (propane) | no | Gasoline, Propane | 8.5 hrs (gasoline), 3 hrs (propane) | 72 dBA | 27.3 x 20.6 x 21.9 | 213.8 | yes | See it |
| WEN DF475T | 4.7/5 | 4750 (gasoline), 4350 (propane) | 3800 (gasoline), 3500 (propane) | no | Gasoline, Propane | 11 hrs (gasoline), 7 hrs (propane) | 69 dBA | 23.2 x 17.5 x 18.5 | 105.8 | yes | See it |
Distinguishing Features of WEN Generators
These generators are characterized by a black-orange theme, although some are in black and yellow.
Wattage output ranges from 1250w to 13000w.
Most of the recent releases offer the versatility of switching from gasoline to propane.
Most of the open-frame generators have a rugged wheel kit with never-flat tires for portability. For those that don't ship with the wheels, there's an option to purchase the kit separately.
Some of the generators have a V.F.T digital meter display that shows Voltage, Frequency, and running Time.
Most WEN generators are EPA and CARB compliant. A few of them aren't certified by CARB and can't be sold to California, though.
Pricing
WEN generators are generally affordable compared to most of their similarly sized competitors. Expect to pay around $200 for the cheapest WEN generator and around $1600 for the most expensive model. The average price for a WEN generator is about $540. As it's usually the case, WEN inverter generators are slightly pricier than their open-frame counterparts.
Are WEN Generators Good?
From a reliability point of view, WEN generators are a good investment, especially for their price. One thing that you'll realize is that WEN prefers putting everything functional but straightforward.
They rarely bombard their products with complicated features and functions that would otherwise take the price of the generator unnecessarily higher. Most of these generators have the essential features that you would want in an easy-to-use and reliable generator. That's how WEN is able to offer high-power, dual fuel generators at competitively lower price tags.
WEN generators also score good marks in terms of build quality and performance. The frame appears nicely welded, and there are barely any complaints regarding loose parts. Going through most WEN generator reviews and feedback from current users, it's clear that these generators start smoothly and run well. Most homeowners also report that these generators are excellent performers in terms of fuel economy.
The only complaint, especially with most of the open frame WEN generators is that they are usually loud. Most of its large generators tend to be in the noise range of 66-82 dB, which is generally high. Some generators have eco mode, though, which helps in lowering the noise output. If noise is a concern, consider getting generators with eco mode or those that use inverter technology or check our article about the best quiet generators.
Pros
Comparatively inexpensive
Simple design and straightforward to use
Most of the generators start and run smoothly
Quality engine, frame, and wheel kit construction
Generators are relatively lightweight
Some models offer dual fuel compatibility
Cons
Some open frame generators can be very loud
Reports of excessive oil consumption with some models
Best WEN Generators- Reviews
WEN 56200i Inverter Generator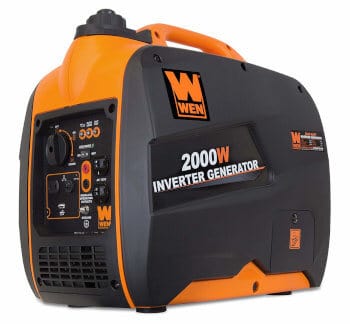 Inexpensive
Starts easily
Incredible runtime per gallon of fuel
Attractive design
It comparably loud
Relatively tall
WEN 56200i Specifications
Starting Watts
2000
Running Watts
1600
Noise Level
50 dBA
Fuel Type
Gasoline
Tank size (gal)
1
Run Time
6 hrs at 50% load
Dimensions (in)
18 x 11 x 18
Weight (lbs)
50
Emissions
CARB, EPA
WEN 56200i inverter generator is viewed by many as the best clone for the Yamaha EF2000is. Actually, this generator's engine is very similar to that of the Yamaha, and it runs incredibly smoothly. The WEN 56200i uses a 79.7cc engine and produces 2000 watts of starting power and 1600 watts running power. This generator has a 1-gallon gas tank, and it averages a runtime of up to 9.4 hours at quarter load.
WEN 56380i Inverter Generator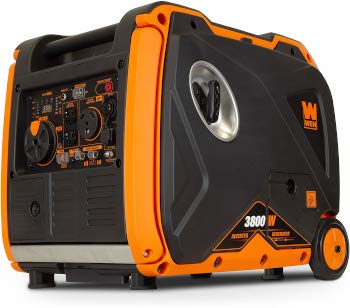 RV-ready
Higher power output for the price
Great design
Has a digital data center
Gets loud at higher power loads
Pretty heavy
WEN 56380i Specifications
Starting Watts
3800
Running Watts
3400
Noise Level
57 dBA
Fuel Type
Gasoline
Tank size (gal)
2.2
Run Time
8.5 hrs at 50% load
Dimensions (in)
23.2 x 18 x 20.1
Weight (lbs)
99.2
Emissions
CARB, EPA
The WEN 56380i uses inverter technology too, but its 212-cc engine is much bigger than that of the 56200i. This model manages 3800 starting watts, and 3400 rated watts. It's worth checking out if you want an inverter generator for emergency purposes at home and for use at parks and camping grounds. It's an excellent option for RVs, too, and it comes with a 30-Amp RV outlet.
WEN 56225i Inverter Generator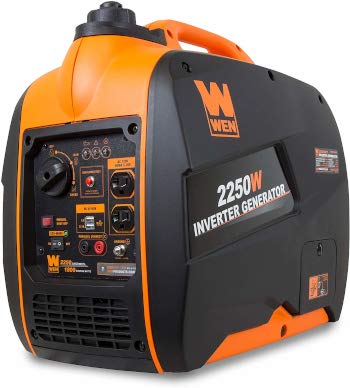 Great price to quality ratio
Incredible fuel economy
Quiet
Produces clean power
Compact and easily portable
Requires regular oil changes
Refilling requires a funnel
WEN 56225i Specifications
Starting Watts
2250
Running Watts
1800
Noise Level
53 dBA
Fuel Type
Gasoline
Tank size (gal)
1
Run Time
6 hrs at 50% load
Dimensions (in)
18 x 11.5 x 18.2
Weight (lbs)
48.5
Emissions
CARB, EPA
This is another one of the best rated WEN generators this year. Beyond its sleek design, the WEN 56225i offers a generator that you can rely on during power outages, at tailgate parties, and in most campgrounds. This generator produces 2000 surge watts and 1600 peak watts, and it's around 53 dB loud. As an inverter generator, it provides clean power that is safe for most power-sensitive devices.
WEN DF1100T Dual Fuel Portable Generator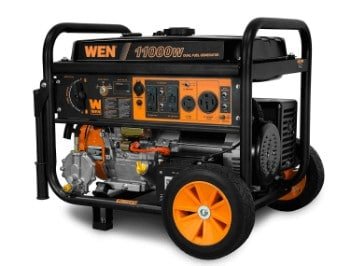 Dual-fuel capability
High power output
CARB-compliant
Onboard power meter
50 amp outlet is hard to access using an angled cable (get the straight one)
Requires regular oil change than its competitors
WEN DF1100T Specifications
Starting Watts
11000 (gasoline), 9500 (propane)
Running Watts
8300 (gasoline), 7500 (propane)
Noise Level
72 dBA
Fuel Type
Gasoline, Propane
Tank size (gal)
6.6
Run Time
8.5 hrs (gasoline), 3 hrs (propane) at 50% load
Dimensions (in)
27.3 x 20.6 x 21.9
Weight (lbs)
213.8
Emissions
CARB, EPA
If you're looking for a powerful and affordable generator for use at home and construction sites, the WEN DF1100T might make a great purchase. This generator's high power output is its key selling point. With 11000 starting watts and 8300 running wattage (when using gasoline), this will make a reliable portable generator for most medium-size homes and a couple of power tools at construction sites. What's more, you can use either gas or propane, whichever makes sense to you.
WEN DF475T Dual Fuel Generator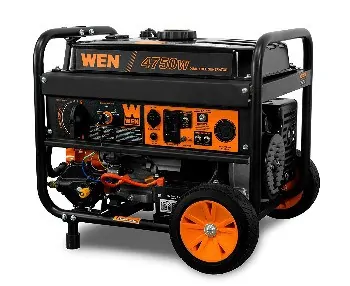 Switches from gasoline to propane easily
Longer runtime
Produces both 120v and 240v
Starts and runs easily
Changing oil can be tricky
Notably loud
WEN DF475T Specifications
Starting Watts
4750 (gasoline), 4350 (propane)
Running Watts
3800 (gasoline), 3500 (propane)
Noise Level
69 dBA
Fuel Type
Gasoline, Propane
Tank size (gal)
4
Run Time
11 hrs (gasoline), 7 hrs (propane) at 50% load
Dimensions (in)
23.2 x 17.5 x 18.5
Weight (lbs)
105.8
Emissions
CARB, EPA
If you're looking for something powerful but not as big as the DF1100T, the WEN DF475T might interest you. This model has a dual fuel configuration, too, so you can run it from either gasoline or propane. It produces 4750 surge watts (4350w, propane) and 3800 running watts (3500w propane). This generator's 224cc engine can run for up to 11 hours from the 4-gallon tank at half load.
About WEN Company
WEN is an American company founded by Nick Anton in 1951, and currently headquartered in Elgin, Illinois. This company is famed for adding electricity to hand tools. Precisely, this company is seen as the father of the modern chainsaw, electric jigsaw, wet wheel sharpener, and soldering gun, among other tools.
In addition, WEN's development team also receives credit for orbital technology. This is the mechanism that is used in buffers, waxers, and polishers. Besides generators, WEN makes a wide range of other items, including power tools (bench grinders, drill presses, sanders, saws, etc.), lawn and garden equipment, and hydraulic cylinders.
Frequently Asked Questions
Who makes WEN generators?
WEN generators are made by WEN Products Company.
Where are WEN generators made?
China. Although the designing is done in the United States, WEN generators are made in China, just like what most generator manufacturers do.
Where to buy WEN generators?
You can buy WEN generators off their main website or from several other retailers, including Amazon, Walmart, Home Depot, eBay, LOWES, Generator Source, and Sears.
What warranty does WEN offer for its generators?
2 years. When you buy a WEN generator, you'll have 30 days to report any missing or damaged part. You'll also get 2 years of warranty from the date of purchase.
Which is the best oil for WEN generators?
5w-30. WEN recommends any synthetic 5W-30 oil for most of its generators.
Conclusion: Should You Buy a WEN Generator?
If affordability is among your major concerns, yes, a WEN generator will make a great investment. These generators are engineered to work without lots of bells and whistles, and they are easy to maintain.
The DF1100T is our top recommendation for people who want tons of power at a relatively lower price tag. If you want a powerful but quiet generator, the WEN 56380i Inverter might interest you. Lastly, if you're interested in the most affordable WEN inverter generator for occasional low power needs, you can't beat the 56200i.
Before making a purchase, you might want to compare WEN generators with other similarly priced products from other brands. In that case, Predator, Pulsar, and Ryobi are worthy competitors.
Latest WEN Generator Reviews: