Six decades since it was founded, Generac commands massive followership from commercial and residential markets alike. Among other reasons behind its popularity, Generac is known for replicating technologies from its high-end industrial-grade powerhouses into its line of residential-grade generators. This suggests an incredible consistency in overall performance and reliability among the generators regardless of your budget.
In these Generac generator reviews, we'll take you through Generac generators' significant features plus their key strengths and drawbacks. Hang around as we've also identified 8 of the best portable and standby Generac generators worth checking out.
Distinguishing Features of Generac Generators
Overall wattage range for portable generators is 800w to 17500w
Powerrush technology– generators with this technology produce 50% more power when starting allowing you to add more appliances and tools.
Pressurized lubrication system– engines with this technology continually pump clean oil to the critical parts for longer engine life.
OHVI engines– these engines are engineered explicitly for generators and offer prolonged runtimes.
X-torque governor– this is the fastest responding governor in the market. It maximizes efficiency and prevents stalling.
Hardened steel tube cradle– this frame, coupled with its handle and large rugged wheels, protects the generator in rough conditions.
Broadest residential generator product line– Generac has a generator for every need. These generators are categorized into 8 series: RS, GP, XG, XP, IQ, XD, XT, and XC.
Pricing
Generac portable generators fall in the mid to high price range. The cheapest Generac generator comes at around $450, while the premium units could cost as high as $3800.
The brand also offers standby generators, which come in the price range of $2,000 to $31000.
Are Generac Generators Good?
Generac is among the leading portable and standby generator manufacturers today. Although its generators are generally pricier than other brands, such as Champion and WEN, they offer excellent value with their high-end technologies and durable engines. Generac generators are feature-rich as you will find out from our reviews. Actually, some of them have features that are unique to this brand, including OHVI engines and pressure lubrication systems.
In terms of usability, most Generac generators are fitted with almost all the great features you'd ask for. These include electric and pull start options, power dial switch, idle switch, and an hour meter.
Regarding reliability, most Generac generators have covered outlets to make dust and moisture a non-issue. Most of their open-frame portable home generators have large never-flat wheels that make them a good fit for the tough outdoors. Check our Generac portable generator reviews to find out what other features their best models have.
To add to their reliability, Generac claims to have over 5000 outlets around the country. This demonstrates an incredible availability of replacement parts and maintenance services.
Pros
Wide variety of generators to fit every need
Extensive nationwide dealer network
High-end features and technologies add to these generators' reliability and usability
Generac standby generators perform weekly self-diagnostic tests for easy maintenance
Generac generators are generally fuel-efficient
Cons
Generac standby generators require regular maintenance
Wide variety makes narrowing down to one quite tricky
These generators can get really expensive as you climb the wattage ladder
There are complaints that Generac doesn't always honor their warranties, especially with their standby units
Best Generac Portable Generators- Reviews
Generac GP3000i
Extremely quiet
Great price for performance and size
Runs smoothly, especially in eco mode
Easy starts
Lacks electric charge
Adding oil requires removing the side panel
Generac GP3000i Generator Specifications
Starting Watts
3000
Running Watts
2300
Noise Level
N/A
Fuel Type
Gasoline
Tank size (gal)
1.06
Run Time
4.5 hrs at 50% load
Dimensions (in)
22.2 x 13.3 x 18.4
Weight (lbs)
59.5
Emissions
CARB
Generac GP3000i  is a 3000-watt generator with a 149cc Generac OHV engine. This is a dependable unit among RV travelers, DIYers looking for more efficiency with their tools, and camping, hunting, and tailgating buffs. The GP3000i comes complete with duplex 120v 20A outlets, 120v 30A receptacle, and two 5v USB outlets.
Generac 7127 iQ3500
Impressively quiet
A breeze to start with electric start
Versatile usage
Clean and compact design
Multifunctional digital smart display
Generac 7127 iQ3500 Specifications
Starting Watts
3500
Running Watts
3000
Noise Level
N/A
Fuel Type
Gasoline
Tank size (gal)
2.6
Run Time
8.9 hrs at 50% load
Dimensions (in)
23.7 x 18 x 21.7
Weight (lbs)
109.1
Emissions
CARB
The Generac 7127 is notably pricier than GP3000i model, but it offers more power and extra features. This model has 3500 watts of starting power and 3000 running watts. It's ideal for tailgating, camping, and RVing, and powering a couple of your appliances at home and jobsite power tools. This generator boasts an electric start, digital smart power meter, and parallel capability.
Generac 5976 GP6500
Rugged construction
Relatively cheap for its quality and performance
Clean and straightforward control panel
Can get loud with heavy power loads
It's heavy
Generac 5976 GP6500 Specifications
Starting Watts
8125
Running Watts
6500
Noise Level
N/A
Fuel Type
Gasoline
Tank size (gal)
6.9
Run Time
10.5 hrs at 50% load
Dimensions (in)
27.2 x 27 x 26.5
Weight (lbs)
172
Emissions
EPA
Engineered to meet residential and off-grid construction sites' power needs, the Generac 5976 GP6500 outputs an impressive 8000 starting watts and 6500 running watts. It has a super-size steel fuel tank for extended runtimes and a fuel gauge to minimize inconveniences. Its hardened steel tube cradle, rugged never-flat wheels, and fold-down handles are reminiscent of an all-rounder generator.
Generac 5734 GP15000E
Uses OHVI engine with pressurized lubrication
Plenty of power
Large tank with long runtimes
Electric start
Expect to pay more
Gets loud
Instructions aren't so clear
Generac 5734 GP15000E Specifications
Starting Watts
22500
Running Watts
15000
Noise Level
N/A
Fuel Type
Gasoline
Tank size (gal)
16
Run Time
10 hrs at 50% load
Dimensions (in)
48.5 x 31 x 39.5
Weight (lbs)
363
Emissions
EPA
Flaunting a 992cc Generac OHVI engine, the Generac 5734 is among the most powerful generators in Generac's category of portable generators. This beast manages a jaw-dropping starting wattage of 22500w and a running wattage of 15000 watts. This high wattage, coupled with its 16-gallon resin fuel tank and 10-hour runtime, makes it a go-to generator for huge homes, and small to medium-size construction and landscaping applications.
Generac 5939 GP5500
Balances cost and power performance
Compact
Lots of extra features
A little noisy
Not CARB or CSA compliant
Generac 5939 GP5500 Specifications
Starting Watts
6875
Running Watts
5500
Noise Level
N/A
Fuel Type
Gasoline
Tank size (gal)
7.2
Run Time
10 hrs at 50% load
Dimensions (in)
27.5 x 27 x 25
Weight (lbs)
170.9
Emissions
EPA
The Generac 5939 offers a sweet spot between affordability and power output. Its 6875 starting watts and 5500 running watts make it a versatile generator for use at home and construction sites. This generator carries a 6.7-gallon gasoline tank that offers 10 hours of continuous power output at 50% load. Other noteworthy features include an hour meter with regular maintenance alerts, low-oil level shutdown, and a low-tone muffler.
Best Generac Standby Generators- Reviews
These Generac generator reviews won't be complete if we don't look at the brand's whole-house models as well.
Generac has over 30 standby generators for household applications. These generators' power wattage ranges between 7.5kW and 150kw.
Generac home standby generators are fitted with Generac's OHVI engines with a continuous natural or LP gas supply. OHVI engines are built to run for hours on end, and they use the same pressurized lubrication technology used in automobile engines. They also have X-torque governor and Load Shedding Power Management. These 2 collectively maximize engine performance for more whole-house coverage with less gas consumption.
Lastly, these whole house generators have Generac's patented enclosures with industrial-quality RhinoCoat paint finish for maximum protection in the harshest weather conditions.
Check our Generac standby generator reviews below to learn more about the best home generators of the brand.
Generac 70432 Home Standby Generator
Wi-Fi connectivity for real-time status updates
Tough and durable enclosure
Comes complete with a transfer switch
Easy to install
Great price
Installation can be high
Not silent
Generac 70432 Standby Generator Specifications
Rated Watts
19500 (NG), 22000 (LP)
Noise Level
67 dBA
Fuel Type
LP or Natural Gas
Dimensions (in)
48 x 25 x 29
Weight (lbs)
466
The Generac 70432 is among the best-rated standby generators for homes today therefore it deserved our top spot in these Generac home generator reviews. This powerhouse comes from Generac's Guardian series and uses Generac's G-force engine that outputs up to 22kW of power. It has a user-friendly control panel with a multilingual LCD for breezy maintenance. Importantly, this is a smart generator, so you can connect it to your Wi-Fi for real-time status updates.
Generac 70371 Standby Generator
Provides clean power
Tested for quiet operations
Pressure-lubricated engine promises long life
Considerably pricier than similarly-sized contenders
Generac 70371 Standby Generator Specifications
Rated Watts
16000 (NG), 16000 (LP)
Noise Level
66 dBA
Fuel Type
LP or Natural Gas
Dimensions (in)
48 x 25 x 29
Weight (lbs)
409
The Generac 70371 is a 16/16kW home standby generator that comes complete with a 200 amp NEMA 3R switch. This generator uses a G-force engine, which is pressure-lubricated to withstand the rigors of extended power output. The Generac 70371 also has True Power technology, which ensures clean power with less than 5% distortion for the safety of your sensitive electronics and appliances.
Generac 70422 Home Standby Generator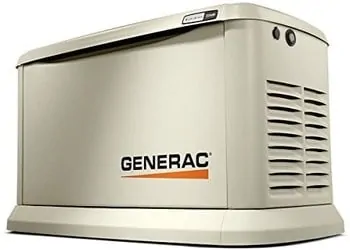 Allows monitoring from the phone
G-force engine is incredibly reliable
Has a multilingual LCD screen
An all-aluminum enclosure with RhinoCoat painting will withstand harsh outdoor conditions
Requires regular maintenance
Its high price doesn't include the transfer switch
Generac 70422 Specifications
Rated Watts
19500 (NG), 22000 (LP)
Noise Level
67 dBA
Fuel Type
LP or Natural Gas
Dimensions (in)
48 x 25 x 29
Weight (lbs)
466
Another reliable unit from Generac's Guardian series, the Generac 70422 is a 22/19.5kW standby generator that you can monitor directly from your phone. This generator boasts most of the best features in this category of standby generators, including True Power technology for smooth operations and pressure lubrication system for engine durability. Unlike the 2 generators above, the Generac 70422 does not come with a transfer switch.
About Generac Company
Generac Power Systems is a Fortune-1000 American company that is mainly known for its industrial, commercial, and residential power backup products. The company was started in 1959 by Robert Kern. Now, it is a well-known brand all over the world. Just in the USA, it has over 5000 outlets. Besides portable and standby generators, Generac manufactures mobile generators, pressure washers, light towers, air products, heaters, and pumps, among other products.
Frequently Asked Questions
Who makes Generac generators?
Generac generators are made and owned by Generac Power Systems, which is located in Waukesha, Wisconsin.
Where are Generac generators made?
USA and China. Generac has most of its manufacturing facilities in Wisconsin (Whitewater, Jefferson, Eagle, Oshkosh, and Berlin). However, some of its generators are made in China also.
Where to buy Generac generators?
You can purchase Generac generators directly from their official website or from any of its 5000 outlets around the country. You can also buy Generac generators from Home Depot, Amazon, Electric Generators Direct, Norwall, Lowe's, Walmart, and Costco.
What warranty does Generac offer for its generators?
3 years. Generac offers a 3-year warranty with most of its products. But there's an option to extend it to 5, 7 or 10 years at a cost.
Which is the best oil for Generac generators?
SAE 30. Generac recommends using SAE 30 oil in temperatures above 32°F. Below 40°F, use 10W-30. You can also use 5W-30 at all temperatures.
Conclusion: Should You Buy a Generac Generator?
Generac has all the reasons why you need to make it your go-to generator brand today. Most of these generators hit the right buttons in terms of quality construction, power output, and reliability. We get particularly impressed when Generac uses commercial-grade features and technologies in some of its residential-level portable generators.
If you are still wondering which is the best overall model after reading our Generac generators reviews, we think  GP3000i or iQ3500 are great portable models, and Generac 70432 – a great whole house generator. The only gripe that we have about these generators is their relatively higher price tags. But then again, good things rarely come cheap.
For alternatives to Generac portable generators, check our Briggs and Stratton generators reviews or Powerhorse generator reviews.