Briggs and Stratton is best known for its snow blowers, riding mower engines, and racing engines, among others. This American manufacturer also makes portable and standby generators. Actually, this brand seems to offer an affordable alternative to other premium brands, such as Honda and Yamaha. But are Briggs and Stratton generators worth it?
From our experience and feedback from current users, Briggs and Stratton generators are often a sort of hit or miss. There are a few models that work well, and we've reviewed some of them here, while others aren't quite recommendable.
In this Briggs and Stratton generator review, we'll be looking at some of the significant strengths and weaknesses of this brand.
Distinguishing Features of Briggs and Stratton Generators
Briggs and Stratton portable generator wattage ranges from 2000w to 9000w.
Recoil or electric starter type- there is an option to choose a generator with one or both of these.
Optional low oil shutdown and automatic idle control features.
Infohub- generators with this innovative technology allows you to monitor critical aspects, such as runtime, power usage, and fuel level from your phone.
Bluetooth connectivity- this offers a wireless way of controlling your portable generator.
Portable generators classified in 4 major groups:

Elite series– these are the most powerful models (best for high power needs)
PowerSmart series– uses inverter technology and offer clean power
QuietPower series– engineered with low noise performance in mind
Standard series– engineered for affordability
Pricing
Briggs and Stratton generators fall in our category of affordable power solutions. We wouldn't call them cheap, but they are not as pricey as certain select brands, including Winco, Dewalt, Honda, and Yamaha. Generally, the least you can pay for a Briggs and Stratton generator is around $480, while the most expensive model goes for slightly above $3000. On average, these generators cost about $880.
Are Briggs and Stratton Generators Good?
Well, coming from a company that rules with the quality of its engines, it's undeniable that these generators are well-built. Besides their incredible design, most of these generators have a sturdy and attractive frame construction that promises durability. The plastic (never-flat) wheel kit and foldable handles also make for easily portable generators.
Regarding pricing, we appreciate that Briggs and Stratton lets you choose what features go into your generator. If you're on a budget, it's possible to strip most of the features and functions that don't seem so necessary to you in favor of more power.
However, we should mention that not all Briggs and Stratton generators live to their claims. A few models tend to develop starting issues as soon as they get past the warranty window. Before paying for any Briggs and Stratton generator, get to know what previous buyers have to say about its performance, especially after the first year. Besides, verify that you're getting a new, not like-new generator for your money.
Pros
Replacement parts and maintenance services are easy to find
Overall incredible design
All generators are designed with easy portability in mind
Clean and straightforward panel
Most generators are comparatively quiet
Excellent quality at a fair price range
Cons
Noise can be an issue with some of them
A few models develop starting problems shortly after the warranty expires
Best Briggs and Stratton Generators- Reviews
Briggs & Stratton P3000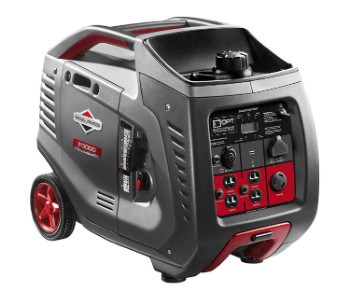 Quiet
Lots of outlets
Powerful for multiple uses
Parallel-capable
Comparatively pricier
Fuel tank design could have been better
Briggs and Stratton P3000 Specifications
Starting Watts
3000
Running Watts
2600
Noise Level
58 dBA
Fuel Type
Gasoline
Tank size (gal)
1.5
Run Time
10 hrs at 25% load
Dimensions (in)
26 x 14 x 21
Weight (lbs)
84
The P3000 packs quite a punch in terms of features and versatility. This model delivers 3000 starting watts and 2600 running watts. Therefore, it makes a lot of sense if you want a generator for household use and power on-the-go. This generator offers a 10-hour runtime at quarter load and features 4 household outlets, a 30-amp outlet, a 12v battery charger, and a USB port.
Briggs and Stratton P2200
Quieter than most competitors
Relatively fuel efficient
Straightforward to set up and run
Notably heavier than competitors
Lacks a data center
Briggs and Stratton P2200 Specifications
Starting Watts
2200
Running Watts
1700
Noise Level
59 dBA
Fuel Type
Gasoline
Tank size (gal)
1
Run Time
8 hrs at 25% load
Dimensions (in)
21 x 12.5 x 17.35
Weight (lbs)
54
This generator outputs 2200 starting watts and 1700 running watts. This is a reliable option for powering a refrigerator, fans, laptops, and lamps at home and in camps. The P2200 is parallel-capable and can manage at least 6.5 hours at quarter load from its 1-gallon gasoline tank.
Briggs and Stratton 30675 Q6500 Inverter Generator
Lots of power
Cheaper than similarly sized competitors
Lots of outlets
Weather protected outlets
Can get loud at a high output performance
It's heavy at 128 lbs
Not CARB-compliant
Briggs and Stratton 30675 Q6500 Specifications
Starting Watts
6500
Running Watts
5000
Noise Level
66 dBA
Fuel Type
Gasoline
Tank size (gal)
5
Run Time
14 hrs at 25% load
Dimensions (in)
27.7 x 23.2 x 22.3
Weight (lbs)
128
Emissions
EPA
This might be a good pick if you need more power but with the versatility of inverter technology. The Briggs and Stratton produces 6500 starting watts before leveling at 5000 running watts. It carries a 5-gallon gas tank from which it offers up to 14 hours of continuous runtime. Its controls are weather-protected and consist of 4 household outlets, 2 USB ports, and a 120v-240v locking outlet.
Briggs and Stratton P4500 Power Smart Series
Quiet performance
A middle-ground for the price, power output, and features
Has a LED display
Bigger wheels would be better for bumpy terrains
Small gas fill inlet
Briggs and Stratton P4500 Specifications
Starting Watts
4500
Running Watts
3700
Noise Level
60 dBA
Fuel Type
Gasoline
Tank size (gal)
3.5
Run Time
16 hrs at 25% load
Dimensions (in)
24.5 x 17.6 x 20.36
Weight (lbs)
115
Briggs and Stratton P4500 is a quiet generator that is an excellent choice for RVing and campsite use. You can also use it as an emergency power backup at home and even powering a few tools at the worksite. It generates 4500 starting watts and 3700 running wattage. Other great features include a multi-functional display and a push-button electric start.
Briggs and Stratton 30664
Easy setup
Loads of power
Has a low-oil shut off safety feature
Relatively quieter
Heavy but portable
On the pricier side
Briggs and Stratton 30664 Specifications
Starting Watts
10000
Running Watts
8000
Noise Level
N/A
Fuel Type
Gasoline
Tank size (gal)
7.5
Run Time
9 hrs at 50% load
Dimensions (in)
34.7 x 26.7 x 23
Weight (lbs)
237
One of the most powerful Briggs and Stratton generators, this generator could be what you need for a medium-to-large size home or a busy off-grid worksite. It produces 10,000 starting watts and 8,000 running watts. What so impressive is that it can average 9 hours of non-stop operation at half load from its 7.5-gallon fuel tank.
The Briggs and Stratton 30664 has four 120v outlets and one 120/240v 30A port. It boasts an electric key start and remote choke, and a 3-year warranty.
About Briggs and Stratton Brand
Briggs and Stratton Corporation (BASCO) is an American engine and generator manufacturer headquartered in Wauwatosa, Wisconsin. This is a Fortune 1000 company, and it derives its name from the names of its 2 founders: Harold M. Stratton and Stephen F. Briggs.
BASCO was launched in 1908. It currently has its footprint in over 100 countries worldwide. It has several brands under its name, including Briggs and Stratton, Branco, Allmand, Billy Goat, Snapper, and Ferris.
Besides portable and standby generators, Briggs and Stratton is mainly known for its outdoor power product engines, including lawnmowers, snow blowers, and utility engines.
Frequently Asked Questions
Who makes Briggs and Stratton generators?
BASCO. These generators are made and owned by Briggs and Stratton Corporation.
Where are Briggs and Stratton generators made?
USA. Briggs and Stratton designs, makes and assembles its generators in various facilities around the USA, including Missouri, Georgia, Poplar Bluff, Alabama, and New York.
Where to buy Briggs and Stratton generators?
You can purchase Briggs and Stratton generators from the parent website or Amazon, Lowe's, and Home Depot, among other dealers listed here.
What warranty does Briggs and Stratton offer for its generators?
2-3 years. Briggs and Stratton generators carry a 2-3-year warranty depending on the type.
Which is the best oil for Briggs and Stratton generators?
SAE 30W. Briggs and Stratton recommends SAE 30W for regions above 40°F (4°C).
Conclusion: Should You Buy a Briggs and Stratton Generator?
Briggs and Stratton is a good brand if you're looking for a sweet spot between affordability and quality. However, as we pointed out earlier, we recommend doing some research and getting previous buyers' opinions before investing in one. We hope that these Briggs and Stratton generator reviews will put you in the right direction.
In case you want to compare Briggs and Stratton generators to other brands, we'd suggest checking our Powerhorse generators review or the Generac generator reviews here.