Predator generators are famous for their Honda-clone engines. And true to Harbor Freight's tagline- Quality Tools, Lowest Prices– these generators are giving most of the popular brands a run for their money in performance and affordability.
This manufacturer recently added inverter generators to its catalogue. And this means that there's a Predator generator for pretty much any of your powering needs at home and outdoors.
For this Predator generator review post, we'll answer the obvious question in your mind right now: Are Predator generators any good?
We've also identified a couple of the best Predator generators that you might be interested in this year. Let's get started.
Distinguishing Features of Predator Generators
Wattage range– Predator generators wattage ranges from 2000w to 11,000w.
Single fuel usage– Predator doesn't make dual-fuel generators yet. But the market has third party conversion kits for this purpose.
Relatively quiet– most of this brand's portable generators have a noise level of between 56 and 70 dB.
CARB and EPA III certifications– Predator generators have one or both of these certifications. Ensure your target model is CARB-compliant if you live in California.
Wheel kit– most of the generators come with the wheelbase while others make this optional for those on a budget.
Pricing
Compared to other generator brands, our review team classifies Predator generators as cheap. The price of Predator generators starts at around $350, and the most expensive model will cost you about $800 (on the manufacturer's website). The average price is slightly above $500 at the time of writing.
Are Predator Generators Good?
Predator generators are reasonably well built. These generators use Honda-clone engines. And what's so impressive is that you can actually interchange some parts between these 2 brands down the road. Although Predator generator engines aren't a match to their Honda alternatives, they are among the best in their price range, that's for sure.
Regardless of your budget, you'll be getting a great deal of a generator in terms of power output, reliability, and fuel economy. These engines don't come in dual-fuel capability (at least for now). Luckily, you can easily add it using a third-party conversion kit if this versatility matters to you.
Predator generators have a quite basic control panel that seems replicated across all similar models. However, with most of the open-flame generators, you're assured of an electric start, up to 5 power outlets, and a low-oil indicator and shutdown. These are perhaps the most critical features to have on a generator.
Switching gear to portability, most Predator generators are similar to any other typical generator weight-wise. The weight tends to get higher with an increase in engine size and wattage, but most of them have handles and a wheel kit to boost maneuverability. On this note, you can get most of these generators with or without the wheel base.
Pros
They are fairly priced
They are relatively fuel-efficient
Replacement parts are easy to find
Most of them are not as loud
Generally easy to set up and use
Cons
Predator doesn't have dual-fuel generators yet
Some can be heavy
Predator Generators- Reviews
Predator 6500W Portable Generator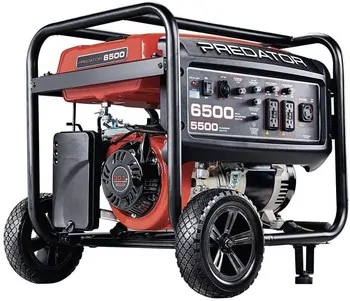 Incredible runtime
Starts easily
Lots of power
Fairly priced
Predator 6500W Generator Specifications
Starting Watts
6500
Running Watts
5500
Noise Level
74 dBA
Fuel Type
Gasoline
Tank size (gal)
8
Run Time
14.5 hrs at 50% load
Dimensions (in)
26.9 x 22 x 22.8
Weight (lbs)
161
Emissions
CARB, EPA
This Predator generator is engineered for high power needs even in the remotest areas. Its 420cc engine has a peak wattage of 6500 watts and 5500 rated watts and can power multiple power-hungry construction tools simultaneously. It's perfect for keeping most household appliances humming during an outage too. This beast has a total of 6 power outlets and a large gas tank with runtimes of 10-14 hours at 50% capacity.
Predator 3500W Inverter Generator
LCD screen for real-time data
Electric start
Designed for multiple uses
Low noise output
Wheels are too small for rough terrains
Has no gas gauge
Predator 3500W Inverter Generator Specifications
Starting Watts
3500
Running Watts
3000
Noise Level
57 dBA
Fuel Type
Gasoline
Tank size (gal)
2.6
Run Time
11 hrs at 25% load
Dimensions (in)
22.8 x 17.3 x 20
Weight (lbs)
99.2
Emissions
CARB, EPA
This inverter technology generator is another all-rounder. The Predator 3500w generator is super quiet and can power a 15000 BTU RV AC. It also makes a perfect generator for camping, tailgating, and home use. You can also rely on it to power several power tools at a construction site. This model offers a runtime of up to 11 hours at quarter load and has an electric start for quick starts.
Predator 4000W Generator
Starts at first pull
Runs smoothly
Has multiple outlets
Appears and feels well built
It's heavy
Wheel kit sold separately
Predator 4000W Generator Specifications
Starting Watts
4000
Running Watts
3200
Noise Level
72 dBA
Fuel Type
Gasoline
Tank size (gal)
4
Run Time
10 hrs at 50% load
Dimensions (in)
23.3 x 18.7 x 19.3
Weight (lbs)
99.5
Emissions
CARB, EPA
This model is among the best Predator generators dedicated for household and outdoor usage. The generator produces 4000 watts at peak and 3200 running watts. It uses a 212 cc engine that manages a runtime of up to 10 hours at 50% capacity.
Predator 62523 Inverter Generator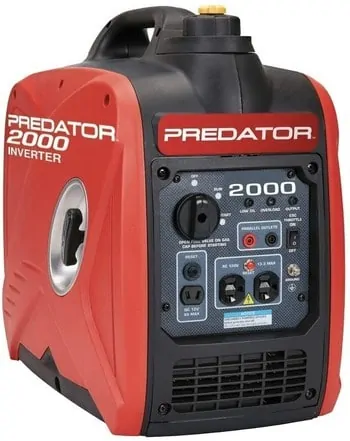 Lightweight
Very portable
Quiet
Has parallel capability
Not for high power uses
Has a small fuel tank
Predator 62523 Specifications
Starting Watts
2000
Running Watts
1600
Noise Level
65 dBA
Fuel Type
Gasoline
Tank size (gal)
1
Run Time
12 hrs at 25% load
Dimensions (in)
22.6 x 12.6 x 18.5
Weight (lbs)
47
Emissions
CARB, EPA
RVers, campers, and tailgaters looking for a compact but reliable portable generator are going to appreciate the Predator 62523. This model uses a 79.7cc air-cooled engine and produces 2000 starting watts and 1600 running watts. If you want more power, there's an option to parallel this unit with another one for double power output. The Predator 62523 has a runtime of 12 hours at quarter load and a noise level rating of 65 dB.
Predator 8750W Generator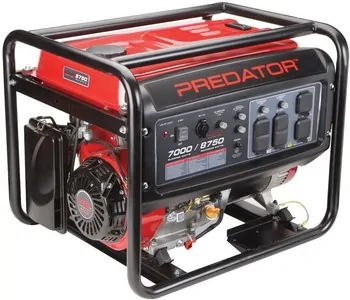 Tons of power
Versatile power outlet
Rugged wheels for portability (optional)
EPA and CARB compliant
It's bulky and heavy
Pricier than the rest
Predator 8750W Generator Specifications
Starting Watts
8750
Running Watts
7000
Noise Level
76 dBA
Fuel Type
Gasoline
Tank size (gal)
6.6
Run Time
12 hrs at 50% load
Dimensions (in)
26.9 x 22 x 22.8
Weight (lbs)
183
Emissions
CARB, EPA
This is among the most potent Predator generators judging from its 8750 peak wattage and 7000 rated output. To complement is 420cc engine, the Predator 8750w has a huge tank capable of offering runtimes of 8-12 hours. It also has multiple outlets to suit different needs. You'll get four 3-prong 120v duplex outlets, one 4-prong 120v/240v twist lock port, one 3-prong 120v twist lock, and a 12v DC outlet.
About Predator Generator Brand
Predator is one of the brands owned by Harbor Freight- a privately held American company that owns several other brands. Harbor Freight was founded in 1977 by Eric Smidt. It's currently headquartered in Calabasas, California, where they test their products for quality assurance. This manufacturer recently opened another retail store in Louisville, Kentucky bringing the number to 1000 stores scattered in all 48 US states.
Besides portable generators, Harbor Freight also makes welding, plumbing, lighting, and building and construction tools among other items.
Frequently Asked Questions
Who makes Predator generators?
Harbor Freight. Predator generators are made and owned by Harbor Freight, which is based in California, USA.
Where are Predator generators made?
China. Predator generators are made and assembled in China, like most other portable generator brands. However, quality assurance is done in the company's headquarters in the USA.
Where to buy Predator generators?
You can buy Predator generators from the Harbor Freight store near you or from their website. Most online retailers also carry this brand, including Amazon, eBay, and Sears.
What warranty does Predator offer for its generators?
2 years. Predator generators come with a 90-day manufacturer-defects guarantee and a 2-year warranty.
Which is the best oil for Predator generators?
SAE 10W-30.Most Predator generators use SAE 10W-30 unless stated otherwise in the manual.
Conclusion: Should You Buy a Predator Generator?
Predator is among the best brands in the portable generator arena. These generators are often compared to Honda since, well, their engines are Honda clones, and they are actually made by the same company. The major difference is that Predator eliminates most of the middlemen, so you get the generator at a fraction of what Honda costs.
Besides the low price tag, Harbor Freight has over 1000 stores in all the 48 contiguous states of America. The chances are that there's one near you. So, replacement parts won't be an issue- and they are often very affordable.
If you still haven't picked your model, we would recommend the 6500W model and the 3500W inverter model as the best Predator generators based on our reviews. Both generators would do a great job as a backup power solution but one is more powerful and the other less noisy.
Looking for more recommendations for affordable generators? We'd suggest checking our Champion generators review or Sportsman generator review.